Patrushev in Bucharest: Russia Resetting Relations with Romania?
Publication: Eurasia Daily Monitor Volume: 10 Issue: 118
By: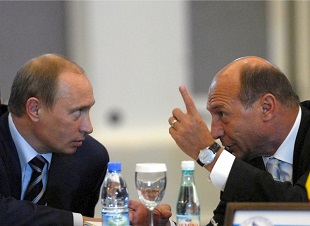 The Barack Obama Administration's first-term "reset" of the United States' relations with Russia set in motion a trend in Europe. A number of European governments have adapted the US-Russia "reset" model to their specific situations, initiating similar processes bilaterally with Russia. In Western Europe, such initiatives have sometimes ignored or overstepped European Union and North Atlantic Treaty Organization (NATO) policies and solidarity. Countries in Central and Eastern Europe, however, can only do this at their peril. For those countries, closing ranks with allies is the only possible premise for improved relations with Russia.
Moving pre-emptively to "reset" relations is a poor basis for approaching Russia. The initiating government implicitly accepts responsibility for the unsatisfactory state of its relations with Moscow. By the same token, the initiator will bear the main burden for making the reset work as hoped-for. The initiating country, moreover, signals thereby that it needs Russia, more than Russia needs it. This underscores an imbalance of interests from the outset of this process, affecting its future course in Russia's favor.
In Central and Eastern Europe, especially, this imbalance of interests will compound the imbalances in resources between Russia and the reset-initiating country. Such a country will typically seek energy supplies or market access in Russia. The Russians will often condition their response on being allowed to dominate specific economic sectors in the soliciting countries. Moscow will use this process to build up, in those countries, economic and political interest groups vested in special relationships with Russia, which are often incompatible with Western policies or norms. This poses special risks to countries with weak institutions in Central and Eastern Europe. There, the capacity to handle this challenge varies widely, from country to country and even between governing parties within the same country.
On June 17, Russia's Security Council Secretary Nikolai Patrushev visited with Romanian President Traian Basescu in Bucharest, undoubtedly at President Vladimir Putin's instruction (Adevarul, June 18). This visit may prove the most consequential bilateral meeting after 22 chilly years, during which Romanian-Russian high-level contacts were exceedingly rare, and the overall relations difficult. Patrushev's visit itself testifies to Basescu's competent handling of this uneasy relationship.
First, Basescu has avoided the error of initiating a "reset" in Romanian-Russian relations. Instead, he has waited patiently until Moscow itself finally moved, if not to "reset," then at least to defrost relations.
Second, Basescu has embarked on this exercise as a confirmed pro-US president, reflecting a solid public consensus about close ties with Washington. In accepting a Russian overture, Bucharest holds the cards of a bilateral strategic partnership with the United States that works effectively in Romania's case.
Third, the president has successfully stabilized the internal situation after the 2012 political crisis. The Social-Democrat Party, dominant in the government, has learned to co-habitate with Basescu. Moscow had attempted to instigate Basescu's removal from office during that crisis, attacking him as subservient to the West (see Vladimir Socor, "Voice of Russia Campaigns for Removal of Romanian President Basescu," The Jamestown Foundation – Hot Issue series, August 20, 2012; and EDM, September 10, 2012).
Patrushev's visit shows that Moscow has concluded that it must reach out to the incumbent Romanian leadership. It is no secret in Romania that Basescu's effective work with the intelligence services made it possible to protect the constitutional order in 2012 and stabilize the internal situation, maintaining at the same time the services' political neutrality.
On June 18, one day after Patrushev's visit, John Brennan, the director of the Central Intelligence Agency (CIA), met with Basescu and the Romanian internal and external intelligence chiefs in Bucharest. Brennan paid an unusual public tribute to the Romanian intelligence services' "professionalism, competence, resolve, motivation, integrity and courage. Both SIE and SRI [the external and internal service, respectively] are truly remarkable, and we appreciate it" (Evenimentul Zilei, June 19).
Basescu's national security adviser, Iulian Fota, told the press that Brennan's and Patrushev's visits are in no way equivalent. "Brennan's visit is that of an ally. We do not equate the US and Russia; let no one imagine this" (Ziare.ro, June 19).
Patrushev and Fota signed a memorandum on cooperation between Russia's Security Council and Romania's Higher Council for the Country's Defense. According to a summary for Romanian media, the document envisages cooperation against terrorists, transnational criminality and illicit trafficking of various types, money laundering and cyber crime.
Briefing the media at the presidential palace after Patrushev's visit, Basescu said that he could not comprehend Russia's objections to the US anti-missile system, one of whose installations is being built in Romania's southwest. Basescu had to explain again for Patrushev that the system is not directed against Russia, is inherently defensive, and does not warrant the provision of any "guarantees" such as Russia seeks. "What we can do is show what is written in the agreement with the US."
Basescu raised the Transnistria conflict with Patrushev. "We could not fail to discuss a problem of such importance to Romania's security. The Republic of Moldova must be whole, with the Chisinau government exercising full authority [over] the entire territory of that country."
The president voiced his hope that Patrushev's visit would be followed by more active political contacts and economic exchanges. Basescu expressed his willingness to visit Russia "if invited" (Evenimentul Zilei, June 18).
Such an invitation seems unlikely during Basescu's remaining time in office until the end of 2014. However, Foreign Affairs Minister Titus Corlatean apparently is invited to Russia later this year, and Prime Minister Victor Ponta expects to visit Russia in 2014. Previous contacts at those levels took place in 2004 and 2009, respectively. Bucharest had sought more frequent exchanges of such visits. Moscow demurred, signaling its displeasure with Romania's foreign policies, but also reflecting the relatively low priority of this relationship to both sides.
Russian-Romanian relations are generally marked by indifference on the Russian side, and indifference with caution and mistrust on the Romanian side. Quite apart from negative historical experience, Romanian perspectives are currently informed by Russia's brutal pressures on the Republic of Moldova, by the Gazprom monopoly's exorbitant prices charged to Romania, and by Moscow's propaganda against the US missile shield in Romania—a project that, to Romanians, implies American military presence on the ground and commitment to the country's security in the future. More consistently than any country in the region, Romania supports energy supply diversification projects with Western partners.
These contentious issues, while non-dramatic, are not being offset by anything significantly positive thus far in Russian-Romanian relations. Russian industrial investment in Romania is relatively modest, and the bilateral trade balance is hugely lopsided in Russia's favor on account of natural gas. Apart from this, Russia and Romania have little to offer each other. They generally understand this and are therefore not driven by a sense of urgency to expand bilateral relations. Russian petrodollar-financed "soft power" may be spreading over other countries, but not in Romania to any significant degree thus far.
By this time, Moscow is apparently learning to live with Bucharest's pro-Western strategic choices in foreign and security policies. Basescu has helped to institutionalize those policies firmly since 2005 as president. In Romania's case, it is Moscow who seems to be initiating a "reset" of relations, hoping perhaps to shift their basis over time.