Photo Surfaces of Sulim Yamadaev, Purportedly Among the Living
Publication: North Caucasus Weekly Volume: 10 Issue: 21
By: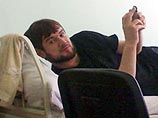 In the latest bizarre turn in the case of Sulim Yamadaev, the Chechen rebel website Kavkaz-Center on May 21 posted a photograph it said it received that day showing Yamadaev, the former commander of the Russian army's elite Vostok battalion and rival to Chechen President Ramzan Kadyrov who was reportedly assassinated in Dubai in March, looking alive and well, lying in a hospital bed in black pajamas and holding a mobile phone.
One of Yamadaev's brothers, Isa, has repeatedly insisted that Sulim survived the attack in Dubai and is recovering in a hospital. Radio Free Europe/Radio Liberty, however, reported on May 25 that relatives of Sulim Yamadaev denied publicizing photos of him in the hospital. It also quoted Isa Yamadaev as acknowledging the likeness between Sulim and the man in the photograph but saying he had never seen the photo before and did not know where and when it was taken. RFE/RL quoted a second, unidentified relative as suggesting the photo may have been a montage and adding that if the family had wanted to circulate photographic evidence that Sulim was alive, they would not have sent it to the separatist Kavkaz-Center website.
Interfax reported on May 26 that Isa Yamadaev and another Yamadaev brother, Musa, were questioned the previous day as witnesses in the case of the disappearance of a Vostok battalion serviceman, Alikhan Khaladov, in July 2004. Isa Yamadaev told Izvestia earlier this month he would be willing to give evidence in the Khaladov case in Moscow but not in Chechnya, and denied any involvement in the serviceman's disappearance.
On May 22, the head of the Moscow branch of the Prosecutor General Office's Investigative Committee, Anatoly Bamet, said investigators would soon complete their probe of the murder of yet another Yamadaev brother, former State Duma Deputy Ruslan Yamadaev, who was shot to death in Moscow last September. Bamet said that the chief of the Investigative Committee, Aleksandr Bastrykin, has been personally supervising the probe from its start. As Interfax noted on May 22, a resident of Chechnya, Elimpasha Khatsuev, was arrested in April on suspicion of involvement in Ruslan Yamadaev's murder and is also suspected of involvement in the assassination of Sulim Yamadaev.