Poland Ready to Quit Russian Gas Supplies
Publication: Eurasia Daily Monitor Volume: 19 Issue: 30
By: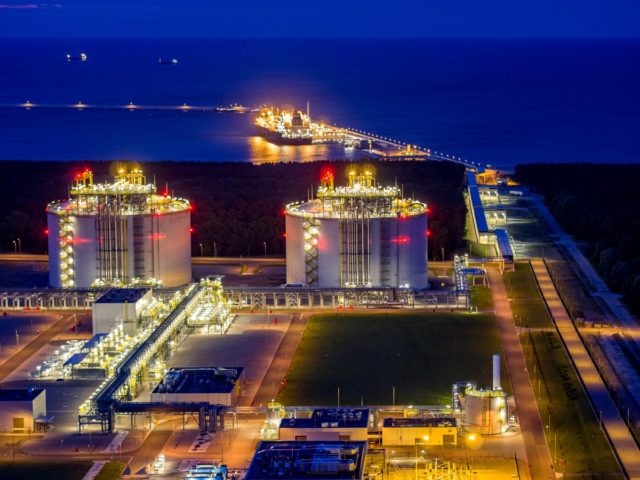 On February 28, Poland's Minister of Climate and Environment Anna Moskwa declared that the country would be ready to abstain from all Russian natural gas supplies as soon as today, if needed (Polskie Radio, February 28). Furthermore, on March 2, Polish Prime Minister Mateusz Morawiecki called for adding Sberbank and GazpromBank—involved in handling Russia's energy export revenues—to the list of Russian financial institutions cut off from SWIFT, which would effectively mean halting all gas imports from the Russian Federation (Twitter.com/MorawieckiM, March 2). Warsaw's bold stance comes as no surprise. The Polish authorities have worked hard for several years to make the country energy independent from Russia, and several of Poland's most strategic investment projects in this sphere are just being finalized.
Poland is currently the biggest natural gas market for Gazprom in Central and Eastern Europe (Gazpromexport.ru, accessed March 7), importing 9 billion–10 billion cubic meters (bcm) per year (around half of the current Polish total demand) under a long-term, take-or-pay contract with Gazprom. That agreement, however, is set to expire by the end of 2022; and the Polish government decided a few years ago to switch entirely from Russia to other global suppliers. The diversification strategy in that regard encompasses three main axes (see below), and the goals set are being met right now.
First, construction of the Baltic Pipe project (10 bcm gas pipeline, linking the Norwegian Continental Shelf with Poland via Denmark) is in its home stretch, and the interconnector is expected to be fully operational by the end of 2022. The realization of the investment was hindered back in 2021, when Denmark's authorities annulled the environmental permit for the Danish onshore part of the pipeline due to administrative reasons (Baltic-pipe.eu, June 3, 2021). However, on March 1, 2022, the Danish Environmental Protection Agency issued a new authorization, allowing for all remaining construction works to restart on the missing sections in Denmark (Baltic-Pipe.eu, March 1, 2022).
Second, Poland's liquefied natural gas (LNG) import terminal operator, GAZ-SYSTEM, has reportedly just finished the first stage of the Świnoujście facility's expansion program (Gazeta Wyborcza, February 28). The company successfully installed two new submerged combustion vaporizer (SCV) units, effectively boosting the regasification capacity of the terminal by a quarter, from the previous 5 bcm to 6.2 bcm per year. Moreover, the second phase of the expansion, which includes a new storage tank and a second jetty, is expected to be finished by the end of 2023. The terminal's maximum throughput is to increase then by another 2 billion cubic meters per year (Terminallng.gaz-system.pl, accessed March 7).
Third, GAZ-SYSTEM, which is also a gas transmission system operator in Poland, is simultaneously expanding the network of Polish interconnectors with neighboring countries. Back in November 2021, the 5.7 bcm Poland–Slovakia gas pipeline was commissioned (however, not yet put into operation) (Budimex.pl, November 26, 2021). And the commercial start of the new Poland–Lithuania gas pipeline (GIPL) will take place in May 2022, half a year ahead of schedule (Gaz-system.pl, February 28). The latter will be able to work in both directions, with a capacity from Lithuania to Poland amounting to as much as 1.9 billion cubic meters. This southern flow may, indeed, become utilized soon, as both countries are apparently in talks regarding possible Polish bookings of regasification capacity at the Lithuanian Klaipeda LNG floating storage and regasification unit (FSRU) terminal.
Poland's above-mentioned natural gas supply diversification program aims to guarantee that the country will be ready to face any gas flow disruptions or cutoffs from Russia. However, it should be noted too that the situation may become much more complicated in just a matter of a few years. At that point, total gas demand in Poland is expected to rise rapidly amidst the de-carbonization-driven switch from coal to less-polluting natural gas. According to the most accurate estimates provided by GAZ-SYSTEM, Polish annual consumption will increase from the current level of 20 bcm to as much as 30 bcm in 2029, and 35 bcm in 2035, respectively (Gaz-system.pl, April 2021). Such dramatic growth is, therefore, why Poland is already working on the development of a second LNG import terminal, which will encompass one or two FSRU units in the Port of Gdańsk. The project is expected to be completed by 2028; hypothetically, it could also become a source of supply for Ukrainian customers in the future.