Political Centralization Drives Upcoming Industrial Consolidation
Publication: China Brief Volume: 15 Issue: 7
By: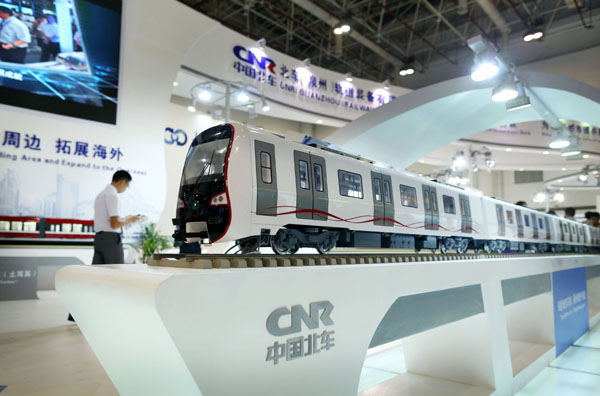 Beginning in late 2014, the Chinese government officially announced a series of high-profile industrial consolidation plans in the railway and nuclear sectors, and a mix of government plans and public rumors continue to swirl around the possible consolidation of the oil and telecommunication sectors. This, however, is not the first time Beijing has attempted to consolidate state-owned enterprises (SOEs) in major industries. Despite previous failures, Chinese President Xi Jinping's administration seems poised to push through this round of consolidation due to his centralized political and economic power as well as the Chinese Communist Party's (CCP) need to accomplish the benchmark goals set forth during the Third Plenum in November 2013.
The Start of a New Era: Railway Twins Come Back Together
Over New Year's, China's industrial policy analysts were excited to learn of an announcement that had been ten years in the making and is likely to open a new chapter on China's industrial landscape for the next decade. On December 30, 2014, Chinese Southern Railways (CSR) and Chinese Northern Railways (CNR) finally announced their consolidation plan, ending 14 years apart (Xinhua, December 30, 2014). The rapid development of China's railway sector over the last ten years rested on the unprecedented growth of infrastructure construction across China during the 11th and 12th Five-Year Plans. The two companies manufactured all of China's high-speed trains, 80 percent of its railroad cars and most of its subway cars, enabling them to capitalize on the central government's growth strategy. China's policy goals extend beyond its borders, as the government has negotiated with 28 countries on high-speed train cooperation projects, including the United States, Russia, Brazil, India and Thailand (Beijing News, January 29). With its vast domestic market and strong government support, CNR and CSR now rank first and second amongst rolling stock manufacturers worldwide, ahead of Bombardier (Canada), Siemens (Germany) and Alstom (France) (Xinhua, October 29, 2014; SCI/VERKEHR, 2014).
However, CNR and CSR's cut-throat competition also flowed overseas, jeopardizing China's national interests by creating unnecessarily low bids or even lost contracts (see China Brief, January 23; Beijing News, November 4, 2014). Meanwhile, repetitive research and development (R&D) investment, inconsistent product standards and fragmented lower-end suppliers also prevented these companies from improving their innovation capacity and supply chain efficiency at home.
A consolidated mega-corporation under the new name "China Railway Rolling Stock Corporation (CRRC)," valued at over $26 billion, will avoid such price wars between Chinese companies and increase the new company's competitiveness in resource allocation, bargaining power as well as high-tech R&D (Beijing News, December 31, 2014). Furthermore, President Xi's "One Belt, One Road" strategy will offer prime opportunities for CRRC to expand its market share and global influence as the world's leading rolling stock manufacturer, as railways will play a crucial role in the New Silk Road's regional connectivity and cooperation. [1]
Nuclear Power
After the rolling stock sector, the next industry on Beijing's consolidation agenda is nuclear power. In early February, the State-owned Assets Supervision and Administration Commission (SASAC), which oversees SOEs, approved the consolidation of China Power Investment Corporation (CPIC) and the State Nuclear Power Technology Corporation (SNPTC) (China Securities, February 3; China Daily, February 6). [2] After their consolidation, China will reduce its five large nuclear companies down to three SOEs—China National Nuclear Corp, China General Nuclear Power Group and the newly consolidated entity. In a State Council meeting this year, Premier Li Keqiang reiterated that China will consolidate its industrial resources and accelerate the speed of Chinese advanced manufacturers investing abroad and exporting to the overseas market, in particular, the high-speed train and nuclear industries (Beijing News, January 29).
Food and Agricultural Products
Another sector embarked on structural industrial consolidation is the food sector. Earlier this year, the National Development and Reform Commission (NDRC) confirmed that China's state-owned food companies will consolidate and shift to mixed ownership in the upcoming SOE reform (21st Business Herald, January 14). The food giant China National Cereals, Oils and Foodstuffs Corporation (COFCO) will very likely become China's national champion. In fact, COFCO has already absorbed China Huafu Trade and Development Group Corporation last November and China Grain and Logistics Corporation in March 2013 (21st Business Herald, January 14). [3] Outside of China, COFCO is also actively engaging in overseas mergers and acquisitions, as it bought Nidera and Noble Group last year (Xinhua, April 3, 2014). These moves are intended to focus COFCO's core business more on grains, as well as gain access to strategic resources, move up the supply chain and build a global brand to compete with its "ABCD" competitors. [4]
Not Beijing's First Attempt at SOE Consolidation
The recent consolidations across a wide range of industries do not signal a significant shift in Chinese industrial policy, as Beijing tried, and failed, to consolidated its automobile industry in 2006. Beijing's inspiration derives from Japan and South Korea's successful industrial policies in the automobile industry in the 1950s–1960s, which nurtured a series of national champions such as Toyota, Honda, Nissan and Hyundai. In 2006, the NDRC issued the Circular on Adjusting the Industrial Structure of the Automobile Industry, calling for corporate consolidation among major players, and in 2007 it set a goal to nurture one or two large companies with the production capacity of two million vehicles per year by 2012 (China Securities, January 21, 2009). In 2009, then-Premier Wen Jiabao reiterated the government's intention to accelerate industry consolidation by approving the Automobile and Steel Industry Development Plan (Gov.cn, September 14, 2009).
Despite these government initiatives, the number of automakers instead more than doubled, increasing from roughly 130 in 2008 to 321 by the end of 2012 (China Securities, January 21, 2009; Chinese Industry Information, March 31, 2013). China's top ten automakers account for over 83 percent of the total sales, still leaving plenty of room for consolidation. Moreover, although China is the largest global automaker and car market, its major companies cannot innovate. This is due in part to China's reliance on joint ventures, which allow Chinese companies to rely on foreign partners for real innovation and R&D, and in part to local protectionism, as provincial governments are unwilling to sacrifice a sector that accounts for a large proportion of the GDP—previously a key factor in an official's career trajectory.
For SOEs writ large, the central government has consistently pledged over the last decade to consolidate its state sector. In 2005, Wang Zhongming, then-Director of SASAC Research Centre, announced that central-level SOEs would likely be consolidated from a total of 198 down to 30–50 (21st Century Business Herald, August 30, 2005). In 2010, Li Baomin, his successor, confirmed the SASAC's goal for the 12th Five-Year Plan was to nurture 30–50 central SOEs with indigenous innovation capacity, international competency and soft power as international brands (Beijing News, November 3, 2010). According to sources close to SASAC, the Xi administration still plans to reduce central-owned SOEs to less than 60, from the current 112 (Global Times, February 15).
Three Key Reasons for Successful Consolidation Under Xi
Compared with ten years ago, what enabled the central government to push forward this round of industry consolidation?
The new generation of Party leadership has gradually centralized political power, paving the way industry consolidation. Deng Xiaoping's Reform and Opening led to the gradual localization of political power and drove the government to transform its planned economy into state-owned enterprises. As a result, leading industrial sectors, including oil, telecommunication, aviation and railways, were split into a few large players to increase domestic competition. President Xi appears to have reversed this trend of decentralization since taking office, as Dr. Willy Lam analyzed Xi's consolidation of power marked a departure from Deng Xiaoping's devolution of powers (see China Brief, March 28, 2013).
President Xi's anti-corruption campaign is a key part of his ongoing SOE consolidation and reform plan. Beijing is tightening its control over the political power of local governments and industry-related ministries through regular anti-corruption inspections and placement of Central Commission for Discipline and Inspection (CCDI) officers in the Party and state apparatus, including removing 41 provincial senior officials in 22 provinces (People's Daily Online, December 25, 2014). In February, the CCDI announced that 26 central SOEs were selected for the first round of inspections and released a roadmap to cover all the SOEs in key industries. The 26 SOEs are mainly leading national companies in the oil and gas, electricity, telecommunication and resources sectors (Xinhua, February 11). Interestingly, the CCDI will adopt the "one-to-two" model, instead of previous "one-to-one" model, which means one inspection team will cover two SOEs in the same industry. This offers possible opportunities to compare and analyze SOEs against each other. In fact, industrial reform for strategic sectors is nothing new for Wang Qishan, the CCDI Director. In 2001, Wang, then-Director of the NDRC Economic Reform Committee, was in charge of mapping out plans for reforming the monopolistic sectors such as electricity, telecommunication, aviation and railways (21st Century Business Herald, November 2, 2010). Wang's overlap reinforces the notion that anti-corruption efforts in the SOEs will further consolidation and reforms.
President Xi's call to establish a single national market will eliminate local protectionism against consolidation. Xi first proposed developing an integrated national market and promoted open competition in a provincial meeting in July 2013 (China News, October 24, 2013). In the 2015 National People's Congress NDRC work report, China pledged to standardize and eliminate any regulation that impedes the establishment of a single national market, in order to break down local protectionism and blockage (NPC, March 17). For the central government, regional fragmentation reduces the efficiency of resource allocation and distorts fair competition. In the past, to protect local industries and attract foreign investment, local governments have offered a variety of preferential policies including land subsidies, tax returns and tax breaks (CPPCC News, December 25, 2014). To tackle this, the State Council released a circular to standardize local governments' preferential policies in order to reduce local protectionism and consolidate the national market (Xinhua, December 9, 2014). Local governments and ministries will only be allowed to offer preferential policies consistent with the national legislation or approved by the State Council.
The rapid economic expansion of, and thus competition between, Chinese SOEs in overseas markets puts more pressure on domestic industrial consolidation. Compared to a decade ago, China's Outbound Direct Investment (ODI) has soared from almost zero in 2001 to $116 billion in 2014, making China a net capital exporter (China News, January 26). As more Chinese companies go global, competing bids by similar Chinese companies for overseas projects represents unnecessary competition between two parts of the same Chinese government, and this desire to avoid bidding wars is a major driver for the consolidation of CSR and CNR (see China Brief, January 23).
Building national brands to compete with international conglomerates is also essential for President Xi's "China Dream." In early March, state-run People's Daily wrote, "brands have their roots in the core values and cultural tradition of the nation, and brands are the name cards of a nation" (People's Daily, March 2). Beijing has carefully selected a few strategic and monopolistic sectors to nurture national champions and present as an image of China to foreign countries. At this year's Davos Summit, Premier Li's keynote speech to the global business community called for China's high-end industries to go global, including high-speed trains, nuclear power, aviation and telecommunication (Phoenix News, January 22).
Forecasting Challenges Ahead
Industrial consolidation has been a long-term strategy for the Chinese government over the past two decades. With his unrivaled personal power in the Chinese system, President Xi's administration has more leeway to push forward this new round of industrial consolidation.
More industries will surely follow. In February 2015, unofficial news spread that China will consolidate its leading telecommunication operators China Unicom and China Telecom; as well as China Mobile and National Radio and Television Network Company (Beijing News, February 13). A few days later, the Wall Street Journal reported that China plans to merge its largest state-owned oil companies to improve efficiency and compete with international oil conglomerates (Wall Street Journal, February 17; International Financial News, March 19). [5] The latest news was the possible consolidation of China's two largest shipbuilders, China State Shipbuilding Corporation (CSSC) and China Shipbuilding Industry Corporation (CSIC), after the two announced to swamp their senior executives (Xinhua, March 27). [6]
Yet despite President Xi's best intentions, China faces increasing political and operational risks in the process of industrial restructuring. Without clear regulations and transparency, corporate mergers may lead to more "rent-seeking" opportunities for corruption that may challenge SOEs' ability to operate efficiently and jeopardize Beijing's attempt to increase the competency and profitability of its large state sectors. For example, CNR and CSR officials and their relatives reportedly purchased large amount of these two companies' stock shares in the six months before the official consolidation announcement (Xinhua, January 9). In Premier Li's recent National People's Congress work report, he identified rent-seeking as the primary common feature for corruption, which may explain why the Party has begun investigating SOEs for corruption before initiating consolidation. Beijing's consolidation plans are targeted on strategic sectors vital to the national economy, and these SOEs will face greater pressure to integrate supply chains and unify industrial standards for both production and operation. These mergers will also likely result in substantial job loss, and the Party will have to address this sensitive issue accordingly.
The Chinese government also realizes that these consolidated "national champions" will not automatically transform themselves into global brands. A month after the consolidation of CSR and CNR, Mexico announced it would not pursue a major railway project, which a CSR-led consortium won the bidding process in November, due to budget constraints—and some political concerns (China Daily, January 31). These "national champions" will require additional investment to develop their own core technology and foster technological innovation. As China pushes forward the "One Belt, One Road" strategy, consolidated SOEs' brand reputation and political risk management will be crucial to their successes, both at home and especially abroad.
Notes
"One Belt, One Road" refers to the President Xi's initiatives to build a New Silk Road Economic Belt and a 21st Century Maritime Silk Road.
The State-owned Assets Supervision and Administration Commission (SASAC), affiliated to the State Council, is the ministry-level government body that currently oversees 112 Chinese central government-owned SOEs.
China Huafu Trade and Development Group Corp is China's large sugar, meat, vegetables and alcohol producer.
"ABCD" global food companies refer to Archer Daniels Midland, Bunge, Cargill and Louis Dreyfus Commodities. On September 2014, COFCO announced its 1.2 billion euro ($1.3 billion) merger agreement with Noble HK's agricultural trading unit. The new deal will provide COFCO direct access to Noble Agri's grain, sugar, oilseed and cocoa sources overseas. On February 2014, COFCO announced its joint venture agreement with Nidera, a Dutch grain and oilseed trader, in which COFCO owns 51 percent. The new company will focus on grain sourcing and trading.
One option is to combine China National Petroleum Corporation and China Petrochemical Corporation. Another is to merge China National Offshore Oil Corporation with Sinochem Group. Details of the potential mergers in the telecommunications and oil sectors are unavailable as no official sources have confirmed the plans so far.
Similar to the railway sector, CSSC and CSIC were split into two companies in 1999.