Political Factions and the Presidential Election in Ukraine's East
Publication: Eurasia Daily Monitor Volume: 11 Issue: 92
By: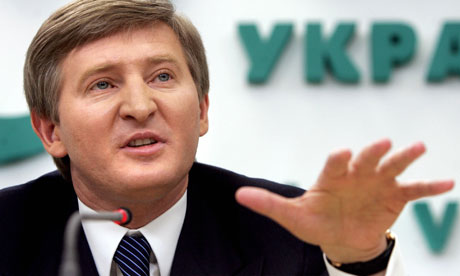 The Party of Regions and affiliated "oligarchs" remain the most influential political force in Ukraine's east for the time being (see accompanying article). However, the party is pressured on multiple fronts in the run-up to Ukraine's May 25 presidential election.
Removed from the government in Kyiv, attacked by Moscow's state media (these denigrate "oligarchs" in the neighboring country only), and challenged by Russia's armed proxies on the ground, the Party of Regions is splitting into a number of formal and informal factions. This process further complicates the pre-existing, already complex factional landscape in this party (hardly different from other major Ukrainian political parties in this regard). The Party of Regions' factions are attached in significant measure to territorial bases in Ukraine's east (see below).
The businessmen Renat Akhmetov and Dmytro Firtash, each controlling a faction of the Party of Regions, facilitated the regime change in Kyiv by switching to the side of the Maidan's politicians at the decisive moment. That move enabled the new government to obtain a parliamentary majority and even a constitutional majority on some crucial decisions. Arithmetically, the government and the acting president survive thanks to those additional votes in parliament.
Akhmetov went on record multiple times supporting "Ukraine's unity" and "Donbas within Ukraine," as against "federalization." Following the Donetsk and Luhansk "referendums," Akhmetov warned in a videotaped statement that seceding as "people's republics" or joining Russia would result in isolation from the world, international sanctions, and collapse of Donbas's steel, machine-building and chemical industries. He called for administrative "de-centralization in a united Ukraine" (Kyiv Post, May 14).
Nevertheless, Akhmetov was key to nominating "federalization" proponent Mykhailo Dobkin, former Kharkiv governor, as the Party of Regions' candidate in the May 25 presidential election. Dobkin's political ratings are relatively low. Apparently, the calculation is (or was at the time of nomination) that Dobkin would draw enough votes to legitimize the election's first round in eastern Ukraine, but not enough to advance to the second round, thereby avoiding the danger of an east-west polarized runoff (Interfax-Ukraine, March 29).
Oleksandr Yefremov is generally deemed the most influential politician in Luhansk province. Yefremov combines the posts of Party of Regions leader in that province and the party's floor leader in the Kyiv parliament. Yefremov supported a short-lived attempt at federalization at the Severodonetsk congress in Luhansk in December 2004, in response to Viktor Yuschenko's victory in the re-run of the second round of that presidential election. Yefremov seems to have remained passive during the ongoing turmoil in Donbas. Unlike Akhmetov and other Donetsk-based leaders, Yefremov argues that the Donetsk and Luhansk "referendums," albeit unlawful, cannot simply be ignored, but should instead spur Kyiv to negotiate "with all sides" in Donbas (Ukrinform, May 14).
The Party of Regions' parliamentary deputies Serhiy Tyhypko and Oleh Tsaryov entered the presidential election as self-nominated candidates. Both had risen to prominence in the south-eastern Dnipropetrovsk province; but they lost that territorial base to the billionaire governor Ihor Kolomoyski, who is currently forming the most influential power center in Ukraine's southeast (now reaching beyond Dnipropetrovsk itself). The Party of Regions has expelled Tyhypko and Tsaryov for their refusal to back Dobkin's presidential candidacy (Interfax-Ukraine, April 7).
While Tyhypko shows serious interest in a successful presidential election being held, Tsaryov is helping Russia's effort to disrupt the presidential election. On April 17, Moscow announced the launching of the "South-East" movement in Ukraine, headed by Tsaryov and calling for "federalization" based on "Novorossiya." Tsaryov seems to have disappeared from Kyiv but he appears on Russian television. To disrupt the presidential election, Tsaryov has called on all candidates from the east and south to drop out of the race, so as to minimize turnout and help Moscow to contest the election's legitimacy. For their part, Russia's paramilitary proxies in Donetsk and Luhansk are now trying to seize polling stations in order to prevent the election from being held.
Public opinion polls in Ukraine's east and south, conducted variously in the final months of 2013 and the first months of 2014, show sizeable majorities favoring Ukraine's unity, an overwhelming lack of interest in "federalization," and only small minorities in favor of secession or accession to Russia. Such findings are common to the surveys conducted by leading Ukrainian and international organizations in the recent months (as part of Ukraine-wide surveys) in Ukraine's east and south. However, the situation there is developing dynamically. The impact of Russia's televised propaganda may increase with unceasing repetition not countered by Kyiv. If the government's anti-terrorist operation keeps faltering, and/or if Kyiv politicians offer yet more spectacles of infighting after the election, the loss of confidence in the government will translate into higher levels of support for Russia's political projects in Ukraine's east.