Porous Border and Corruption Keep Drugs Flowing Through Tajikistan
Publication: Eurasia Daily Monitor Volume: 9 Issue: 123
By: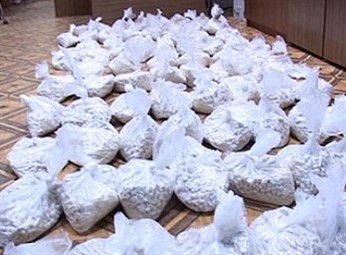 Recent weeks have seen a number of major narcotics busts in Tajikistan. On June 17, a border patrol found a cache containing almost 420 kilograms of cannabis in Shurobod district, on the country's southern frontier with Afghanistan. On June 11, the authorities reported busting some 14 kg of hashish in the country's north. One day earlier, police in Shurobod spotted a group of Afghan smugglers that had crossed the Panj River separating the two countries. Following a brief shootout, the smugglers retreated to Afghanistan, leaving behind about 100 kg of cannabis. On June 9, police reported capturing some 107 kg of narcotics, including 38 kg of heroin, in Hamadoni, another Tajik district lying on the southern frontier. On June 6, police intercepted more than 90 kg of narcotics after a two-hour clash with Afghan smugglers in Shurobod. Overall, almost 800 kg of drugs have been seized in Tajikistan since the beginning of June (news.tj, June 7, 10, 11, 18).
These interceptions represent only a tiny portion of the total flow of narcotics transported through Tajikistan en route to Russia and other destinations. In a report released in May, the United Nations Office on Drugs and Crime (UNODC) estimates that 75 to 80 metric tons of Afghan-made heroin and 18 to 20 tons of opium is smuggled through the country annually. This means that about 200 kg of heroin and 50 kg of opium pass through Tajikistan every day. Most of these narcotics end up in Russia where demand is driven by an estimated 2.5 million drug users ("Opiate Flows Through Northern Afghanistan and Central Asia: A Threat Assessment," UNODC, May 2012; fskn.gov.ru, May 3).
The flow of narcotics through Tajikistan is likely to increase over the next several years. Reports by the UN estimate that the production of opium in Afghanistan increased from 3.6 tons in 2010 to 5.8 tons in 2011. Moreover, the Afghan drug business is increasingly targeting Tajikistan as the primary transit country for heroin bound to Russia and Eastern Europe. Recent reports indicate that the cultivation of opium poppies in the northeastern areas of Afghanistan, lying along the border with Tajikistan, has lately increased by half while the number of laboratories that process opium into heroin has doubled (interfax.ru, May 31; rferl.org, March 28).
Tajikistan has emerged as a principal "northern" transit route for Afghan drugs mainly because of a long and ill-protected border the two countries share. Much of the 1,344-kilometer (840-mile) Tajikistani-Afghan frontier is mountainous terrain, which makes it easier for smugglers to move back and forth across the border and escape infrequent patrols. The country's border forces do not have sufficient manpower, equipment and other resources to effectively police the frontier. Cultural and linguistic ties between Tajiks and Afghans help traffickers organize networks on both sides of the border (see EDM, June 16, 2011).
Since the withdrawal of Russian border guards from Tajikistan in 2005, the country has leveraged its proximity to Afghanistan to ask for international assistance in improving the technical and material capacity of its border forces. Russia, the United States, the Organization for Security and Cooperation in Europe (OSCE) and UNODC have been the largest providers of such aid. Recently, Tajikistan has been calling for a significant increase in international support for its border forces, pointing to the withdrawal of NATO from Afghanistan after 2014 as a major risk factor. The authorities in Dushanbe expect that the US will donate some of the military equipment it currently uses in Afghanistan to the Tajikistani border forces. However, this is unlikely to happen as Russia is reportedly against such a possibility. Instead, the Russian-led Collective Security Treaty Organization (CSTO) has recently pledged to increase its assistance to border protection in Tajikistan (eurasianet.org, June 15; news.tj, June 22).
It is also unclear whether an increase in international assistance would actually help improve Tajikistan's capacity to police its frontiers. A report released by the Open Society Institute (OSI) in May suggests that a decade of generous Western support to make Tajikistan's borders more secure has achieved little because of the lack of political will to implement reforms, the Tajikistani government's strategy of reliance on international aid and unwillingness to commit its own resources, and widespread corruption ("Central Asia's Border Woes & the Impact of International Assistance," OSI, May 2012).
Corruption is perhaps the key factor sustaining the flow of narcotics through the country's territory. UNODC suggests that many senior officials in Tajikistan are either directly involved in the narcotics trade or take bribes to allow this trade to continue unabated. Estimating the profits made from heroin trade in Central Asia at about $1.4 billion annually, UNODC argues that the largest bulk of this amount goes to Tajik traffickers: "Drug money is fueling abnormally high property prices in Dushanbe and in the provinces. Other signs of great wealth are visible, including lavish houses and vehicles that are well beyond the means of the public servants who own them." The authorities acknowledge that high-level protection aids the transit of drugs through Tajikistan. In January, the head of the country's anti-corruption agency, Fattoh Saidov, admitted that "not a single narcotics trafficking group can operate without support from senior public officials" in the country (UNODC, May 2012; news.tj, January 24).