Regional Cooperation 2012 and US Security Assistance Efforts in Central Asia
Publication: Eurasia Daily Monitor Volume: 9 Issue: 123
By: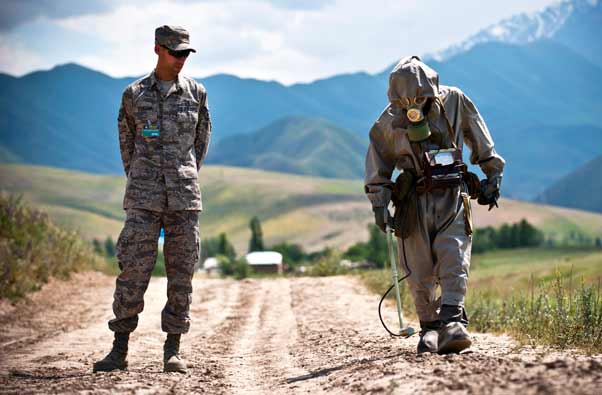 The United States' military and security assistance initiatives in Central Asia have frequently aroused controversy in Moscow. Numerous aspects are perceived conspiratorially by the Russian leadership who regard such activities as ultimately designed to weaken Moscow's influence in the region. Following the completion of the Shanghai Cooperation Organization (SCO) Peace Mission 2012 military exercises held in northern Tajikistan, the US staged low-key Regional Cooperation 2012 exercises with Central Asian states that culminated on June 25; these were aimed at boosting disaster relief and emergency response capabilities among partner countries. However, the precise nature of the exercises, their inherent weaknesses and ultimate contribution to strengthening local capabilities is open to question. Moscow views these exercises with suspicion as new capabilities already exist within the Collective Security Treaty Organization (CSTO) to help Central Asian countries deal with major disasters and emergencies, which exceed local state capacities (see EDM, June 25; https://en.ca-news.org/news:496961/, June 22).
Regional Cooperation 2012, conducted under the leadership of US Central Command (CENTCOM), brought together the US National Guard, the US Agency for International Development (USAID) and elements of the US Transit Center at Manas (Bishkek), as well as emergency units from Afghanistan, Kazakhstan, Kyrgyzstan and Tajikistan. The Central Asian forces included border troops, as well as units from each country's Interior Ministry (MVD) and Ministry for Emergency Situations (MchS). The timing of the annual exercise did not deliberately coincide with Peace Mission 2012, although Regional Cooperation 2012 was originally planned to be held in September 2012. Moreover, the exercise brought together military and civilian specialists to collaborate on improving approaches to and training for emergency situations and disaster relief efforts. In this sense, Regional Cooperation 2012 has been potentially less controversial than a more traditional military exercise. While it mainly served as a planning and training exercise, the training component shifted from a command-staff phase to a "boots on the ground" stage of around two days, allowing personnel to work on overcoming problems stemming from differences in procedures and equipment (https://en.ca-news.org/news:496961/, June 22).
Regional Cooperation 2012 involved two days devoted to theoretical training, mini-exercises, five days of exercises conducted with the aid of computer technology and various events held in the field. The practical part of the exercise ended on June 25 (https://en.ca-news.org/news:496961/, June 22). Emergency management flight staff sergeants from the US Manas Transit Center participated in Regional Cooperation 2012 and worked on honing the skills of their Afghan and Central Asian counterparts. These individuals reported that common approaches were being developed, and admitted that equipment and a conceptual understanding of disaster relief or emergency management was often limited on the part of the recipients of the training (https://www.youtube.com/watch?v=Ny6g_Cb9G6M, June 21).
Similar approaches to developing and expanding the host military and security capabilities to act across a wide range of missions form part of the bilateral US security assistance efforts in Central Asia. Nonetheless, local militaries often believe they know better and go through the motions of engaging in training or exercises only to abandon or lose such skills and lessons very quickly. This may be linked to a lack of understanding among Central Asian military and security personnel concerning Western professional standards, but it also stems from the vast numbers of conscripts in these structures who simply end their service at varying intervals. US military personnel told Jamestown that this especially occurred in Kyrgyzstan and Tajikistan, where local personnel are shown standard procedures for casualty evacuation and later demonstrate a haphazard approach to stretcher bearing or applying basic first aid.
Typical of the challenges facing US defense and security assistance programs in Central Asia is the annual hemorrhaging of conscript soldiers from Kazakhstan's peacekeeping battalion (KAZBAT), following the US- and UK-led Steppe Eagle Exercise held in September each year in Kazakhstan. Within a few weeks of the Steppe Eagle exercise ending, large numbers of Kazakhstani conscripts serving in KAZBAT finish their military service, and the skills and experience they gain as part of Steppe Eagle simply vanishes, leaving Western planning staffs to face the same problems the following year. Despite constant appeals to Astana to boost the numbers of contract personnel in KAZBAT, the state still depends on too many conscripts in its key military and security formations. Much of the training received by the Central Asian MVD and MchS units during Regional Cooperation 2012 will likely also bring limited improvements to local capabilities (https://www.youtube.com/watch?v=Ny6g_Cb9G6M, June 21).
Moscow's awareness of the weaknesses in US defense and security efforts in Central Asia may partly explain the limited level of controversy surrounding this type of exercise. Certainly, if Russian defense planners believed that such activities would boost the long-term capabilities of the host military and security forces, they would not devote so much attention in the region under the CSTO framework to enhancing similar capabilities to act in emergency or disaster situations. According to an article by Georgiy Kovalev and Oleg Gorbunov, the real source of anxiety about US and NATO plans in Central Asia relate to NATO's agreements with Kazakhstan, Kyrgyzstan and Uzbekistan to use their territories for the removal of military hardware from Afghanistan by 2014. The potential for this to serve to strengthen the role of the US and NATO in Central Asia, in the authors' view, represents a direct threat to the interests of Russia and its network of multilateral organizations such as the CSTO, SCO or the Customs Union (Belarus, Kazakhstan and Russia), which serve to promote Russia's regional influence (www.politkom.ru, June 8).
In the Russian media coverage of the implications of NATO's withdrawal from Afghanistan and US strategic interests in Central Asia post-2014 there is a missing dimension: the role and growing influence of China. While US and Russian defense assistance and cooperative dynamics arouse a great deal of attention on the part of policy makers and experts, the more opaque activities of Beijing in Central Asian security is often simply off the radar screen. These actors understand that 2014 may mark a regional tipping point, but none can accurately predict how the regional balance might shift after the NATO withdrawal from Afghanistan. Nonetheless, quietly and without any fuss, on the main road into Osh in southern Kyrgyzstan, where the ethnic violence occurred in June 2010, a huge billboard outside the city displays the Kyrgyzstani Defense Minister shaking hands with his Chinese counterpart. In Central Asia's potentially most critical flashpoint, locals already understand the shift away from Russia to China in terms of security actors.