President Xi's Visit to Belarus Prompts Questions of New Line on Taiwan
Publication: China Brief Volume: 15 Issue: 11
By: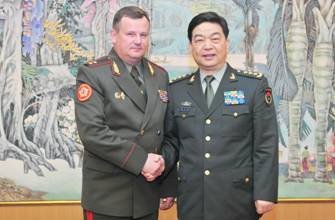 Chinese President Xi Jinping's state visit to Belarus on May 10-12, following his visit to Russia to join President Vladimir Putin in the military parade celebrating the 70th anniversary of the end of World War II, has led to new questions in Taiwan about Xi's policy and how Beijing will approach the issue of Taiwan's international space in the run-up to Taiwan's next presidential election in January 2016. On May 10, Xi issued a joint statement with his Belarusian counterpart Alexandre Lukashenko. Beyond the typical diplomatic language and reaffirmation of the "One China" policy, the joint statement declared that Belarus "will oppose Taiwan joining any international organization or regional organization that is limited to participation by sovereign nations, will not sell arms to Taiwan and will support the peaceful development of cross-Strait relations and the Chinese government's efforts to achieve national unification" (Xinhua, May 11).
Taiwan's United Daily News was quick to point out that this was the first time this specific language was used in a Chinese joint statement, but in fact this exact language was used in a similar joint statement in 2013 and a 2007 joint statement only excluded the arms provision (UDN, May 12; MFA, November 5, 2007; Xinhua, July 16, 2013). The Taiwanese government's response has focused predominantly on Belarus' opposition to Taiwan's participation in international organizations in which sovereignty is a prerequisite. On May 11, the Taiwanese Ministry of Foreign Affairs (MOFA) spokesperson said, "The Foreign Ministry regrets the move," as the joint statement "ignored the international reality and made inappropriate remarks that affect our country's rights" and was merely an attempt to "[ingratiate] itself with the mainland" (Central News Agency, May 13; Taipei Times, May 13). The MOFA spokesperson correctly said that the joint statement was similar to past statements in 2007 and 2013, and did not raise the issue of banning arms sales (China Post, May 13). Other Taiwanese media reported on the MOFA statement and put the joint statement in context, saying it was "rare in that it specified opposition to Taiwan independence," as China's joint statement with Russia just days prior had not mentioned Taiwan and the statement with South Korea in 2014 had said "China reiterates that there is only one China in the world and that Taiwan is an unalienable part of China. South Korea understands and respects this idea fully" (WantChinaTimes, May 13).
However, the issue was a minor point of discussion in the Chinese media after typical coverage of President Xi's trip, with only one article covering the controversy (Global Times, May 13). The Chinese media instead covered Belarus' role in Beijing's New Silk Road strategy, which President Lukashenko agreed to support, and the China-Belarus Industrial Park (China Daily, May 7; Xinhua, May 10). One Chinese expert described Belarus as "located at the intersection of the European Union and the Central Independent States, as well as the Baltic States and the Black Sea, so it can connect the Eurasian Economic Union and the EU markets, playing an indispensable role in promoting the 'One Belt, One Road' " (People's Daily Online, May 10). Before President Xi's visit, the Chinese Ministry of Foreign Affairs (MFA) said the joint statement would focus on "further developing and deepening bilateral comprehensive strategic partnership," without mentioning Taiwan (MFA, May 4).
The specific language appears to be exclusively used in Chinese statements with Belarus, and no other country, suggesting it is likely "icing on the cake," as there is likely little that Belarus could sell to Taiwan. The former Taiwanese representative in Belarus, Jiang Shu-yi, said that there have been no previous arms sales from Belarus (Global Times, May 13). According to the Stockholm International Peace Research Institute, since 1990 Belarus has sold largely second-hand military arms from the former Soviet Union, and has no sales to any East Asian nation besides China (Beijing ordered five transportation aircraft via Russia in 2011) (SIPRI, 2015). Belarus has sold other countries some aircraft, helicopters, tanks, missiles and guns, but none of these are likely of much interest to Taiwan, which is focused more on acquiring foreign submarine technology, or developing its own domestic program. Moreover, Chinese Central Military Commission Vice Chairman Fan Changlong and Minister of Defense Chang Wanquan met with visiting Belarusian Minister of Defense Lt. Gen. Andrei Ravkov in Beijing on May 25, where they agreed to deepen military cooperation and signed an agreement on Chinese military assistance (Xinhua, May 25; Belarus MOD, May 26). Furthermore, analysts have suggested that Belarus' strategic calculus lies in currying favor with Beijing to counter Russian influence, particularly in light of the Crimea annexation (PTS News Network, May 12). Belarus has little to lose in regards to Taiwan, as MOFA shut down its representative office in Minsk in 2006 after Belarus openly opposed Taiwan's bid to join the UN and WHO (Taipei Times, January 4, 2006).
China under Xi could potentially be pursuing a dual line toward Taiwan—greater engagement across the Strait and demonstrated flexibility on Taiwan's participation in international organizations, but increased international isolation through related agreements with its diplomatic allies. Following the first China-Taiwan meeting in January 2014 between Wang Yu-chi, head of Taiwan's Mainland Affairs Council, and Zhang Zhijun, head of China's Taiwan Affairs Office, Kuomintang (KMT) Chairman Eric Chu visited Beijing this month and met with President Xi, where Chu called for expanded international space (Xinhua, May 4; Focus Taiwan, May 4). Yet this is happening against the backdrop of China's decision to deny Taiwan membership in its Asian Infrastructure Development Bank (AIIB) (South China Morning Post, April 13). If the Xi administration sought to demonstrate a softer tone with Taiwan internationally to win favor with the Taiwanese public ahead of the 2016 election, which as of now appears likely to be a repeat of the November 2014 local election in favor of the DPP against the KMT's pro-China stance, Xi could have removed the strident language from the joint statement (see China Brief, December 5, 2014).
This issue may become a talking point on the campaign trail in Taiwan. While Belarus itself may not be a critical factor in the grander scheme of Taiwan's political considerations, the question of Taiwan's limited international space comes at a sensitive time. Gambia severed diplomatic ties with Taiwan in late 2013; Taiwan's singular European ally, the Holy See, made motions to establish formal relations with the Mainland during Pope Francis' visit to South Korea in August 2014; and Taiwan's offer to provide humanitarian relief for last month's earthquake in Nepal were initially rejected, pointing to the geopolitical realities preventing the island from contributing to the international community (see China Brief, May 15; Taipei Times, November 16, 2014; Focus Taiwan, April 27). Domestically, KMT Legislator Johnny Chiang said the statement could be taken as a "warning" for Taiwan to not try to join any international organizations after the 2016 presidential election (Taipei Times, May 13).
The DPP continues to reject the deliberately ambiguous "One China" element of the 1992 Consensus which has served as the underlying foundation of cross-Strait dialogue for the Ma administration and likewise the basis for his "flexible diplomacy" policy. Ma's policies has brought about a tacit "diplomatic truce" and expanded Taiwan's international space in UN-affiliated organizations through flexibility on nomenclature and seeking limited statuses instead of full membership. For example, Taiwan was invited as a "guest" of China at the 38th International Civil Aviation Organization (ICAO) Assembly meeting, which came at the suggestion of Beijing, even though the Ma administration originally sought observer status (Taipei Times, September 26, 2013). China has likewise demonstrated goodwill towards Taiwan by declining offers of establishing formal relations from Panama and El Salvador. The DPP has criticized Ma's approaches, holding that these policies give China the upper hand and a future point of leverage against Taiwan. A report from the China Times holds that a rejection of the 1992 Consensus would mean a termination of the diplomatic truce, purporting that within the first week of the new administration five to seven of Taiwan's allies will switch recognition to China and Beijing is likely to withhold invitations to key international organizations such as ICAO and the World Health Assembly, in order to put pressure on a DPP administration (China Times, May 20).
Consequently, China may be preparing for a more heavy-handed approach to Taiwan in the event of a DPP victory in 2016 and a likely rejection of the 1992 Consensus. The recent joint statement between China and Belarus is noteworthy in the continued opposition to Taiwan's joining international organizations in which sovereignty is a requirement. Though China has always adhered to this policy, Beijing has demonstrated its flexibility in exactly how Taiwan can participate. Reaffirming opposition, which may come at the further cost of domestic Taiwanese support for the KMT's engagement policy under President Ma, may demonstrate that Beijing has accepted the fact that the KMT will likely lose and is now posturing for a DPP victory in 2016 – readying to switch its hand from a carrots approach to a stick one. Ultimately, analysts can only wait and see if this additional clause becomes the new norm for China's joint statements with other nations.