PRO-OSSETIAN AUTHORITIES EMERGING IN SOUTH OSSETIA
Publication: Eurasia Daily Monitor Volume: 3 Issue: 214
By: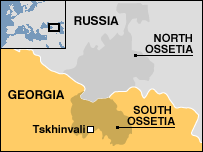 The Tbilisi-backed Union for National Salvation of Ossetians (UNSO) conducted its own referendum and presidential election in South Ossetia on November 12, as an alternative to the referendum and election conducted that day by the Moscow-installed authorities (see EDM, November 15). Residents of villages with Georgian or mixed Ossetian-Georgian populations, as well as solidly Ossetian villages where UNSO leaders have family ties, took part in the alternative voting. Unlike the Tskhinvali leaders who are pro-Russia Ossetians or indeed Russians, the UNSO leaders are genuinely pro-Ossetian Ossetians who stand for preservation of the Ossetian national identity and self-government in a federal Georgia, and they are discovering promise in Georgia's European orientation.
According to returns released by the UNSO-organized alternative electoral commission (Kavkaz-Press, Georgian Public Television, November 16), 94% of those casting ballots answered "yes" to the alternative referendum's question, "Do you agree that South Ossetia should hold talks with the Georgian government on being part of a [Georgia] federal state?" The alternative election returns credit UNSO's front-runner candidate, Dmitry Sanakoyev, with the same 94% of the votes cast. Approximately 23,000 voters cast ballots in the alternative referendum and election. That number may well have included some Ossetians who voted overtly as ordered by the secessionist authorities while taking the risk to vote covertly in the alternative balloting for reconciliation with Georgia. The secessionist authorities had sought to frighten UNSO's supporters ahead of the vote by launching criminal proceedings for "state treason" and "attempting to seize power by force" against the alternative electoral commission members and UNSO leaders (Interfax, November 4).
UNSO leaders include some former members of the South Ossetian leadership under Lyudvig Chibirov — a group that, while fully dependent on Moscow, did not pursue outright secession from Georgia and did not burn its bridges with Tbilisi during the 1990s. Moscow removed this group in 2001 by installing the hard-line team under Eduard Kokoiti, including Russians sent in from Russia to top posts in Tskhinvali. Sanakoyev had been "defense minister" and "prime minister" in Tskhinvali prior to the change of leadership. Other UNSO leaders belong to extended families such as the Karkusovs and the Parastayevs, who also lost out as a result of that change, and retain political support in their villages.
UNSO is advocating for local Ossetian interests against a Moscow-appointed administration. It stands for self-government within Georgia in the form of a South Ossetian Republic (upgraded from the pre-1991 status of autonomous region). And it capitalizes on a now-widespread view among Ossetians that Kokoiti's team is corrupt and cynically unconcerned about the region's deep poverty.
With the announcement of the alternative voting returns (November 16), Sanakoyev addressed a public rally in the Georgian-controlled village of Eredvi to make public UNSO's plan of action for the weeks and months ahead. UNSO will set up an executive-administrative authority, probably in the village of Kurta, to be staffed with residents of South Ossetia. It will pursue the realization of the three main goals in its electoral program: Demilitarization of the conflict zone, resumption of negotiations toward defining South Ossetia's status as a self-governing republic within Georgia, and economic development of the region. The new authorities count on Tbilisi's assistance in normalizing relations with the rest of Georgia and restoring transport and human communications. "Naturally, we will turn to the Georgian government for help in resolving all these issues," Sanakoyev told the thousands of participants in the rally. The new authorities will seek to play a direct role both in the status negotiations and in the use of reconstruction aid from Tbilisi and external donors (Rustavi-2 Television, November 16).
The emergence of pro-Ossetian authorities in South Ossetia holds the potential to change the course and logic of conflict-settlement negotiations for at least three reasons.
First, it debunks Moscow's and its local protégés' totalitarian-style claim that the population of South Ossetia "unanimously" wants to "be with Russia" — a claim that tries to suppress all other opinions and options. The alternative voting served to demonstrate that other options do exist among Ossetians — despite 15 years of indoctrination from Russia — and require proper political representation.
Second, a parallel authority, willing to pursue local interests through Tbilisi, is emerging on part of South Ossetia's territory, just as it has been created recently on part of Abkhaz-claimed territory. Thus, secessionists and Moscow can no longer claim to be the exclusive representatives of South Ossetian and Abkhaz interests. The Moscow-controlled "negotiating processes" would have to change their substance and procedures to accommodate this new fact, or would have to be replaced by new processes.
And, third, the emergent parallel authorities in South Ossetia should be able to anchor that region's people to Georgia's evolution on the path of reforms and European integration. This would involve a profound change at the level of local mentalities, hitherto affected by either isolation or Russo-centrism. For this trend to take hold, European donors of reconstruction aid should channel that aid mostly through Tbilisi and the pro-Ossetian authorities in South Ossetia.