Pro-Russian Blogger Anatoliy Shariy Rises to National Level in Ukrainian Politics
Publication: Eurasia Daily Monitor Volume: 17 Issue: 114
By: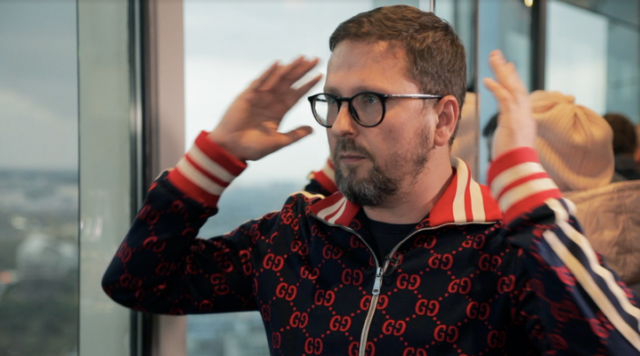 The ongoing COVID-19 crisis notwithstanding, Ukrainian politics has thoroughly entered campaign mode with local elections scheduled for this coming October. According to the Kyiv-based pollster Rating Group, as of a month ago, President Volodymyr Zelenskyy's party, Servant of the People, registers 29.3 percent support among decided voters, followed by Opposition Platform–For Life (15.3 percent), European Solidarity of former president Petro Poroshenko (13.6 percent), and the Batkivshina (Fatherland) party of former prime minister Yuliya Tymoshenko (10.7 percent) (Pravda.com.ua, July 2). Zelenskyy's approval rating has fallen to an all-time low of 38 percent (45 percent disapprove), declining by 14 percentage points since March (Liga.net, June 30).
Among other notable political factions running in the election is Shariy's Party, named after controversial video blogger Anatoliy Shariy, which presently polls at 3.7 percent. During last year's parliamentary elections, in July 2019, the populistic Euro-skeptic party (which had been founded only a month earlier) received 2.23 percent of votes cast, too few to overcome the threshold of 5 percent (RBC, July 21, 2019).
Shariy fled the country in 2012, reportedly to escape criminal charges for allegedly firing a traumatic pistol in a street brawl; he was granted political asylum in Latvia. Nonetheless, last year, a district court in Kyiv excluded Shariy from the state's wanted list and forwarded his case for additional revision (Pravda.com.ua, April 16, 2019). He remains abroad, in the European Union, where he runs a YouTube vlog that has 2.3 million subscribers (Youtube.com/user/SuperSharij, accessed July 29).
Despite Shariy's claims that he is only an independent investigative blogger, many local experts in Ukraine accuse him of working for Moscow because most of his messages are critical of the 2013/2014 EuroMaidan and the pro-European authorities who came to power as a result of the revolution. Furthermore, according to some investigators, Shariy's online videos often directly track and echo Kremlin propaganda, including on such topics as the military escalation in Donbas, the shoot-down of commercial Flight MH17 in 2014, and Ukrainian politics more generally (Censor.net, July 21, 2019).
After his brand new party's unexpectedly high (relatively) result in the 2019 parliamentary elections, Shariy became a frequent guest on local TV channels NewsOne, Zik and Ukraine-112. These news outlets all belong to Ukrainian lawmaker Taras Kozak, who is close to fellow oligarch, parliamentary deputy and Opposition Platform–For Life party leader Viktor Medvedchuk (Interfax, June 14, 2019). The latter man is a regular visitor to Moscow, where he discusses ceasefire negotiations and de-escalation in Donbas with his Russian hosts (24tv.ua, March 11).
In early July, investigative journalists revealed evidence that Shariy apparently owns a million-euro villa in Roda de Berà, on the Spanish coast (Slidstvo.info, July 7). Almost immediately, he confirmed this information, claiming the home actually cost three million euros ($3.53 million), and published pictures of the Spanish mansion (Strana.ua, July 7). He then pivoted to accuse Zelenskyy's close associates of planning his murder with the support of the Security Service of Ukraine (SSU). The President's Office swiftly rejected this wild charge (Pravda.com.ua, July 8).
Many experts argue Shariy and his party could be acting as another outlet that amplifies Moscow's narratives in Ukraine, presumably among Russian-speaking audiences. Yet, importantly, as an independent online star and native Ukrainian, Shariy also attracts support from the country's mostly young pro-European audience, which seeks "the truth," regardless of where it may be coming from. As such, Shariy deliberately positions himself as a "critical thinker" and an "independent blogger," who delves deeply into the details to reveal corruption and other murky schemes involving top Ukrainian politicians. According to former Ukrainian parliamentarian and respected investigative journalist Serhii Leschenko, "The Kremlin is seeking revenge [sic] by financing the parties of Medvedchuk and Shariy to win more seats after the snap parliamentarian elections" (Glavcom.ua, July 13).
For now, it is unclear what individual(s) or entity is assisting Shariy, who has resided outside Ukraine for years. This also concerns the origin of the sensitive information apparently originating from Ukraine's law enforcement that the vlogger frequently presents in his online videos. By the same token, no reliable evidence is available regarding how (or by whom) exactly his party is being financed.
Over the last several months, members of his party had reportedly become victims of attacks that, according to Shariy, were organized by the National Corps. This far-right organization's activists include veterans of the war in the Donbas who certainly do not hide their strong anti-Russian sentiments (112.ua, July 12). The incidents may be boosting popular sympathy toward the vlogger's upstart party. And despite the above-mentioned scandals involving Shariy, experts believe his faction is now in a strong position to earn an even larger share of the vote in the October election than it did last year. Success in the local contests could pave the way for Shariy's Party to enter the parliament in the future. According to Volodymir Paniotto the head of Kyiv's International Institute of Sociology (KIIS), Zelenskyy's falling support is translating to more potential votes for pro-Russian parties, including Opposition Platform–For Life as well as Shariy's Party (Inforesist.org, June 23).
Another reason for Shariy's Party's current growth in popularity has been its active use of Facebook, Vkontakte, Odnoklassniki.ru, Telegram and other social media platforms, which mostly attract young audiences between the ages of 18 to 35 (Vc.ru, July 19, 2019). Unlike other pro-Russian parties such as Opposition Platform–For Life, Shariy's political campaign manages to bring in more progressive and educated Ukrainians who do not necessarily hold pro-Russian views but like the popular vlogger's deep and comprehensive investigations that are supposedly "fighting for truth." Tracking down the original source of the information or even verifying its credibility may not be among the first priorities for such voters. Moreover, they are more likely to self-mobilize (using the internet) and take to the streets, which is less the case for Ukraine's traditional pro-Russian electorate (Pravda.com.ua, July 12).
Anatoliy Shariy's growing popularity among Ukrainian voters deserves closer scrutiny as the October local elections draw closer. And if the above concerns from experts regarding hidden Russian support to Shariy's Party is correct, it illustrates the Kremlin and its allies' apparent efforts to expand its information warfare against Ukraine. Namely, Moscow appears to be trying to broaden the reach of its narratives to younger, politically active Ukrainians less able or willing to distinguish facts from disinformation.