Pro-Russian Demonstrations in Riga: The 'Spanish Trace' and Potential Repercussions
Publication: Eurasia Daily Monitor Volume: 15 Issue: 144
By: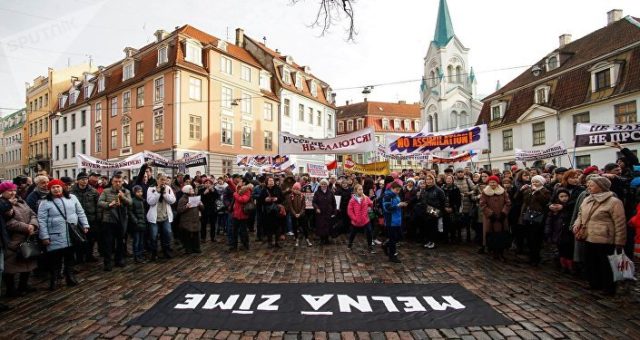 The Latvian Russian Union (LKS) and Headquarters for the Protection of Russian Schools (HPRS) organized a demonstration in the capital city of Riga, on September 15. The publicized goal of the event was to "prevent educational reform in Latvia, which will lead to a total degradation of ethnic Russians living in Latvia, and their full assimilation with the Latvian population" (Tvzvezda.ru, September 15). Russian propagandists have claimed that extinction of Russian in the school curriculum will result in Russian children turning into "real Europeans with a Latvian mentality" (Sputniknewslv.com, April 4).
Last month's rally was organized as a "response" to the decree signed by Latvian President Raimonds Vējonis, aiming to make Latvian the dominant language of instruction in all public schools by 2021. The Russian language could only be used during such courses as Russian Language and Russian Literature (Svoboda.org, September 15). These developments triggered a predictably acute reaction from officials in Moscow. Notably, Russia's Ministry of Foreign Affairs claimed "it will appeal to international human rights organizations such as the UN [United Nations], the EU [European Union], the OSCE [Organization for Security and Cooperation in Europe] and the Council of Europe to look into the discrimination of the Russian language in Latvia" (Vksrs.com, September 13). Whereas, this past spring, the Russian State Duma (lower chamber of parliament) pushed for "economic sanctions against Latvia," which, among other aspects, might include punitive restrictions related to "financial transactions, custom duties, tourism and international trade agreements" (Sputniknewslv.com, April 4).
The September protests in Riga and the forces that organized them highlight two important points. First, the action was attended not only by three Latvian ethnic-Russians with ties to the European Parliament (EP), Miroslav Mitrofanov, Andrejs Mamikins (both current members, or MEPs) and Tatyana Zhdanok (who resigned as MEP in early 2018), but also by Spanish MEP Ana Miranda. Second, the Latvian Russian Union is a well-known supporter of the Kremlin-backed "Russian World" (Russkiy Mir) concept. In 2014, the LKS openly supported Russia's annexation of Crimea by concluding a "Treaty on Cooperation" with the pro-Moscow pan-Crimean movement Russian Unity. Their joint "treaty" stipulated "strengthening ties in the Russian World and mutual support of public and political organizations in Crimea and Latvia" (Regnum, August 15, 2014). It is also worth mentioning that Mamikins' notorious political reputation. In 2014, he was blocked from trying to speak at a session of the EP in the Russian language (Russian is not one of the 24 official languages of the EU); in 2015, he called upon the international community to "save Latgalia [a heavily ethnic-Russian-populated region of Latvia]"; whereas in 2016, accompanied by two MEPs and Russian parliamentary deputies, he traveled to Syria to meet with President Bashar al-Assad and visited a local Russian military base (Delfi.lv, accessed October 11, 2018).
The LKS (created in 1998) and the HPRS (2003) are Latvia's two foremost proponents of Russian-language use in the country. Their main objectives boil down to (Shtab.lv, accessed October 10):
– Abrogating provisions of the "Reform-2004" legislation;
– Obliging the Latvian government to finance preparatory courses for schoolteachers teaching in the Russian language;
– Making Latvian an obligatory language of instruction only in such disciplines as Latvian Language and Literature, Latvian History, or Geography;
– Restoring the main principles of the Law on Education from 1919.
Perhaps, these initiatives would not have received as much attention were it not for international support and involvement of several key European institutions. For instance, the above-mentioned rally in Riga was preceded by a campaign, organized by the LKS, to draw European attention to the "problem": On September 13, Ilya Kozyrev (a member of the HPRS), speaking in Warsaw at a session of the OSCE's Office for Democratic Institutions and Human Rights (ODIHR), alleged that the Russian language in Latvia was being harshly attacked (Sputniknewslv.com, September 13).
Subsequently on September 24, as a result of the protests in the Latvian capital a week earlier, a session of the European Parliament's Committee on Culture and Education (CULT), in a report entitled "Minimum Standards for Minorities in the EU," stressed that EU member states are responsible for "implementation of political and legislative measures to safeguard and promote the identity and rights of minorities, including ethnic, cultural, religious and linguistic rights." The EP's report also encouraged member states to "to ensure, as far as possible and within the framework of their education systems, that persons belonging to those minorities have adequate opportunities for being taught the minority language or for receiving instruction in this language" (Europarl.europa.eu, September 25).
Undoubtedly, this international attention to the issue was profoundly boosted by the participation of Spanish MEP Ana Miranda (from the Galician Nationalist Bloc party), who came to Riga "to support Latvia's severely discriminated-against national minorities" (Regnum, September 15). In the European Parliament, Miranda belongs to the European Free Alliance (EFA) political coalition, which stands on the principles of independence movements, socialism, Euroscepticism, and left-wing nationalism. She has been an MEP since 2013 (Europarl.europa.eu, accessed October 11).
It is important to note that ties between pro-Russian activists and Spanish separatists have a long history (see EDM, October 2, 2017). For instance, while in the EP, Tatyana Zhdanok would visit Spain on numerous occasions to foster ties and expand cooperation (Rusojuz.lv, September 22, 2017). Furthermore, the pan-European Greens–European Free Alliance political group (to which Miranda belongs) has, repeatedly preached against anti-Russian sanctions, for the "profoundly negative impact [these can have] on relations between the EU and Moscow" (Interfax.ru, May 31, 2015).
The above-mentioned developments should be assessed from three angles. First, the signing of the law on education in Latvia is an important and timely measure. However, the fact that the reform will be implemented only in 2021 will provide additional time for opposed forces within the country to consolidate their efforts and conjure up means to come up with counter-actions to this legislation. As demonstrated in Ukraine, the postponement of sensitive but unpopular measures does not eradicate the roots of the problem. Second, to boost their efforts, the pro-Russian forces in Latvia (and arguably in the other Baltic States) will likely continue to search for support in the EP and other international institutions, especially among nationalist and leftist forces known for their sympathies toward Moscow. Third, Estonia with its large number of ethnic Russian nationals might itself soon encounter a renewed wave of pro-Russian sentiment—something increasingly promulgated by Russia's propagandist outlets (Sputniknewslv.com, September 13; Sputnik-news.ee, September 15).