Public Security Officially Joins the Blogosphere
Publication: China Brief Volume: 11 Issue: 18
By: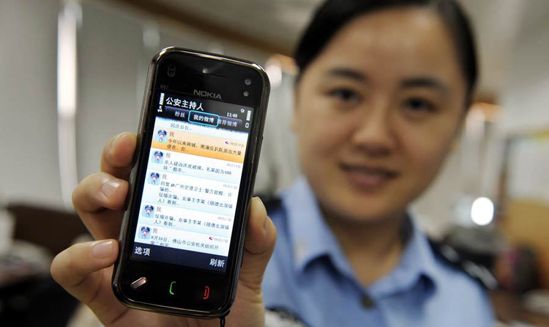 On September 27, the Ministry of Public Security (MPS) announced the national launch of "police microblogging construction" (gong'an weibo jianshe) as the newest element in its social management toolkit and public security informationization (MPS.gov.cn, September 27; People's Daily, September 27). To prepare the national launch of police microblogging, the MPS convened a special seminar on September 25 and 26 to help establish the "normalization" of police microblogging with informed research and lessons from a trial period for the MPS program that took place over the last 18 months at sub-national levels. MPS Vice Minister Huang Ming presided over this launch seminar and said the results so far have been very promising (China Police Daily, September 27).
Part transparency, part opinion shaping and part two-way information service, police microblogging aims to achieve a number of objectives. The primary objective is related to improving the relationship between the people and MPS elements at every level. As one article earlier this year put it, police microblogging deals with the people's right to know what its government is doing (Liberation Daily, February 28). The flip-side of  this government transparency concerning social stability is the government's right to guide public discussion by countering what it deems rumors and unhelpful conjectures. As state media argued on the day of the launch, the microblogging environment often contains emotional if not irrational information that requires MPS guidance (Legal Daily, September 27; People's Daily, September 27; China Police Daily, September 27). Microblogging also offers a way to release useful public safety information and respond directly and openly to public inquiries (Legal Daily, September 27).
Police microblogging construction provides yet another example of Beijing leveraging local-level government innovation as a generator and testing ground for new governance ideas. The MPS credited the Foshan Municipal Public Security Bureau in Guangdong Province with taking the first steps in using Chinese microblogging platforms as a way to communicate with the local citizenry. The MPS also highlighted other public security departments and bureaus highlighted for their innovative experiments in using microblogs to disseminate public safety information and move toward service-oriented public security work, including Beijing, Xiamen, Jinan,  Kunming, and Hebei (MPS.gov.cn, September 27; Legal Daily, September 27; China Police Daily, September 27; People's Daily, September 27; November 29, 2010).
In January and February this year, a broader discussion appeared to take place about the direction and value of police microblogging. The China Police Daily carried an online poll in January to investigate reactions to the program and other press outlets discussed the merits of the local programs. Most notably, local-level public security offices reported improved public perceptions of the police for those units using microblogs relative to MPS units that did not. Answering the question of whether police information would attract users and receive wide distribution, MPS elements reportedly ran many of the most popular government microblogs (Xinhua, September 27; China Police Daily, September 27; Liberation Daily, February 28; China Police Daily, January 18). The initial microblogging experiments were used to tout MPS achievements, but led to the embarrassing results of "zero forwards, zero comments" on police microblog posts. This failure shifted police microblogging toward the more practical efforts to solicit tips, provide warnings and describe preventative measures for public safety (China Police Daily, January 4).
While some observers have hailed microblogging as the latest political "game changer" in China, there can be no question that the changing ways in which Chinese citizens use information has affected government information policy. The People's Daily highlighted a need to change the prevalent attitude that the public security personnel can avoid engaging the public without social stability-related consequences (September 27). At this weeks' seminar, Vice Minister Huang pointed out that the times called for the MPS to respond to the citizenry's new expectations as the Internet has created a new conceptual landscape for maintaining stability (China Police Daily, September 27).