Putin Addresses Country Days After Mass Arrests of Nonviolent Protesters in Moscow and St. Petersburg
Publication: Eurasia Daily Monitor Volume: 14 Issue: 80
By: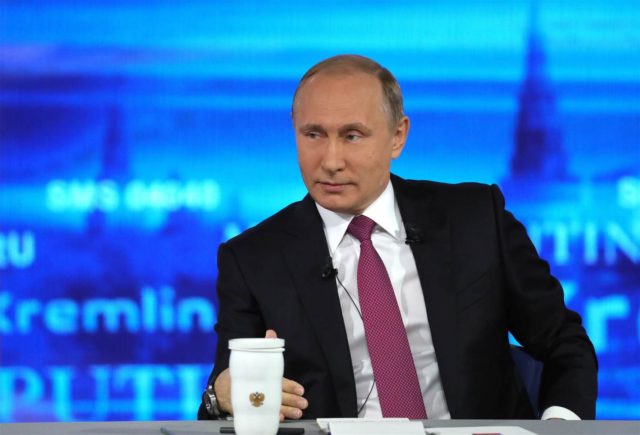 President Vladimir Putin (64) has not yet officially announced whether he will run for a fourth term as head of state on March 18, 2018. During the traditional annual nationwide live multi-hour televised phone-in, held this year on June 15, Putin did not announce his candidacy. And yet, it was clear he had already started campaigning—reassuring his subjects, answering pre-rehearsed questions and promising Russians a better future (Kremlin.ru, June 15). Putin's custom-built system of power seems certain to ensure a landslide victory at the polls, granting him six more years in the Kremlin and continuing his rule over Russia until 2024—almost a quarter of a century, all in all. The actual campaign announcement is irrelevant: The Kremlin propaganda machine and presidential administration are already in election mode. Duma speaker and an important member of Putin's inner circle, Vyacheslav Volodin, announced this week, "For any Russian that wants a peaceful sky overhead and a good future, the only candidate is Putin—only he can do the job. Our enemies want to dismantle and enslave Russia and know that only Putin may stop them." As the election date approaches, continued Volodin, "provocations by unfriendly foreign powers will multiply—they will try to thwart Russia's true support of Putin" (Life.ru, June 13).
The state propaganda machine has been actively promoting the The Putin Interviews, a film by director Oliver Stone, currently being screened on Showtime. State-controlled Russian TV has been heaping praise on Stone, while attacking the "mainstream US liberal press" for being anti-Russian and anti-Putin (Vesti, June 13). The state news agency RIA Novosti quoted Stone, who reportedly accused the "US military-industrial complex" of undermining already strained bilateral relations to serve its selfish interests and increase defense spending (RIA Novosti, June 13).
In the interviews, Putin once again accused the United States of actively supporting Islamist terrorists in hopes they will attack Russia; he also insisted the West fooled Soviet President Mikhail Gorbachev, in 1990, when he agreed to allow the peaceful reunification of Germany in exchange for alleged verbal assurances that the North Atlantic Treaty Organization (NATO) would  not expand eastward, instead of securing some written memorandum. Gorbachev publicly pushed back: It was impossible to secure any legal document in 1990 about further NATO expansion since the Warsaw Pact was disbanded only in July 1991, only then freeing its former members to join the North Atlantic Alliance. Gorbachev recalled the achievements made following the end of the Cold War: nuclear limitation and disarmament treaties as well as the Conventional Forces in Europe (CFE) treaty of 1990, which Putin abandoned in December 2007. Gorbachev insisted NATO enlargement happened when he was long gone from the Kremlin, and most new members joined NATO under Putin's watch, after 2000 (Interfax, June 13).
It seems the only piece of news in the Stone interviews that made a real splash in the Russian media was Putin admitting that he has grandchildren. In 2013, Putin announced he was separating from his wife since 1983, Lyudmila (59). Rumors then circulated in Moscow about Putin having an affair or affairs with other women, but no one knows anything concrete and the Kremlin has ferociously discouraged the Russian media from investigating anything about Putin's personal life. The Russian media was annoyed Stone was allowed to ask about Putin's children, while Russian journalists are forbidden from doing so (Moskovsky Komsomolets, June 14). During the June 15 phone-in, Putin announced he "recently had a second grandchild," but refused to provide any other detail about the age or gender of his grandchildren, which of his two daughters is the mother, or whether both now have a child. Putin insisted he will keep everything top secret "or else they [his grandchildren] could be easily identified" (Moskva-putinu.ru, June 15).
It would seem Putin—the undisputed Russian autocrat—is scared his close-of-kin may be threatened; or perhaps his grip on power is not as solid as it seems. Monday, June 12, was an official holiday in Russia, and opposition leader Alexei Navalny called on his supporters in Moscow and in other Russian regions to publicly protest the country's rampant high-level corruption. On March 2, Navalny's Anti-Corruption Foundation (Fond Borby s Korruptsyey—FBK) released an investigative video that went viral in Russia, alleging the prime minister and former president from 2008 to 2012, Dmitry Medvedev, secretly amassed a multi-billion-dollar real estate empire of lucrative country residencies and spacious mansions, some of which were allegedly provided as gifts by Russian billionaire oligarchs. The authorities dismissed the FBK allegations and, on March 26, tens of thousands of protesters gathered in the center of Moscow and 80 other Russian cities to protest top government corruption. Hundreds of protesters were arrested and fined, while Navalny served a 15-day prison sentence (see EDM, March 30).
Navalny called his supporters to take to the streets on June 12, as a follow-up to the March 26 protest, accusing the Kremlin of inaction and complicity in top-level corruption. The Moscow authorities agreed to allow the protesters to gather downtown in a designated district. But on the evening of June 11, Navalny suddenly directed his supporters to come to Tverskaya Street, close to the Kremlin, which was closed to traffic and turned into a pedestrian zone for the public holiday. Navalny encouraged his supporters to nonviolently "walk around with Russian national flags." Thousands arrived. No riot and no disturbance of order occurred, but the riot police—since last year reorganized into the National Guard—attacked the public in Moscow and other cities, using batons and fists, arresting and kicking pedestrians seemingly indiscriminately, according to witnesses. Some journalists were also assaulted and arrested (Bfm.ru, June 13). Hundreds were detained in Moscow and St. Petersburg or fined; many were handed prison sentences of up to 15 days. Navalny was arrested in his Moscow apartment block and promptly given a 30-day sentence (Vedomosti, June 14).
Young Russians, ready to enter the job market, are especially hard-hit by the present Russian economic slump—a college education does not guarantee lucrative employment. Many Russian youth seem fed up with the corruption, stagnation and the endless lies of the Putin regime. This week, much like on March 26, the most active members of the protest crowds appeared to be teenagers—high school  and college students, who have lived all or most of their life under  Putin's rule. The sudden surge of mass young political activism led by Navalny is clearly a surprise for the Kremlin. The authorities' kneejerk reaction to terrorize and repress the youngsters may backfire and actually boost future protests (Kommersant, June 13).