PUTIN AND MEDVEDEV SPEECHES SUGGEST THE FORMER WILL BE CALLING THE SHOTS
Publication: Eurasia Daily Monitor Volume: 5 Issue: 32
By: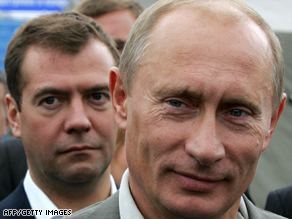 President Vladimir Putin's February 8 speech on Russia's development strategy through to 2020 and his final annual president press conference on February 14, together with the speech that his designated successor, First Deputy Prime Minister Dmitry Medvedev, delivered to the Krasnoyarsk Economic Forum on February 15, have provided fresh grist for speculation about the likely configuration of power following Medvedev's virtually certain victory in March 2 presidential election and Putin's presumed accession to the post of prime minister. While nothing can be stated definitively, the addresses by Putin and Medvedev, both in form and substance, strengthened the sense that a transfer of political power from the post of president to the post of prime minister is in the offing.
As a number of observers have noted, Putin's speech on Russia's development plans was noteworthy – if for nothing else – for sounding much less like a valedictory than a speech by a national leader who plans to be in charge for a good while longer. Indeed, while describing the problems and failures of governance of the 1990s and trumpeting the putative successes of his own presidency over the last eight years, Putin laid out a series of ambitious goals for the country over the next dozen years.
Putin reinforced that impression in his marathon February 14 press conference. While he effusively praised Medvedev – Putin said he could "feel confident and unashamed about handing over the main reins of power in this country to such a person" – he also interpreted Russia's constitution as giving the country's president and prime minister more or less equal power – or perhaps even more power to the latter. Russia's constitution, said Putin, gives the government – headed by the prime minister – "many opportunities," including responsibility for "forming the budget and presenting it to the parliament," "forming the foundations of monetary and credit policy," "resolving social, healthcare, education, and environmental issues," "creating the conditions for ensuring our country's defense and security" and "carrying out our economic and trade policies abroad." Thus while the president is "the head of state, guarantor of the Constitution, and sets the main domestic and foreign policy guidelines," Putin asserted, the "highest executive power in the country is in the hands of the government."
Putin also made it clear that he will not display the traditional reverences vis-à-vis President Medvedev. Asked whether he would hang a portrait of President Medvedev in his office, Putin answered: "As for my relationship with Dmitry Anatolyevich, if he does choose me to be prime minister, there is a certain unique quality in this, consisting in the fact I myself have been president for eight years and have done on the whole not badly. In order to build relations with Dmitry Anatolyevich Medvedev, if he is elected president, I do not have to hang his portraits. We have sufficient other means of building relations, a working relationship that would allow us to work effectively to solve the general problems in developing the country" (Kremlin.ru, February 14).
Meanwhile, Medvedev, in his speech to the Krasnoyarsk Economic Forum, put forward a set of goals noteworthy for their liberalism. These included the need to lower administrative barriers and taxes, make the ruble a regional reserve currency, modernize transportation and energy infrastructure, fight corruption, ensure a genuinely independent media and, more generally, protect individual freedom (Interfax, February 15). However, unlike Putin, who both in his speech and his press conference discussed a huge array of subjects ranging from energy policy, corruption and the 2014 Olympics in Sochi to the Conventional Forces in Europe Treaty and U.S. plans for missile defenses in Eastern Europe, Medvedev's focused almost exclusively on economic and administrative reform, with no real discussion of foreign policy.
In other words, Putin's comments sounded like those of a prospective head of state while Medvedev's sounded like those of a prospective head of government. In addition, the themes Putin hit in his speech and press conference (how Russia is putatively being treated unfairly by the West; how Russia's "growing economic and military potential" allows it to "be firmer in standing up" for its national interests; the need to halt Russia's demographic decline, close the income gap, ensure that the elderly receive decent pensions and benefits and, more broadly, to create a society "without poverty" that "guarantees the safety of all its citizens") are more or less the same themes that have contributed to his popularity and are likely to continue to resonate with Russians. The themes that Medvedev hit in his Krasnoyarsk speech, including the need to implement economic reforms (like substituting the value-added tax with a sales tax), to fight corruption and to protect media independence, are likely to resonate more with Western governments and investors.
Dmitry Oreshkin, head of the independent Mercator Group, predicts that the "real center of power" in Russia's political system will shift to the government headed by Prime Minister Putin, while "the economy will probably remain the president's share." Putin "leans and depends on a powerful clan of siloviki that … is extremely heterogeneous and [whose members are] competing," said Oreshkin. "These people don't earn money; they love to spend it. Correspondingly, the condition for appointing Medvedev as the new president, in respect to the siloviki, was a guarantee that their situation will not worsen in the future, and only Putin can provide that guarantee. Accordingly, Putin will have to work with the power lobby; he will have to ensure their feeding by using budget funds" ("Vlast," RTVi television and Ekho Moskvy radio, February 15). If Oreshkin is correct about a shift in power, it remains to be seen whether it will occur de facto or be formalized through amendments to the law on government – by which, for example, control over the Federal Security Service and/or other security agencies could be transferred from the president to the prime minister.