Putin and Merkel Discuss Nord Stream, Ukraine, Syria in a Changing Strategic Context (Part One)
Publication: Eurasia Daily Monitor Volume: 15 Issue: 123
By: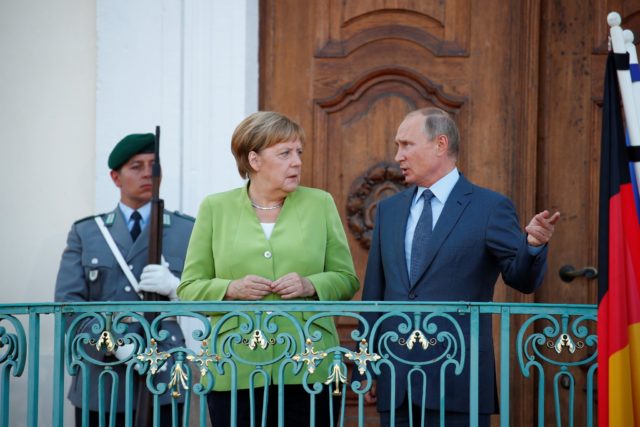 German Chancellor Angela Merkel uncharacteristically interrupted her summer vacation to receive Russian President Vladimir Putin on August 18, 2018, at Meseberg Castle, near Berlin. It was the second Merkel-Putin meeting within three months. Their meeting in Sochi last May triggered a flurry of bilateral German-Russian high-level discussions, which continue to this day (see Part Two).
This development reflects a growing, if chimerical, belief within German government and business circles that Germany should seek a rapprochement with Russia in response to the United States' policies under the Donald Trump administration. The overall assumption is that Russia's cooperation is indispensable to achieving some of Germany's main policy objectives: ending the war in Syria (a generator of mass migrations to Europe, with disruptive effects inside Germany), bringing a political solution to "the Ukraine crisis" (Russia's aggression there being a generator of divisive economic sanctions in Europe), and Russian long-term guaranteed energy deliveries to Germany. The notion that "Germany needs Russia" is an attitude described by its critics as a German Mantra (Frankfurter Allgemeine Zeitung, August 20).
That belief seems to credit Russia with an interest in cooperative solutions to problems that Moscow in the first place created or exacerbated, with a view to gaining leverage through problem-solving on Russian terms. Berlin has become the proactive side in exploring possible joint solutions with Moscow, albeit not unconditionally. Moscow, however, maintains a wait-and-see attitude for now, content to see Berlin acting as the demandeur. Therefore, the Merkel-Putin meeting in Meseberg could not be expected to produce significant decisions. To keep expectations down, the two leaders had decided in advance that there would be no joint communique and no concluding press conference. Instead, Merkel and Putin each delivered a statement in a joint appearance at the start of their meeting, with no questions allowed from the assembled press.
The Gazprom-led Nord Stream Two natural gas pipeline project, the war in Ukraine's east, the fighting in Syria with its European implications (which seemed to command more time and attention than the other topics), and follow-up German-Russian contacts were the salient issues in Merkel's and Putin's remarks (Bundeskanzlerin.de, Kremlin.ru, August 18, 19).
On Nord Stream Two, which is based on diverting gas flows away from Ukraine's transit system, Merkel remarked that "Ukraine must play a role in the gas transit to Europe even if Nord Stream Two does materialize"—a position she had already expressed to Ukrainian President Petro Poroshenko in April. This position is theoretically consistent with Moscow's (see below), allowing room for negotiation on the practicalities. Merkel refrained this time from noting (as she had first admitted to Poroshenko in April) that Nord Stream is not entirely an economic project but also involves political aspects.
Putin restated the familiar theses that Nord Stream is a "strictly economic project," and one that does not exclude a continuation of Russian gas transit to Europe via Ukraine, provided that the Ukrainian transit route would correspond with commercial criteria. The latter point conforms with Gazprom's and the Kremlin's position ever since 2015 that some residual volumes of Russian gas could continue to transit Ukraine from 2020 onward, subject to negotiation on volumes and tariffs.
According to Kremlin spokesperson Dmitry Peskov's readout of the Meseberg meeting, the two leaders "agreed to defend the Nord Stream Two project from anti-competition and unlawful attacks by third countries" (Interfax, August 19). This is the Kremlin's understanding of the German government's resistance to possible US extraterritorial sanctions on German and other companies involved with the Nord Stream Two project.
The existing transit agreement is due to expire at the end of 2019, coinciding with the planned start of operations on the Nord Stream Two pipeline. A replacement agreement on Ukrainian transit would have to be negotiated and signed by that time, if Russia were to continue using the Ukrainian route at all. However, the volumes that Moscow hints it might deliver to Europe via Ukraine would be far from sufficient for the economic viability of Ukraine's gas transport system (Margarita Assenova, "Europe and Nord Stream 2: Myths, Reality, and the Way Forward," Center for European Policy Analysis, Washington, June 2018).
Merkel has tasked her confidant Peter Altmeier (currently economics and energy minister, formerly head of the Chancellor's Office under Merkel) to negotiate with Gazprom toward a possible continuation of Russian gas transit via Ukraine after 2019. This is not only (if at all) a political gesture to Ukraine. It is, mainly, a hedge against possible delays to the start of operation on the Nord Stream Two pipeline. This is officially due by the end of 2019, but seems jeopardized by serious objections on varying grounds in Washington, Brussels, Copenhagen and elsewhere. Berlin and Moscow must be equally concerned about the possibility of missing that deadline. This prospect necessitates for Gazprom to prepare a transit contract with Naftohaz (for an as yet undeterminable duration) as a backup solution, before the existing contract expires, which is also December 2019.
Altmeier's bilateral negotiation with Moscow runs in parallel with the trilateral negotiation that involves Gazprom, Naftohaz Ukrainy, and the European Commission as mediator, with the Commission's Vice President for the Energy Union Maroš Šefčovič chairing these talks. The Commission has insisted all along that Ukraine retain a significant transit role, at volumes commercially viable for its transit system, as well as tariffs commercially attractive to the Russian side. While the Commission seeks to integrate a reformed Ukrainian gas transit system with a unified European energy market, German policy on Nord Stream Two and its overland extensions into Germany runs counter to the goals of the EU-driven Energy Union. In effect, Altmeier's bilateral negotiation with Gazprom seeks a hedge for both sides to protect the Nord Stream Two project, circumventing the EU's common energy policy.