Putin and the Future of the Sino-Russian Partnership
Publication: China Brief Volume: 11 Issue: 20
By: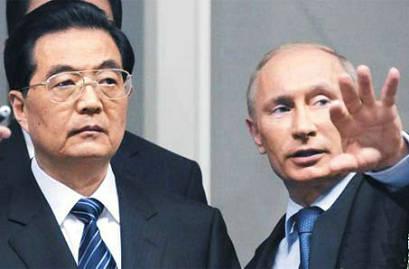 Vladimir Putin, Russia's current prime minister, chose to make his first foreign trip to China after his announcement in late September that he would run again for president. This led some to expect Russia would align closer toward Beijing in coming years. Perhaps for this reason Chinese media commentators generally welcomed Putin's probable return (Guangming Daily, October 8; Global Times, September 26). Such a view neglects that the October 11-12 trip had been scheduled well before Putin's announcement, that Putin did not pursue especially Beijing-leaning policies during his earlier terms as president (2000-2008), and that current Russian President Dmitri Medvedev also made his first foreign trip to China. Putin's proposal for a Eurasian Union implies the Russia's probable next president might try to strengthen Moscow's control over the post-Soviet republics at the expense of Beijing as well as other external actors.
In any case, there is little evidence that Putin will pursue policies that could break with the mixed cooperation-with-conflict pattern that has characterized China-Russia ties for the past two decades. As described by Yuan Jingdong, "Beijing and Moscow have coordinated their policy positions and adopted mutually supportive approaches on a range of international issues from non-weaponization of space to respect for state sovereignty," ("Sino-Russian Relations: Renewal or Decay of a Strategic Partnership?," China Brief, September 30). The Stockholm International Peace Research Institute issued a report in early October that was even more pessimistic, concluding that the two countries were becoming increasingly less relevant for one another, with their other relationships growing in importance [1].
Since the end of the Cold War, Sino-Russian ties have improved markedly. Although both countries have experienced a geopolitical resurgence during the past two decades, neither Chinese nor Russian military experts perceive a near-term military threat from the other. The Russian government even has provided sophisticated air, navy and air defense platforms to the People's Liberation Army (PLA), confident that the PLA would employ these systems, if at all, against other countries. In addition, China and Russia have resolved their longstanding border disputes as well as contained their rivalries in Central Asia and other regions. Initially widespread fears that illicit Chinese immigration into the Russian Far East would see that region fall under Beijing's control, though still present, have dissipated with evidence that most of the Chinese nationals who enter Russia only stay for a few years before returning home. Central Asia became an area of shared China-Russian interest rather than one of strong rivalry between Beijing and Moscow. This year marks the 10th anniversary of the signing of the Sino-Russian Good-Neighborly Treaty of Friendship and Cooperation and the 15th anniversary of the declaration of a China-Russia strategic cooperative partnership.
Troubled Partnership
Despite their improved relationship, China and Russia have not formed a mutual defensive alliance and still tend to pursue distinct, if largely parallel, policies regarding many issues. Personal and economic exchanges between China and Russia remain minimal compared to those found between most large countries in Europe and North America. China's indigenous defense industry has improved sufficiently that Beijing has lost interest in purchasing Soviet-era weapons from Moscow; the PLA now is interested only in acquiring Russia's most advanced weapons, which Russians refuse to sell for fear the Chinese might again copy their technology (RIA Novosti, February 21, 2008). Immediately before Putin's trip, the Russian Federal Security Service (FSB) announced they had arrested a Chinese national for allegedly trying to steal technical manuals for the S-300 air defense system that Russia had sold to China during the last decade. If China could maintain these systems themselves, they would deprive Russia of potentially lucrative contracts in this area. The manuals would also facilitate Chinese efforts to manufacture and export their own version of this surface-to-air missile system (Channel News Asia, October 5; The Moscow Times, October 6).
Russian policy makers, armed with nuclear weapons, probably will not soon fear a war with China, but they appear concerned about becoming a raw material appendage to China. Since Russia and China have settled their joint border and are not engaged in direct military competition with each other, the focus of the Russian-Chinese relationship in recent years has been on economic cooperation. This has seen considerable progress. China has now replaced Germany as Russia's top trading partner, while China is expected to become a leading purchaser of Russian energy. Russia has begun supplying oil to China through a cross-border pipeline (People's Daily, October 15). China received only six percent of its oil imports from Russia in 2010. Putin however told the Chinese media that Russians hope to raise their energy deliveries further in future years by selling China large quantities of natural gas as well as more coal and nuclear power technologies and services (Xinhua, October 12). When Putin met Wen Jiabao in Beijing the two prime ministers announced they would seek to expand bilateral trade from an estimated $70 billion this year to $100 billion by 2015 and $200 billion by 2020 (VOA, October 12). Other items in Wen's six-point proposal to strengthen China-Russia ties included implementing major energy projects, pursuing joint high-tech research and development, strengthening infrastructure cooperation between eastern Russia and northeastern China, deepening cultural and people-to-people ties and collaborating to enhance the development of the Shanghai Cooperation Organization (SCO) (Ministry of Foreign Affairs, October 12).
These points aim to overcome several problems that have arisen in the Sino-Russian relationship, such as their lopsided trade, which is imbalanced both in terms of relative importance and a reversal of China's trade deficit. Chinese enterprises now can manufacture most of the goods that China previously imported from Russia. China accounts for around 10 percent of the Russia's total international trade. China's share of Russian trade is larger than other single partner, but European Union member states collectively account for almost half of Russia's total trade. Meanwhile, last year, Russia accounted for less than 2 percent of China's global trade (Reuters, November 22, 2010).
Before 2007 Russia racked up steady surpluses—thanks to large deliveries of energy, arms and other industrial goods. Since then, the terms of trade have shifted markedly in China's favor due to a decline in Chinese purchases of weapons systems and other high-technology items. At present, Russian exports to China consist overwhelmingly of raw materials, especially natural resources like oil and timber. Russian policymakers are eager to reduce their dependence on volatile raw material exports by reviving the Chinese purchase of high-value industrial goods and services, but past Sino-Russian declarations committing both governments to such a course have had little impact. Whereas half of China's exports to Russia consist of industrial or high-tech products, only 5 percent of China's imports from Russia comprise such manufactured products (Washington Times, October 25).
Official Russian commentaries on Putin's trip to China were, unsurprisingly, generally favorable. They stressed the foreign policy coordination between the two governments, specifically their joint positions in the UN on Syria (United Russia Party Website [er.ru], October 10). The week before Putin's trip, both countries vetoed a Western-backed resolution that would have imposed economic sanctions against Syria. In their communique, Wen and Putin endorsed enhancing the UN's authority within a multipolar world (South China Morning Post, October 13). The Chinese also interpreted Putin's remarks about how the "parasitic dollar" was creating problems for the entire world as defending China against U.S. charges of currency manipulation (NDTV.com, October 13).
Yet most independent Russian analysts and journalists do not consider Putin's visit to China a success, because he was unable to finalize a major natural gas deal with China. Putin undoubtedly had numerous goals in visiting Beijing, but his most visible mission was to make progress in the protracted negotiations concerning China's possible purchase of an enormous volume of Russian natural gas. For years, this issue has been a prominent agenda item at Russian-Chinese leadership summits. In 2009, the China National Petroleum Company and Gazprom even signed a framework agreement that would have Russia deliver 68 billion cubic meters of gas annually to China for a 30-year period.
No Gas Deal
Ahead of Putin's visit, expectations had been rising that an agreement might be imminent. Russian TV showed him meeting on October 3 with Gazprom CEO Alexei Miller and telling him to prepare proposals to expand Russian gas exports to Asia (Reuters, October 9). In the end, Putin proved unable to finalize the deal, further postponing the date when Gazprom would commit to build the expensive pipelines to send gas to China. Russian analysts reviewing Putin's trip believe that selling natural gas is important for revitalizing the stagnant Russian economy as well as for underscoring Putin's diplomatic credentials before next year's presidential election (RIA Novosti, October 12).
According to press reports, before the Putin trip, Chinese negotiators were offering about $250 per 1,000 cubic meters of gas, what they pay for Central Asian supplies and what Chinese consumers in northeast China normally pay for their subsidized gas purchases (Reuters, October 13). Russian negotiators were demanding approximately $350, which is what they charge European purchasers (RIA Novosti, October 13; Christian Science Monitor, October 12). The gap may have narrowed since then to around $50 (India Times, October 9). With the contract amounting to perhaps $1 trillion dollars in total, the parties are haggling over every dollar—money which Chinese consumers can ill-afford. Chinese negotiators probably anticipate that they can force further Russian concessions given China's growing range of potential alternative sources of gas, ranging from liquefied natural gas (LNG), domestic and foreign shale gas and, most importantly, the vast quantities of natural gas Turkmenistan is offering to China.
Many Russian writers share the sense that Moscow's bargaining position with Beijing is declining over time and that Russian negotiators need to achieve a deal soon while they can still exploit their Soviet technological legacy for Chinese gestures of friendship (Business-Gazeta.ru, October 24). They fear Chinese negotiators understand the value of delay and are counting on Russia to accept their demands for a lower sales price (Kommersant.ru, June 17).
After it became apparent that no gas breakthrough would occur, the Chinese Foreign Ministry stated Gazprom and the CNPC would continue to negotiate on the basis of the "principles of fairness, friendliness and mutual accommodation" (Chosun Ilbo, October 13). "Those who sell always want to sell at a higher price, while those who buy, want to buy at a lower price. We need to reach a compromise, which will satisfy both sides," Putin philosophically explained. He added that "in political, humanitarian spheres we have no problem at all" and, referring to their stances on the Middle East, the countries had "reached unprecedented levels of cooperation" on many issues (The National, October 12).
In a press conference after his talks with Chinese officials, Putin stressed the importance of broadening the Sino-Russian partnership further beyond gas, emphasizing the need in particular to prioritize hi-tech cooperation in such industries as biotechnology, nanotechnology and aircraft manufacturing (RIA Novosti, October 13). In an interview with Chinese news agency Xinhua and CCTV television, Putin proposed China and Russia jointly cooperate on space exploration as well as develop wide-bodied civilian aircraft rather than continuing to buy these commercial planes from Europe and the United States (Interfax, October 12). The two governments signed a Memorandum on Cooperation in Modernization to affirm their intent to pursue such collaboration (RIA Novosti, October 13). Beyond talk of future collaboration, the two sides signed $7 billion dollars in commercial deals—the largest of which was a Chinese commitment to invest $1.5 billion in a Siberian aluminum smelter (VOA, October 13).
Putin is correct that the Sino-Russian economic partnership needs to extend beyond energy, but Russian analysts worry that the visit—along with the general Russian effort to achieve modernization by means of exchanging Russian hydrocarbons for Chinese help in modernizing their economy—would simply reinforce the general pattern of Russia's relations with China resembling that of a "colony" exchanging raw materials for more advanced products from the more dominant power (RIA Novosti, October 12). More generally, Russian commentators fear Russia is indeed looking more and more like China's junior partner, because of the trading asymmetry noted above. Russia's population is stagnating while the Chinese appear more numerous, wealthier and more influential. Since the perceived economic, demographic and military trends are all in China's favor, Russian analysts urge their government to secure the best deal they can now on energy and other issues with China while keeping options open to partner with the West (Global Affairs [Russia], October 13).
Intensified Competition over Central Asia
Although Putin's approach to the West has yet to be defined, he already has indicated plans to consolidate Russia's hold over the other post-Soviet republics. In a lengthy newspaper piece published before his trip, Putin unexpectedly called on the post-Soviet republics to join Moscow and create a Eurasian Union (Izvestia, October 3). Such a project, which his press secretary said would be one of his priorities as president, would again allow Moscow to lead a multinational bloc of tightly-bound, former Soviet republics. Having a ruble currency zone also would boost Moscow's claims to great power status despite its lagging economic potential compared to China (Kommersant, October 5). Many Western analysts saw the proposal as aimed at limiting the influence of NATO and the EU, but the plan would also serve to limit China's influence in the former Soviet space. The SCO, now chaired by China, has been seeking to expand its economic, security and other activities in the same functional areas as the proposed Eurasian Union. For years Russia has led opposition to Beijing's proposals to establish a free-trade zone and other economic integration within the SCO framework, because their firms probably would lose market share to lower-priced Chinese competition. Beijing recently opened two major Special Economic Zones (SEZs) in Xinjiang Province, which borders Central Asia. The SEZs are expected help promote cross-border trade along the old Silk Road connecting China to Europe through Central Asia (The Diplomat, October 11). Alexandr Lukashenko, President of Belarus, which currently chairs the rival Moscow-led Collective Security Treaty Organization (CSTO), said any future member of the Eurasian Union must also join the CSTO, which includes all SCO members except China (RIA Novosti, October 27).
Putin's plan seems less motivated by anti-Chinese sentiment than by his Russia-first nationalism, which Yuan Jingdong noted probably will irritate Beijing. Despite Putin's expected return to the presidency following next March's elections, it is difficult to foresee near-term changes in the China-Russia relationship. Putin retained considerable influence over foreign policy during his years as prime minister and no action Medvedev took would have occurred without his approval. The next few years probably will see this pattern of decent though not close relations continue. Beijing and Moscow will loosely cooperate on certain issues while basically ignoring each other regarding most others.
Notes:
Linda Jakobson, Paul Holtom, Dean Knox and Jingchao Peng, "China's Energy and Security Relations with Russia: Hopes, Frustrations and Uncertainties," Stockholm International Peace Research Institute Policy Paper 29, October 2011, https://www.sipri.org/publications.