Putin Appears in Denial About the Situation in Russia
Publication: Eurasia Daily Monitor Volume: 10 Issue: 78
By: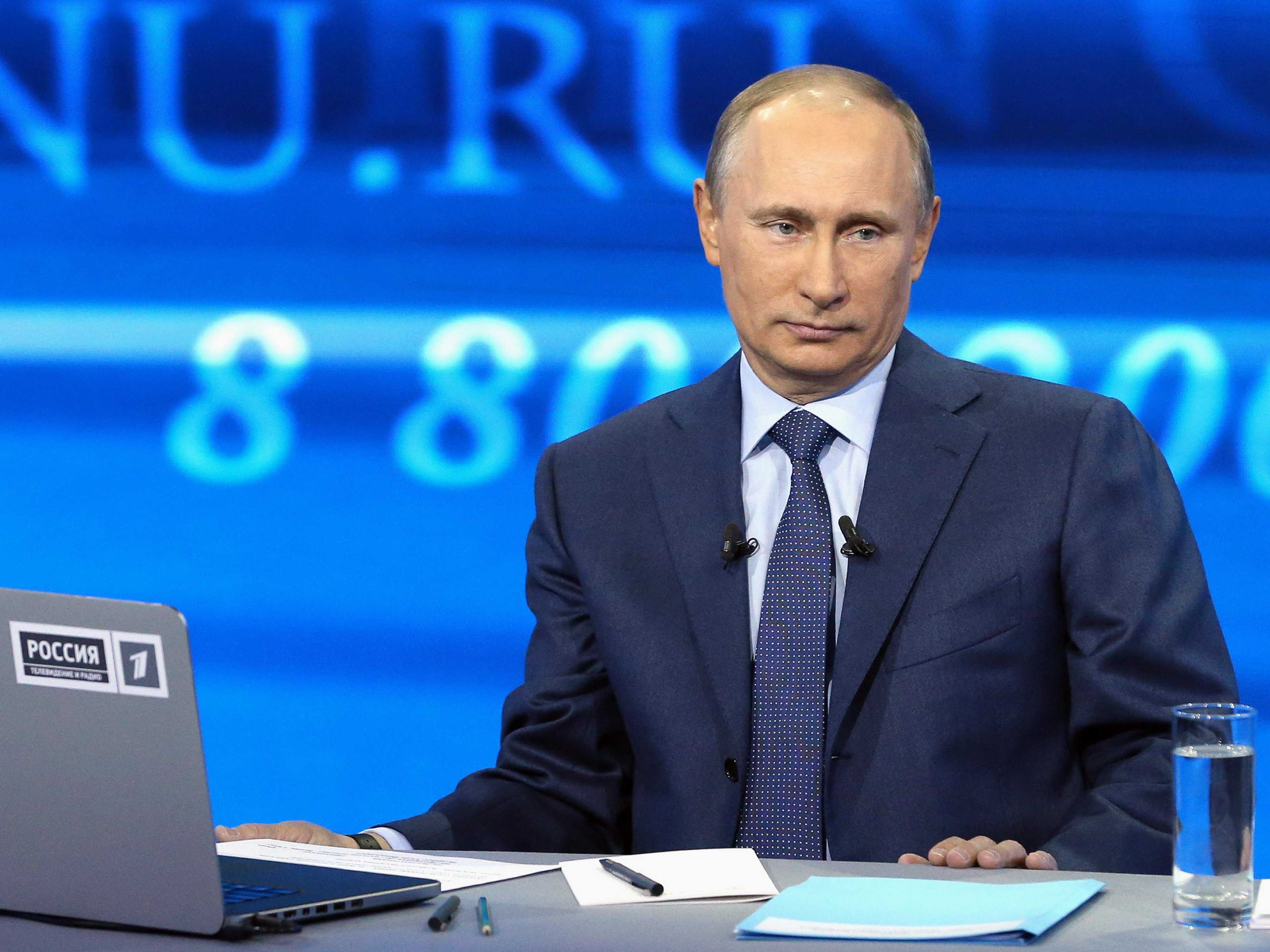 For the eleventh time since 2000, President Vladimir Putin (60) ran a televised national question-and-answer (Q & A) session that lasted almost nonstop for five hours on April 25. Economic growth, which made Putin popular before, has slowed down almost to a stop. Meanwhile, the public demands more handouts as well as increased pensions and salaries. Putin acknowledged that some of his government experts are calling for a financial stimulus to pour cheap money into the economy to stimulate growth, while others believe targeting inflation is more important. A meeting of top officials and experts led by Putin and Prime Minister Dmitry Medvedev discussed economic and financial strategy in Sochi this week, but failed to reach a consensus on what to do (www.kremlin.ru, April 25).
Putin's old comrade Alexei Kudrin, deputy prime minister and finance minister from 2000 to 2011, who became a semi-opposition figure after Medvedev fired him, was present at the Sochi economic meeting and was invited to speak at the televised Q & A. Putin praised Kudrin's abilities as a financial wizard and confirmed that the former finance minister was offered to return to government, but had refused: "He is a loafer, does not want to work, knows it is a hard job." Kudrin thanked Putin for the invitation, but explained that the system of governance must radically change: "Halfhearted reforms and half measures will fail, and I do not want to part of that." According to Kudrin, taxes and the business climate must be more predictable, reliance on oil must be reduced, regional budgets must receive a larger slice of the consolidated national budget and, most importantly, political reforms must begin. Putin replied that Kudrin, while a master of finance, does not understand social or political problems (www.kremlin.ru, April 25).
The president announced he does not see any need to dismiss the unpopular government headed by Medvedev "because they have only worked for less than a year, so far." Putin acknowledged that corruption is a problem in Russia, but countered that "this is a worldwide phenomena" and insisted that only low-level corruption is rampant in Russia, while refusing to sanction the arrest of disgraced former Defense Minister Anatoly Serdyukov or other top-level officials (www.kremlin.ru, April 25).
Referring to calls to arrest former top official and present-day, state-connected businessman Anatoly Chubais, Putin made one of the strange factual misstatements that dotted his televised Q & A: "Acting US CIA [Central Intelligence Agency] officers profited from the privatization in Russia in the 1990s by working with Chubais. The funniest part is that they were put on trial in the US because as acting intelligence officers they could not profit from their activities and such corruption violated US laws." Putin was apparently speaking of the case of Harvard University professor Andrei Shleifer; his wife, Nancy Zimmerman; assistant Jonathan Hay; and Hay's wife, Elizabeth Hebert. The four had allegedly profited from buying Russian stocks while Shleifer and Hay were advising Chubais on privatization on behalf of Harvard under a contract with the United States Agency for International Development (USAID). In 2001, a federal judge dismissed all charges against Zimmerman and Hebert, while Shleifer, Hay and Harvard University later settled the case with USAID by paying millions in penalties. Of course, no claims were made in court or any proof provided of any connection of the accused with the CIA (RIA Novosti, April 25).
Putin, during his televised Q & A, stated that foreign intelligence services could have been involved in the death of exiled tycoon Boris Berezovsky in the United Kingdom. Putin said, "They are capable of anything." Berezovsky allegedly committed suicide by hanging himself. Putin confirmed that this year he received two letters from Berezovsky (one after the latter was already dead). The texts of the letters were identical, according to Putin: Berezovsky, an old-time Putin opponent, exiled since 2000, who was before that instrumental in putting Putin in the Kremlin, asked for forgiveness and to be allowed to return to Russia. Putin did not pen a reply (Interfax, April 25).
The Russian president also angrily refuted accusations that he is rebuilding elements of a Stalinist Communist regime by organizing political show trials, suppressing human rights organizations accused of being "foreign agents" and undermining the freedom of the Internet. Putin accused the West of trying to impose its unacceptable standards on Russia and specifically mentioned that the Dutch judicial system allowed pedophiles to have sex with children (www.kremlin.ru, April 25). During a recent visit to the Netherlands, at a joint press conference with Dutch Prime Minister Mark Rutte, Putin made the same accusation. Rutte refuted Putin's claim, insisting that pedophilia was illegal in the Netherlands (www.kremlin.ru, April 8). But Putin seems to believe only the briefs he is given in the Kremlin.
As Putin spoke during his televised Q & A, the Russian consumer rights protection agency, Rospotrebnadzor, accused Google and its affiliated online streaming video service, YouTube, of actively undermining the Russian state by spreading information that may induce child suicide. Rospotrebnadzor, under recently passed legislation signed into law by Putin, has the power to close down both Google and YouTube to the Russian audience and is threatening to do so (Interfax, April 25). The same day, a court in Moscow declared the election watchdog association Golos a "foreign agent" and imposed on it a $10,000-penalty plus a $3,300 fine on its executive director, Lilia Shibanova. Golos uncovered massive vote rigging in recent elections in Russia that gave the ruling United Russia party a majority in the Duma and added millions of nonexistent votes to Putin in the presidential election last year. Golos refuses to list itself as a "foreign agent" and may be forced to close down under continued state harassment (Interfax, April 25).
Putin's narrative is that all must follow the law, that the Russian court system is just, and that there are no political trails while the guilty, like leading opposition activist Alexei Navalny now being tried on trumped up charges, must answer for their crimes. Putin also boasted that foreigners are picking up newly made S-400 anti-aircraft missiles like "hot buns, so we cannot make enough to satisfy the need"—thus, supposedly demonstrating the success of Russian industry (www.kremlin.ru, April 25). Maybe Iran and others would indeed want to buy the S-400, but this missile system is still officially not allowed for export and not a single foreign buyer has received it. Putin is wrong on that point as on many other things. But as happens with authoritarian leaders, no one in the Kremlin is ready to enlighten him. Rather, Putin is increasingly becoming an isolated leader who is losing friends and control over a nation too big to be run by one old man from the Kremlin.