Kazakhstan Continues to Upgrade its Military Presence on the Caspian in the Face of Growing Uncertainty
Publication: Eurasia Daily Monitor Volume: 10 Issue: 77
By: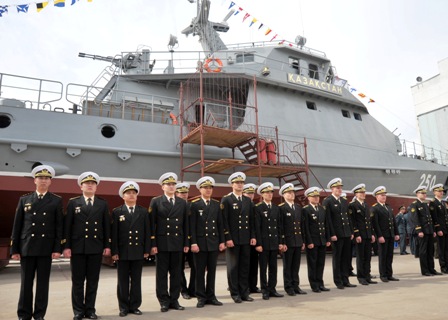 In early April, Azerbaijan's Deputy Foreign Minister Khalaf Khalafov told the local press that the legal status of the Caspian Sea was still being debated by the littoral states (Azerbaijan itself as well as Russia, Kazakhstan, Turkmenistan and Iran), which had already discussed the organization of a new summit on this issue in Moscow. While technical experts representing the five participants are holding additional talks in Tehran this week (April 23), the Caspian is increasingly considered by all the regional capitals as a strategic asset in both military and energy security terms (Trend.az, April 5; Tehran Times, April 23).
Less than a month ago, in mid-March 2013, the Geological Committee of Kazakhstan's Ministry of Industry and New Technologies proudly announced an upward reassessment of the country's hydrocarbon reserves by a margin of 98.6 million tons of oil, including 67.6 million tons for the Kalamkas offshore deposit and 31 million tons for the Khazar deposit. The ministry's press service also said that the national oil and gas company KazMunaiGas and its foreign partners were conducting parallel exploratory works on such prospective deposits as Satpayev, Makhambet, Zhambyl and Bobek, all of them located off the Caspian coast of Kazakhstani territory (Forbes.kz, March 14).
Furthermore, KazMunaiGas's representative in charge of geological operations and prospective projects referred to an independent evaluation conducted in 2012 by Gaffney, Cline & Associates—a Baker Hughes consultancy providing technical and commercial expertise to the petroleum industry. According to this study, the Kazakhstani sector of the Caspian Sea might contain as much as 2.3 billion tons of oil without taking into account the energy wealth of the so-called North Caspian sector, comprising one of the world's largest oil fields at Kashagan (KazMunaiGas's official website, March 14).
The importance of the Caspian for Kazakhstan's economic prosperity has long been recognized by the national authorities and the domestic community of experts. In his recent interview for Russia's Nezavisimaya newspaper, Kazakhstani political risk consultant Dossym Satpayev said that "the Caspian is a sphere of not only geopolitical but also economic interests for Kazakhstan. [Astana is] interested in regional stability, keeping political and investment risks low for Western companies." In Satpayev's view, should the security situation on the Caspian spin out of control—for example in case of an armed conflict between Iran, on the one hand, and Israel separately from or with the United States, on the other—Kazakhstan's oil and gas infrastructure could become one of the first casualties (Nezavisimaya Gazeta, April 1).
In August 2012, Kazakhstan's Caspian navy received its first guided-missile ship bearing the country's name. Designed by Russian engineers and assembled at a local factory near the westernmost city of Uralsk, close to the Russian-Kazakhstani border, it sports eight Kh-35 anti-ship missiles widely used by the navies of Russia, India, Iran, Algeria, Vietnam and Myanmar. Apart from these missiles, the "Kazakhstan" ship may boast of its own onboard artillery and air defense system. According to Zhandarbek Zhanzokov, the commander-in-chief of Kazakhstan's naval forces, the main advantage of this new vessel is that it may easily navigate shallow waters, as is the case in the northern part of the Caspian where Kazakhstan keeps the most of its oil and gas infrastructure (Topwar.ru, September 12, 2012; Meta.kz, August 19, 2012).
During the inauguration ceremony that took place in the seaport of Aktau, Defense Minister Adilbek Dzhaksybekov said that Kazakhstan was actively building a modern military navy equipped with the most efficient weapons systems. "The Caspian region is becoming an area of global geostrategic importance. Our country is taking measures to set up a fully self-sufficient grouping of military means to ensure the security of this zone on the sea, on the land and in the air," he added. Currently, Kazakhstan has only 20 ships active in its sector of the Caspian Sea, while Russia uses over 100 units, Azerbaijan 37, Turkmenistan over 30, and Iran between 50 and 90. Whereas Azerbaijan is operating three airbases along its Caspian coastline and Turkmenistan enjoys the support of some 250 military planes and helicopters, Kazakhstan has only one airbase in the Aktau port, where 34 aircraft are deployed, along with an airfield with 12 helicopters in Atyrau (Vestikavkaza.ru, October 18, 2012; Vpk-news.ru, September 5, 2012).
Despite these relative weaknesses, Kazakhstan is actively engaged in the strengthening of its naval projection capabilities. Dossym Satpayev believes that Kazakhstani authorities will continue to rely mostly on Western, in particular US-made, military technologies, since Russia is reluctant to contribute to the emergence of another military power close to its energy infrastructure. In 2010, the US handed four military speedboats over to the Kazakhstani navy within the framework of a five-year cooperation plan between Kazakhstan's Defense Ministry and the Pentagon. Earlier in 2005, Washington supplied four Defender-type speedboats built by Safe Boat International. US authorities are also involved in the modernization of several Huey II helicopters previously provided to Kazakhstan as military aid. However, Kazakhstan may also count among its partners South Korea and Turkey from whom it already purchased three speedboats and one patrol boat, respectively, in the 2000s. In the near future, the Kazakhstani navy is expected to receive three more Yoon Young-ha–type speedboats from South Korea (Topwar.ru, September 12, 2012; Iran.ru, July 3, 2012).
While Kazakhstan recognizes the geostrategic relevance of its Caspian Sea deployments, both for self-defense in case of an armed conflict and the physical protection of its offshore energy facilities, it is far from pursuing any bellicose plans with regard to its regional neighbors. In 1998, 2001 and 2003, it already concluded agreements with Russia and Azerbaijan on the delimitation of national maritime borders on the Caspian and is looking for a compromise on a five-nation basis. Kazakhstan's recent proposal to host another round of the Iranian nuclear talks in Almaty also complies with the logic of conflict prevention with an eye on the security of energy supplies across the Caspian water mass. However, since other regional players are increasingly tempted to upgrade and expand their military presence, Kazakhstan has no other path to follow than to boost the capabilities of its own navy.