Putin Celebrates First Anniversary of Seizing Crimea
Publication: Eurasia Daily Monitor Volume: 12 Issue: 49
By: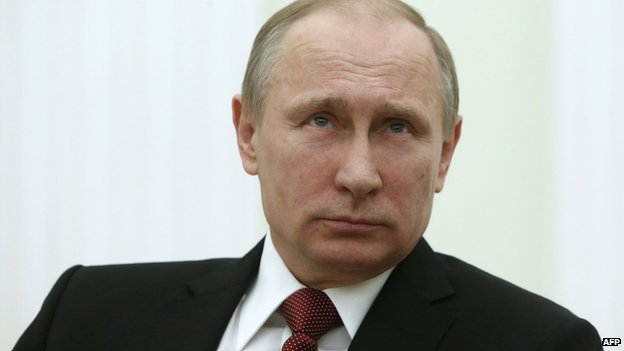 During a mysterious period of absence from public view, controversy erupted around Russian President Vladimir Putin sharing his reflections on the annexation of Crimea in 2014, after a trailer for the documentary was screened on March 11, 2015. By March 15, following the Russian president's ten-day disappearance from public view, the pre-recorded documentary, "Crimea: the Way Home," was aired on Rossiya 1. Putin shed light on the political-military decision to seize Crimea, its timing and the evaluation of its risks, including stating that he was ready to place Russian nuclear forces on alert under certain scenarios (Rossiya 1, March 15).
In the trailer, released on March 11, Putin admitted ordering the operation to take Crimea following an all-night emergency meeting in the Kremlin, on February 22, to consider the issue of then–Ukrainian president Viktor Yanukovych fleeing Kyiv. Ukraine's current prime minister, Arseniy Yatsenyuk, stated in response: "I ask the Ministry of Justice to send this trailer to the Hague Tribunal. It is important that the movie in its entirety is also sent to the Hague Tribunal—this film should be of interest to international prosecutors and investigators. It answers the question of who gave instructions to seize Ukrainian territory in Crimea and violations of international law, and who was responsible" (Ukraine Today, March 16).
Although Putin's admission was largely unsurprising, Western governments lost no time in highlighting the contradictions in his statements in the March 15 documentary, which contrasted with his comments around March 4, 2014. The United Kingdom's embassy in Kyiv, for instance, noted that in March 2014, Putin said the decision on the future status of Crimea rested with the local population and the expression of their will in the referendum that followed on March 16, 2014. By March 15, 2015, however, Putin was admitting: "It was on the night of February 22… I will not conceal it: I told my colleagues the situation in Ukraine has evolved in such a way that we have to start work on returning Crimea to being a part of Russia" (Ukraine Today, March 16).
Ukrainian bloggers quickly highlighted Putin's main admissions in the documentary: He had personally ordered Russian special forces (Spetsnaz) to seize control of government buildings in Crimea; he authorized the annexation of Crimea; prior to seizing the territory, Russian special forces had violated Ukrainian sovereignty in efforts to rescue Yanukovych, before eventually later succeeding. Putin claims that this "saved" the former president's life (Ukraine Today, March 16).
Indeed, Putin stated that he had ordered a specific force mix, including Russian military intelligence (GRU) Spetsnaz, elite airborne units (VDV) and marine infantry, to lead the operation under the guise of "reinforcing" the Russian Black Sea Fleet HQ in Sevastopol. In this sense, he takes sole credit for the entire operation, planned and coordinated though the Kremlin; if there ever was a Russian "hybrid" approach to modern warfare, it seems to have emerged in Putin's mind. Putin also said that Russian special services "knew well" the situation in the Ukrainian military due to monitoring their communications. But on the possibility of conflict escalation, Putin said he would have placed the nuclear forces on alert if things had gone badly. The operation, in fact, resulted in a relatively smooth seizing of territory and no outside power tried to intervene; Putin's later reference to the nuclear card seems calculated to be a warning to the West to tread carefully with Russia in the future and respect its interests (Rossiya 1, March 15).
Putin reinforced this message time and again during the documentary, saying he ordered the placement of K-300P Bastian-P coastal defense batteries to be seen from space, in order to send a message: this could only have been meant for the United States and the North Atlantic Treaty Organization (NATO) as a signal to "keep out" (Rossiya 1, March 15). The documentary is also intriguing in so far as Defense Minister Sergei Shoigu did not seem to be enthusiastic about the entire venture. This supports other Russian sources, which suggest that Putin's "war cabinet" was led by Nikolai Patrushev and Sergei Ivanov, who pushed a more hawkish line over Crimea and the Ukraine crisis (Rossiya 1, March 15; Novaya Gazeta, February 20).
Of course, the key problem in Putin's reflections relates to timing. He stated that he authorized the operation on February 22–23. Yet the Kremlin medal for the operation offers the dates "February 20 to March 18"; the latter being the date of the Crimean peninsula's incorporation into the Russian Federation. This may be explained by a reference to levels of readiness for the operation, bringing forward various plans and options. According to sources in the Ukrainian General Staff, signs of unusual Russian activity in Crimea had been detected as early as mid-January 2014. Russia does not choose to engage in military operations without careful planning and battlefield preparation, suggesting that by February 22, 2014, the operational planning was already well advanced—Putin simply had to approve the operation, which formally began on February 27. The February 27 date for the operation commencing was reinforced by Shoigu during a Moscow teleconference with Crimean authorities on March 16, 2015, in which he noted that the professional holiday for Russian Special Operation Forces has been established to mark this moment (Krasnaya Zvezda, March 16).
The latest Russian spin on these events is far from conclusive. Indeed, although referencing the initial force mix, and going some way toward explaining what appeared to Kyiv and outsiders as "hybrid" operations, the medal recipients included a wide range of civilians (boxers, military veterans, criminals, and even members of the Russian biker movement "Night Wolves"). It gives the impression of a military jamboree with one aim: intimidating and scaring the interim government in Kyiv and influencing local Ukrainian commanders in Crimea (Novaya Gazeta, February 20).
But the most concerning part of Putin's comments is his reference to the nuclear option and willingness to go that far; if he really means business in this area, Western governments will be forced de facto to recognize that Russia has formed a "sphere of privileged interests," into which the US and NATO can never stray beyond a certain level without risking nuclear conflict. It is sure to raise questions concerning Russia's current nuclear threshold.