Putin Fails to Resolve Trade Differences on Kyiv Visit
Publication: Eurasia Daily Monitor Volume: 7 Issue: 204
By: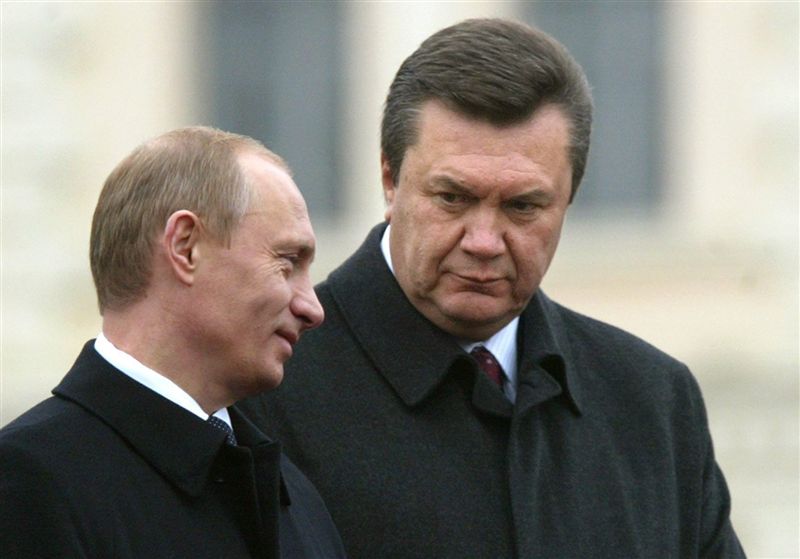 Russian Prime Minister, Vladimir Putin's, October 27 visit to Kyiv confirmed that the honeymoon in bilateral relations, which followed Viktor Yanukovych's election as president last February, is over. It is clear now that the ruling elite in Ukraine, although viewed by many as pro-Russian, are tough negotiators for Moscow. For its part, the Kremlin continues to say nyet to Kyiv's pleas for cheaper gas. As a result, unlike Moscow hoped, no merger has taken place between the two countries' nuclear, aircraft or oil and gas industries. At the same time, Moscow is reluctant to lower its gas price, contribute gas wells to a joint venture with Kyiv and pump more oil through Ukraine's pipelines.
Very little progress, if any, was achieved in the oil and gas sector. Putin preliminarily agreed to pump 25 million tons of oil for export via Ukraine's pipelines over the next five years. This is more than the 15 million tons which Russia pumped through Ukraine in 2009, but far less than Kyiv had hoped for. Only a protocol of intention was initialed, and Ukrainian Fuel and Energy Minister, Yury Boyko, said a final agreement should be signed within a month (UNIAN, October 27). Moscow's reluctance to provide oil transit guarantees prompts Ukraine to look for other partners to fill its Odessa-Brody pipeline.
From the end of November, Ukraine will use Odessa-Brody for test pumping Venezuelan oil to Belarus. According to trilateral agreements with the Venezuelan President, Hugo Chavez, from 2011 Ukraine will start pumping 8 million tons of oil per annum to Belarus from Odessa (Interfax-Ukraine, November 1). Until this past summer, the pipeline had been used to pump Russian oil in the reverse direction, to Odessa where it was loaded on tankers. This fall, the pipeline has been empty as Russia provided no oil for transit. Ukraine has also been in talks with Azerbaijan, whose oil Kyiv relied upon when it built Odessa-Brody with the original intention to carry Caspian oil to Europe. Azerbaijan's President, Ilham Aliyev, visited Kyiv on October 28, but no specific agreements were reached (UNIAN, October 28).
Kyiv continues to reject Moscow's calls for a merger of Naftohaz Ukrainy with Russia's Gazprom, but it expects Russia to contribute its gas deposits to a joint venture planned between Gazprom and Naftohaz. However, Ukrainian Prime Minister, Mykola Azarov, complained in a TV interview after meeting Putin that the joint venture talks were stalled as Moscow had not decided which assets it would contribute to the venture. Azarov also said there was no progress on gas prices, although Putin agreed to set up a working group to study the issue. Azarov said Kyiv would continue to insist that the price formula according to which Gazprom sells gas to Naftohaz should be revised, despite the discounts granted to Ukraine as a result of the April 2010 gas-for-naval base accords (Inter TV, October 29).
The discount amounts to $100 per 1,000 cubic meters of gas, but Kyiv wants cheap gas without discounts, arguing that it deserves special treatment as the key transit partner and geographically closest large consumer. However, Moscow continues to stand its ground. Gazprom's Spokesman, Sergey Kupriyanov, told the Russian channel RT on November 1 that the gas contract concluded with the previous government in January 2009 suited Gazprom.
More progress has been reached in nuclear energy, but the agreements thus far concluded are far from the full-scale merger of the two countries' nuclear sectors which Putin offered last spring. Ukraine signed a contract with the Russian TVEL to set up a joint venture to make nuclear fuel for Ukraine's four nuclear plants. Ukraine will have 50 percent plus one stake in the venture, which should be launched by 2013 (Kommersant-Ukraine, October 28). However, it is not clear whether TVEL will fully finance the project, as the government apparently expected in September when it chose TVEL over Westinghouse in a tender for a company to build a nuclear fuel factory. The Ukrainian daily Ekonomicheskie Izvestia reported on November 1 that TVEL would finance only 60 percent of the project. Ukraine also hoped to receive Russian loans to complete several new reactors at its nuclear plants in Khmelnytsky and Rivne, but it is not clear when and how much Moscow will lend.
Another agreement signed in the framework of Putin's visit set up a joint venture to sell Antonov passenger and transport aircraft. Antonov will also borrow $300 million to $400 million from the Russian state-controlled Vnesheconombank (UT1, October 28). Unlike Moscow suggested earlier this year, the agreement provides for no asset merger. The Ukrainian state-controlled Antonov will remain formally independent from Moscow, although it continues to depend on Russia as the main market for its aircraft.
In Kyiv, Putin apparently did not raise the issue of Ukrainian membership of the customs union of Russia, Belarus and Kazakhstan. Kyiv previously made it clear that a free trade agreement with the EU was its priority, while membership of the customs union would make such an agreement impossible (EDM, November 1).