Putin Honored by the Kyrgyz Government
Publication: Eurasia Daily Monitor Volume: 8 Issue: 4
By: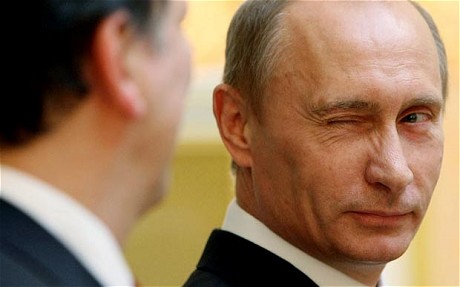 Despite the Russian government's ongoing crackdown of opposition protests in Moscow and extending the politically-motivated prison term to former influential oligarch Mikhail Khodorkovsky, Kyrgyzstan has honored Russian Prime Minister, Vladimir Putin, with his own mountain. Shortly before visiting Moscow late last month, Kyrgyzstan's newly elected head of government, Almazbek Atambayev, ordered that an unnamed 4,500-meter mountain in the Tian-Shan range should be dedicated to Putin (www.kloop.kg, January 4).
Perhaps this symbolic gesture helped Atambayev secure a $200 million loan and ensured that the Russian energy giant Gazprom lifts additional export charges to Kyrgyzstan (www.24.kg, January 3). After meeting with Putin, Atambayev returned home elated, boasting about Kyrgyzstan's growing relations with Russia.
Putin was among the first foreign officials to congratulate Atambayev for acquiring the post of prime minister. Last year, Jamestown asked Atambayev what Kyrgyzstan might learn from Russia, to which he replied that security and stability were two major factors in Bishkek's relations with the Kremlin. By contrast, Atambayev added, Washington often fails to keep its promises and chooses to support despots like the former Kyrgyz President, Kurmanbek Bakiyev ( Interview, Bishkek, April, 2010).
Gazprom's agreement to lift export tariffs signals that the Kyrgyz government and the Russian company have reached a deal on fuel supplies to the US Transit Center at Manas airport in Bishkek. On December 3, London-based and Gibraltar-registered Mina Corp Inc., supplier of jet fuel to the US Transit Center in Manas, announced that it will now work with the newly formed Kyrgyz state-owned fuel company "Refueling Complex Manas" (www.24.kg, January 5).
For several years, Mina Corp has been responsible for up to 80 percent of fuel supplies to Manas. Shortly after the collapse of the Bakiyev regime in April 2010, the new government led by the then-interim president Roza Otunbayeva requested that the US Department of Defense (DoD) should end its ties with Mina Corp. Otunbayeva and other Kyrgyz officials said that the DoD had turned a blind eye to the fact that revenues from fuel sales to Mina Corp by local companies bypassed the state budget. The business is so secretive, Otunbayeva alleged, that it is difficult to trace how these virtual companies serving Mina Corp actually function. It is highly unlikely that Kyrgyzstan's partners representing Refueling Complex Manas will welcome collaboration with Mina Corp (www.kyrgyz-el.kg, November 5).
Despite the Kyrgyz government's concern, however, the DoD renewed its $315 million contract with Mina Corp, agreeing on the supply of 96 million gallons of fuel to "Manas," with a possible extension of the contract for another year (EDM November 5, 2010). Both the DoD and Mina Corp claimed that they were unaware of any corruption schemes led by Kyrgyz contractors. On December 21, the Subcommittee on National Security and Foreign Affairs released the results of its eight month-long investigation into Mina Corp's work in Kyrgyzstan, as well as the DoD and the State Department's oversight of contracts with Manas.
The report presented no specific evidence of Mina Corp's corrupt deals with the deposed President Kurmanbek Bakiyev's son, Maksim, but exposed the secretive nature of the contracts. Reportedly, Mina Corp solicited false certifications from Kyrgyz officials to convince the Russian supplier Gazprom that fuel was used for only domestic consumption. Effectively, the report suggests that Russian energy monopoly Gazprom's fuel was used as part of supplying the US military effort in Afghanistan. In response, the report stated that Gazprom increased export tariffs for Kyrgyzstan in April 2010 after finding out that its fuel was used for Manas. According to the DoD-Mina Corp contract, the average price for jet fuel was roughly $3.28 per gallon, but at the time of signing the contract the average price in Europe and the CIS was around $2.20 per gallon (https://karbuz.blogspot.com/2010/11/manas-fuel-supply-contract-stinks.html, https://www.iata.org/whatwedo/economics/fuel_monitor/Pages/price_analysis.aspx).
In September 2010, President Roza Otunbayeva proposed eliminating middleman such as Mina Corp and creating a joint venture between Gazprom and the Kyrgyz government, which she suggested may yield an annual saving of $50 million. The Kyrgyz president suggested forming a special oversight state agency to monitor the contracts in order to prevent the illegal enrichment of state officials.
"Mina Corp's days are numbered," was the most common reaction to the report's findings. Indeed, for some members of the Kyrgyz government it has become a matter of personal revenge to oust Mina Corp from Kyrgyzstan as most are convinced that the company knew that Bakiyev and his son were the main benefactors of contracts with the firm (www.business.akipress.org, November 3). Gazprom's reduction of export tariffs to Kyrgyzstan suggests that Moscow has its own view on the role of the middlemen such as Mina Corp. Whether Putin approves of the company's continued presence in Kyrgyzstan remains to be seen.