Putin, Lavrov Set New Accents to Russia's Case for War in Ukraine
Publication: Eurasia Daily Monitor Volume: 20 Issue: 12
By: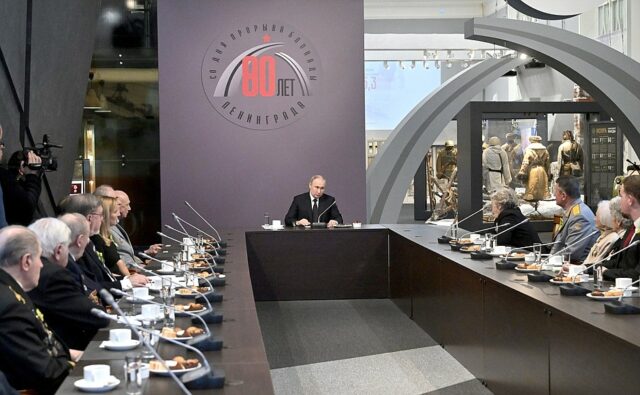 In their parallel statements on January 18, Russian President Vladimir Putin and Foreign Minister Sergei Lavrov added some new elements and emphases to Russia's case for its war against Ukraine. Their statements underscore the Kremlin's double rationale for this war: a national war in the Russian tradition and an effort to overturn the West-centered international order.
Putin spoke to several audiences (arms industry workers, war veterans and self-styled investigators of war crimes) during a one-day visit to St. Petersburg (Kremlin.ru, January 18), while Lavrov provided a foreign policy roundup for Russian and international media in Moscow on the same day (Mid.ru, January 18).
Their new accents include: first, introducing the term "war" alongside that of "special military operation"; second, casting Europe as a recidivist enemy of Russia and, correspondingly, the Russian people as the collective victim; and third, openly acknowledging that Russia fights not simply against Ukraine but for a new international order writ large, correspondingly calling for a package negotiation with the West.
Prompted by questions from the audience to characterize the ongoing "special military operation," Putin and Lavrov used the term "war" much to the surprise of Russian commentators. Putin's rationalization: "Our special military operation is an effort to stop the war (sic)." Lavrov's admission: "I do not shy away from pronouncing the word 'war.' This is our answer to the [West's] hybrid war against us."
These explanations hearken back to familiar Russian concepts: Putin's to that of "coercion to peace"; both Putin's and Lavrov's to that of "escalating to de-escalate" (in this case, answering hybrid war with full-scale war). If the use of the term "war" persists at the official level, it would signal intentions to move away from the current "partial" mobilization to a fuller military recruitment effort.
Consistent with the "war" theme, Putin and Lavrov drew parallels between Russia's past "Fatherland wars" and its current confrontation with the West. Both officials stipulated in almost identical words that Emperor Napoleon and Adolf Hitler each led the whole of continental Europe against Russia in 1812 and 1941–1945, respectively, in vain. Lavrov added that "just as Napoleon and Hitler … so has the United States formed a coalition of practically all Europeans against our country." In Putin's set-piece dialogue with his audience, "at least 11 European countries allied with Germany" were said to have participated in the blockade of Leningrad.
The Kremlin hints at presenting "Europe" with genocide claims on Russia's behalf. According to Putin, "The [international] recognition of the genocide against the civilian population of the Soviet Union is an exceptionally important matter. At the Nuremberg Trials it was not possible to consider or even present the full evidence about this genocide. … Citizens of very many European countries committed crimes. We never raised this matter [until now] because we did not want to spoil our relations with these many countries." Lavrov overbid, "The goal is the same: a final solution to the Russian question. Hitler wanted a final solution to the Jewish question."
Portraying those two "Fatherland wars" as all-European wars against Russia is a novel interpretation. Analogies between the current situation and those wars (let alone "genocide" claims) are meant to define Russia in contradistinction with Europe and deepen the sense of victimhood and grievance officially inculcated to the Russian people. It all serves to intensify mobilization for the ongoing war.
Lavrov hinted repeatedly in his presentation that Moscow could negotiate directly with Ukraine under certain conditions. However, "this is not only about Ukraine, but about much more. It is, namely, about the struggle for a new international order." Moscow would "consider and answer "serious proposals" from the West, but it rules out "negotiations with the West about Ukraine only." Lavrov continued, "They might tell us, 'let's work out something about Ukraine.' And everything else to be theirs? No. An honest conversation will be necessary." This being about a new international order, Moscow evidently wants a package negotiation on the model it proposed in December 2021.
All these new accents come on top of Moscow's usual messaging, supplementing and underscoring those efforts. It shows Russia's war against Ukraine to be a form of war against the West writ large. Ukraine is Russia's direct target; the West is the indirect, but ultimately, main target. Ukraine is the arena where Russia holds the advantage battling what it calls the "collective West."