PUTIN MAKES SWEETHEART ARMS DEALS TO BENEFIT HIS CRONIES
Publication: Eurasia Daily Monitor Volume: 4 Issue: 91
By: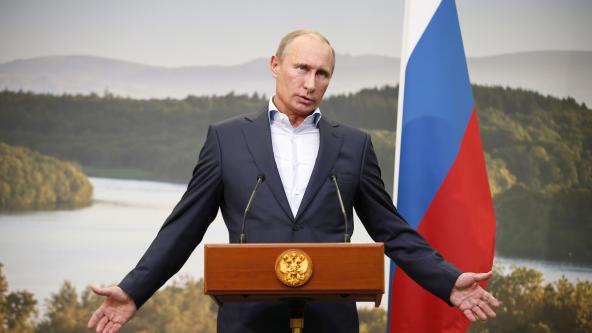 For several years, Russian arms traders have been negotiating to resume trade with Libya. Now reports suggest that a $2.2 billion deal is being readied and may be finalized later this year when Russian President Vladimir Putin visits Tripoli. Specifically, Libya may buy four complexes of S-300PMU2 anti-aircraft missiles (about 40 four-tube launchers with radars and command centers), 20 shorter-range Tor-M1 anti-aircraft systems, 12 Su-30MK2 and 12 MiG-29SMT jet fighters, plus one or two submarines (Kommersant, May 4).
In the 1970s and 1980s, Libya ranked alongside Iraq as Moscow's preferred arms purchaser. The regime of Muammar Qaddafi was an ally in the Cold War against the West. Not only did it acquire astonishing amounts of weapons, Tripoli paid in full, on time, and with petrodollars.
Libya procured a considerable arsenal from the USSR: 96 Scud-B ballistic missiles, 1,329 tanks, 2,660 armored battle vehicles, 1,160 heavy guns (over 100 mm caliber), 497 multiple-rocket Grad launchers, thousands of anti-aircraft missiles and guns, 452 warplanes, 130 helicopters, and 32 warships, including six submarines. In 1985 Moscow built a small arms factory in Libya, capable of producing 80,000 AK-47s, 8,000 Kalashnikov machineguns, and 12,000 Makarov sidearms per year. Some 16,002 Libyan servicemen were trained in the USSR, and thousands of Soviet military advisers served in Libya. Moscow charged Tripoli in all $17.53 billion for arms, plus $1.32 billion for training, maintenance and other services. Another $2.5 billion went for building military infrastructure and the defense industry.
Moscow has provided Qaddafi with some $21.31 billion for military-technical assistance and had received some $16.88 billion in payment before 1992. According to Moscow, Libya still owes $4.41 billion, while Tripoli recognizes a debt of only $1.73 billion (Kommersant, May 4).
In April 1992, the lucrative arms trade with Qaddafi ended when the UN Security Council imposed sanctions on Libya for the 1988 bombing of Pan Am flight 103 over Lockerbie, Scotland. The new democratic administration of President Boris Yeltsin voted for sanctions in the UN, halted all arms deals with Libya, and recalled military advisers. The Russian military and arms traders were outraged, but could do nothing. As soon as Russia voted for sanctions and terminated military-technical assistance, Libya stopped paying its debt.
In 1992 General Anatoly Funtikov, then first deputy chief of armaments in the Russian Defense Ministry, told me that he personally had headed negotiations with Libya on an additional $2 billion-arms deal. "The Libyans wanted to purchase fighters and S-300 (SAM-10) anti-aircraft missiles. The deal was all wrapped up, [and] the Libyans had already produced letters of credit, but one week later the Kremlin decided to vote for sanctions against Libya in the UN and the deal was terminated," said Funtikov.
The deal Funtikov told me about in 1992 sounds quite similar to the one now on the table — S-300 and jet fighters to the tune of $2 billion plus inflation. Of course the anti-aircraft missiles are somewhat modernized, as are the jet fighters. Still, it seems that 15 years later, Russia has no genuinely new military hardware to offer Libya. The only exception is the Su-30MK2 fighter-bomber jet. The Su-30MK2 was specifically developed for China as a maritime attack jet and can carry anti-ship guided missiles.
In 2003 Qaddafi decided to make a deal with the United States and the West, to pay compensation to victims of the terrorist attack, and to terminate all weapons of mass destruction programs. The UN sanctions were lifted the following year. Russian traders moved in to reopen the Libyan arms market, but it took three years to put together a major new deal.
The Russian fighters, attack jets, and anti-aircraft missiles Qaddafi is reported to be ready to buy would have made sense some 20 years ago. In April 1986 U.S. warplanes attacked terrorist-related targets in Tripoli and Benghazi, while Qaddafi attempted to fire ballistic missiles at Italian territory in response. Further confrontation with the West seemed highly possible, but now Qaddafi is no longer an international outcast, so why is he spending billions on weapons that may be used only to fight the United States and NATO?
To get the new arms deal with Libya, the Kremlin reportedly offered a hefty bribe — a write-off of all Libyan debt. Last year a similar deal was signed during Putin's visit to Algeria. Russia wrote off $4.7 billion of Algerian debt in exchange for a commitment to buy at least the same quantity of Russian weapons. According to the Russian arms trading monopoly Rosoboroneksport, the deal with Algeria involves 26 MiG-29SMT and 28 Su-30 jet fighters, and eight S-300PMU2 anti-aircraft systems (Itar-Tass, March 11, 2006).
Algeria is an oil- and natural gas-rich state, and Libya is even better off. A full write-off of debts that likely could have been repaid partially if not fully in exchange for arms deals is an extreme case of arms dumping, since the Libyan and Algerian arms contracts will, in fact, be reimbursed out of the Russian budget. Moscow seems to have reverted in part to the Soviet practice of exporting arms as a gift, but the motivation is no longer ideology, but high-level double-dealing.
Currently the arms trade, anti-aircraft missiles, and warplane production are governed by three state-controlled monopolies directed by Putin's three nearest friends — Sergei Chemizov, Viktor Ivanov, and Sergei Ivanov. Putin appears to be off state debt to construct lucrative multibillion-dollar deals for his pals, while the Kremlin propaganda machine runs success stories about the arms trade.