PUTIN MARKS ZERO-SUM WIN WITH KARIMOV IN SOCHI
Publication: Eurasia Daily Monitor Volume: 3 Issue: 95
By: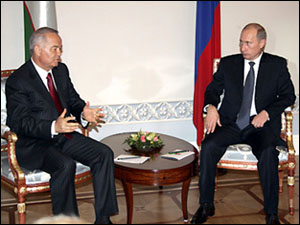 Uzbek President Islam Karimov's May 12 meeting with his Russian counterpart, Vladimir Putin, in Sochi marks a further stage in Russia's successful exploitation of Uzbekistan's unnecessary alienation from the United States. The Putin-Karimov meeting was demonstratively timed to the anniversary of the violent suppression of the armed rebellion in Andijan on May 13, 2005, which became the single most important factor in the breakdown of U.S.-Uzbek relations. One year later, the United States and NATO may ponder how the loss of the Karshi-Khanabad base and partial loss of the Termez base affect the planned expansion of operations in Afghanistan and contingency planning on Iran.
On the eve of the Andijan anniversary, a NATO communiqué reiterated the familiar call for an international investigation into those events (press release, May 11). In a tit-for-tat move, Uzbekistan denied permission to American, British, and Baltic members of the NATO Parliamentary Assembly to stop over in Termez en route to Afghanistan aboard NATO aircraft (BNS, May 11). Germany has managed to retain a toehold at Termez after several NATO countries had to withdraw their forces from that base, hitherto a unique logistical hub on the Uzbek-Afghan border. The call for an international public investigation had also become an irreducible part of Washington's position after Andijan. Rather than a political exercise, however, Uzbekistan — and indeed the U.S.-led anti-terrorism coalition — needs a professional investigation by intelligence agencies to elucidate the terrorist attack and the response at Andijan and help prevent their recurrence.
Karimov's public remarks in Sochi suggest that he now links Uzbekistan's security with Russia's return as a preeminent power in Central Asia and a global actor. Echoing Putin's definition of Central Asia as "our common home," Karimov welcomed Russia's role in counteracting "attempts by certain non-regional powers for various purposes to establish their presence in the region."
A few days before the Sochi meeting, Russia's bicameral parliament had ratified and Putin signed into law on May 11 the Treaty on Allied Relations, which Putin and Karimov had signed last November in Moscow (see EDM, November 17, 2005). On April 26, Uzbekistan attended for the first time the consultations of Security Council Secretaries of Central Asian member countries in the Moscow-led Collective Security Treaty Organization (CSTO) and announced that it would henceforth attend that forum on a permanent basis (Interfax, Asia-Plus, April 26).
Thus far, Tashkent has resisted Moscow's entreaties to join the CSTO as such. According to Russia's Security Council Secretary Igor Ivanov and CSTO Secretary-General Nikolai Bordyuzha on May 4, Uzbekistan may join specific activities in the CSTO framework while deferring a possible decision on membership for a later stage (Uzreport.com, May 5). Uzbekistan used to be a party to the Collective Security Treaty, but abandoned it in 1999 when Tashkent chose strategic rapprochement with the United States. Therefore, Russian officials recognize that official membership in the CSTO is a delicate issue for Tashkent, requiring face-saving procedures. Meanwhile, Uzbekistan has joined the largely symbolic, Russia-led Eurasian Economic Community in January 2006 and received at least 12 governmental and parliamentary delegations from Russia in the first four months of this year (see EDM, April 17).
Economic alignment with Russia has accompanied Uzbekistan's strategic de-alignment from the United States. Even before the breakdown in U.S.-Uzbekistan relations, Russia-Uzbekistan trade was surging at Moscow's initiative while Tashkent was granting monopoly rights in the country to Gazprom and Lukoil due to lack of alternatives, amid Western disinterest in Central Asian oil and gas. Uzbekistan-Russia trade turnover grew by 27% in 2005 over 2004 and rose at the same rate in the first quarter of 2006 over the same period in 2005 (Interfax, May 12).
In the post-Andijan context, however, Tashkent is taking the initiative in bilateral economic relations, eagerly courting Russian investments. According to Karimov, Russian capital is welcome to take over Uzbekistan's "tastiest morsels" (Russian Television Channel One, May 12) — apparently an allusion to uranium and gold deposits, besides oil and gas. On May 6 in Tashkent, Russian First Deputy Prime Minister Dmitry Medvedev initiated negotiations on the price of Uzbek gas deliveries to Russia and transit charges on Turkmen gas to Russia via Uzbekistan in 2007, with Russia exercising a monopsony. In the run-up to the Sochi visit, Russia met the Uzbek authorities' long-standing quest to revive the Tashkent aircraft factory, the only one in Central Asia, which had been idle since 1991. The plant has delivered the first shipment of Ilyushin-76 TD passenger planes, modernized with new Russian engines that purportedly meet international civil aviation requirements on noise and exhaust levels. A project to assemble Il-114 passenger planes at the same plant for Russian airlines is under discussion (Interfax, May 6).
Tashkent seeks to avoid facing Russia one-on-one, however. In recent weeks, Karimov embarked on a systematic effort to build partnerships in the region and beyond. He received Kazakh President Nursultan Nazarbayev on March 19-20 and Indian Prime Minister Manmohan Singh on April 25-26 in Tashkent, and paid official visits to South Korea on March 28-30 and to Pakistan on May 2-3. These countries largely share Tashkent's interpretation of the Andijan events (as, of course, does Moscow). Uzbekistan's membership in the Shanghai Cooperation Organization has also become a means — albeit a suboptimal one — for Tashkent to balance Russia's surge at least to some extent.
However, Washington's unnecessary strategic exit from Uzbekistan has deeply upset the strategic balance in the region, and Moscow is collecting the spoils from a zero-sum game that it recognized and played to win.