Putin-Netanyahu Meeting Strengthens Russia-Israel Ties
Publication: Eurasia Daily Monitor Volume: 13 Issue: 110
By: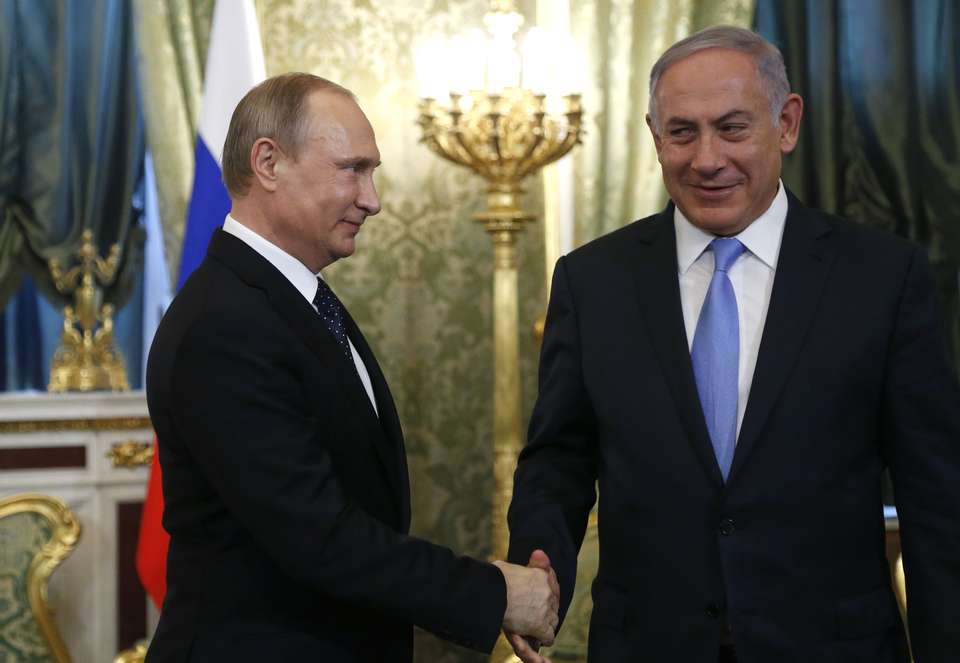 Moscow's intervention in Syria's civil war has propelled Russia into the center of Middle Eastern politics and substantially enhanced its ties with virtually every Middle Eastern state. Israel is no exception. Israeli Prime Minister Benjamin Netanyahu recently concluded his fourth visit to Moscow in a year. Undoubtedly, these visits attest to a remarkable strengthening of Russia's regional position and ties to Israel. While both sides clearly regard the struggle against terrorism as critical and there is a thriving economic relationship between them, it is in fact not clear what Israel hoped to gain from this trip. But Russia's positions are much more readily evident.
Specifically, President Vladimir Putin proposed establishing a free trade area between Israel and the Eurasian Economic Union, enhanced trade in both high-tech products and pharmaceuticals on the one hand and agriculture on the other, as well as overall socio-economic collaboration (Kremlin.ru, June 7). Both Putin and Foreign Minister Sergei Lavrov stated that Russia, as has long been the case, favors a comprehensive and just settlement of the Israeli-Palestinian conflict. Putin noted that this is a strategic imperative for Moscow as "we [Israel and Russia] are unconditional allies." Lavrov added that such an accord would reduce terrorism (Kremlin.ru, June 7; TASS, June 9). Both Putin and Netanyahu also alluded to the centrality of remembering the struggle against Nazism, but Netanyahu carefully avoided supporting Russia's use of its historical experience as a club with which to suppress East European memories of Soviet imperialism (Kremlin.ru, June 7).
Both sides also discussed outstanding geopolitical issues. In response to a question at the two leaders' press conference, Putin volunteered that he was exceptionally positive about the possibilities for an Israeli-Turkish rapprochement, although neither side needs Russia to accomplish or bless this endeavor. And then Netanyahu, in what appeared to be a quid pro quo, stated that there was no obstacle to Russian companies participating in Israeli natural gas projects in the Eastern Mediterranean, where massive fields were discovered. Putin also announced—in response to what appears to have been a planted question—that both South Stream and Turkish Stream remain on the table, contrary to previous official statements (Kremlin.ru, June 7). The two proposed pipeline projects, designed to deliver Russian gas across the Black Sea bed and via Southeastern Europe or Turkey, were shelved in 2014–2015, due to lack of financing and because of legal challenges from the European Union's energy regulations.
Another extensive topic of conversation was the Syrian civil war. At his press conference with the Russian president, Netanyahu praised the military coordination between both states, which has worked well to prevent incidents such as those that have marred Russo-Turkish relations. Moreover, the Israeli prime minister told Russian media that the two leaders would discuss implementing Russia's promises to block the transfer of weapons through Syria to Hezbollah in Lebanon (Kremlin.ru, Times of Israel, Interfax, June 7). However, if Moscow truly wanted to block such transfers, it could do so unilaterally since Iran is transferring Russian weapons to Hezbollah and has been doing so for years. This fact seriously undermines the supposedly shared nature of Russia's and Israel's struggles against terrorism.
Despite the seeming amity revealed at the press conference, there may have been unresolved tensions here. As Pravda reported, the concluding summit communique lacked previous formulations asserting that the talks "were conducted in a friendly atmosphere." And for all of Israel's concerns about Iran gaining new prominence through its support for President Bashar al-Assad in Syria, Putin never even mentioned the Islamic Republic. Indeed, the Russian leader said next to nothing about Syria in his press conference. Moreover, Russia did not move away from its longstanding position on the issues between Israel and the Palestinians (Pravda.ru, June 9).
Thus, it is not entirely apparent what exactly Israel gained form these talks. But it is all too clear that Russia has now gained the opportunity to enter into Israeli gas mega-projects and to demonstrate to Israel that it has significant leverage over many of the latter country's most important threat factors: Iran, Syria and Hezbollah. Nor can anyone definitively conclude that the Kremlin will refrain from using that leverage to pressure Israel. Notably, earlier this month, Russian papers dutifully reported on Syria's preposterous accusation that Israel was allegedly supporting al-Qaeda (Ng.ru, June 10).
Netanyahu's visit to Moscow, whatever his own motives, attests to Russia's enhanced regional profile, the erosion of the United States' alliance system in the Middle East, and the ensuing strategic loneliness of Israel. Hence, those in Washington who keep insisting that Russia has gained nothing from its Syrian adventure may want to reevaluate this sweeping conclusion.