Putin Orders Air Force Into Topmost Battle Readiness
Publication: Eurasia Daily Monitor Volume: 14 Issue: 16
By: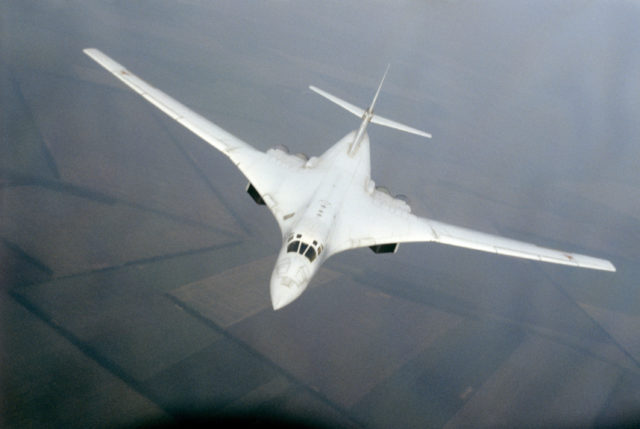 President Vladimir Putin ordered a snap military exercise of the Russian Aerospace Forces (Vozdushno-Kosmicheskye Sily—VKS), on February 7. The VKS was placed at top battle readiness: the missile- and anti-aircraft-defense radar network and interceptor missile batteries, together with the air force, including long-range strategic bombers (Dalnya Aviatsya—DA). "Topmost" VKS battle readiness is the last possible step before all-out war. Mobile anti-aircraft surface-to-air missile (SAM) batteries (S-300, S-400 and Pantsir-C), together with radar stations designated to defend Moscow and the surrounding "Central Industrial Region" began to massively redeploy and spread out to new "reserve positions" by road and railroad from their permanent bases (Militarynews.ru, February 8). The massive spreading out and combat redeployment to disguised field positions is intended to make the air defense forces less vulnerable to sudden nuclear and conventional precision strikes by an attacker. By February 8, the Ministry of Defense reported that the SAM batteries and their mobile radars were successfully redeployed and fully combat operational (Militarynews.ru, February 8).
The Tu-160 and Tu-22M3 strategic bombers of the DA also began a massive strategic spreading out operation by redeploying to airstrips not regularly used in peacetime. Some 20 heavy Il-76 transport planes transferred ground maintenance crews and essential equipment to these far-flung airstrips to ensure their capability to maintain the strategic bomber force operations "in the face of foreign aggression" (Militarynews.ru, February 8). The dispersing and combat redeployment of the DA bombers is equally designed to hide them from possible preemptive attack.
Newly appointed Deputy Defense Minister Alexander Fomin briefed foreign military attachés about the snap VKS exercises. Fomin was appointed to his new role on January 31, to replace career diplomat Anatoly Antonov, who was previously in charge of the defense ministry's foreign relations. Last December, Putin moved Antonov back to the Ministry of Foreign Affairs, where he is now a deputy minister. Reportedly, Antonov may soon become the Russian ambassador to Washington (Kommersant, February 6). Fomin was previously the chief of Russia's state arms trading agency FSVTS (TASS, January 31). According to Fomin, the VKS snap exercises involve some 45,000 troops, 150 aircraft, 200 air-defense missile systems, and 1,700 pieces of other heavy military equipment. Fomin insisted that because of the snap nature of the exercise, Moscow was not obliged to warn anyone or invite foreign observers; his briefing of foreign military attachés in Moscow was, thus, "an act of good will" (Militarynews.ru, February 8).
Russia's tactical air force was also deployed: Su-27 and MiG-29 fighters, new Su-34 bombers, multipurpose Yak-130 jets and Ka-52 helicopter gunships. Together with the DA heavy bombers, the tactical air force jets simulated attack sorties for the SAM batteries to detect and intercept. The entire exercise centered on defending the Moscow region from air attack (Militarynews.ru, February 9). Running such a massive VKS exercise at the height of the severe Russian winter has never been customary, even during the Cold War. Suddenly putting the VKS into topmost battle readiness does not seem like a good way to improve relations with Washington.
Several hours after United States President Donald Trump and Putin talked on the phone on January 28, a massive escalation of fighting began in the eastern Ukrainian region of Donbas (see EDM, January 30, February 6). It is unclear who actually initiated the present round of hostilities, with both sides reporting attacks and counterattacks. The ground fighting does not seem to have involved large numbers of infantry or armor, and there have been no substantial changes to the existing line of control, but the artillery and rocket bombardments are heavy, hitting populated residential areas on both sides of the front: in Avdiivka (north of Donetsk, held by Ukrainian government forces) and nearby Horlivka and Donetsk (held by pro-Russian forces). Clashes were also reported east of Mariupol (Mariupil)—a Donbas port city held by the Ukrainian army. Both sides report dozens of casualties, with the exact numbers unclear (Kommersant, January 31).
The situation in Donbas is tense and could escalate. The time of year is optimal for large-scale winter warfare: low temperatures have gripped the region for some time and the dirt is frozen, making dirt roads and fields passable for heavy military equipment. Ukrainian soldiers have apparently managed to inch their way onto important hilltop locations near Horlivka, which could allow them to take up heavy machinegun firing positions to impede traffic on the main road connecting Horlivka to the rest of Russia-controlled Donbas. The Russia-backed "rebels" have put forward a "peace plan" involving a withdrawal of heavy weapons and Ukrainian soldiers from recently acquired forward positions. The rebels have accused the Ukrainian authorities of rejecting this "peace plan" outright, and they have rebuked the Organization for Security and Cooperation in Europe's (OSCE) observer mission in Donbas for allegedly not being impartial and for siding with the Ukrainians (Militarynews.ru, February 8).
Meanwhile, Ukrainian President Petro Poroshenko announced that a referendum will be held sometime in the future on Ukraine joining the North Atlantic Treaty Organization (NATO), citing a profound change in Ukrainian public opinion in favor of membership. This plan has been angrily denounced in Moscow and by the pro-Russia rebels in Donbas (TASS, Kommersant, February 2). Ukraine is highly unlikely to actually join NATO anytime soon; but for Moscow the entire notion is anathema, as is the prospect of Ukraine becoming an unofficial ally of the West. On February 9, Kremlin spokesperson Dmitry Peskov announced there that will be "no deals" with the Trump administration on the future of Ukraine and Donbas (Interfax, February 9).
Attitudes in Moscow seem to be hardening, with a clear signal sent to Washington that any deal possibly tacitly recognizing Russian control of Crimea in exchange for a withdrawal and pacification of Donbas is unacceptable. Ukraine, as a pro-Western state seeking to join NATO and the European Union sometime in the future, is equally unacceptable to Russia. Furthermore, it is also possible that if the Ukrainian military will not stand down and rescind their recent tactical gains near Avdiivka and Horlivka, the VKS may actually begin a limited air offensive to push them back. A possible non-contact engagement, like the one Russia had been carrying out over Syria, could utterly destabilize the NATO-friendly Poroshenko regime.