Much Ado About Trump's Phone Call With Putin
Publication: Eurasia Daily Monitor Volume: 14 Issue: 9
By: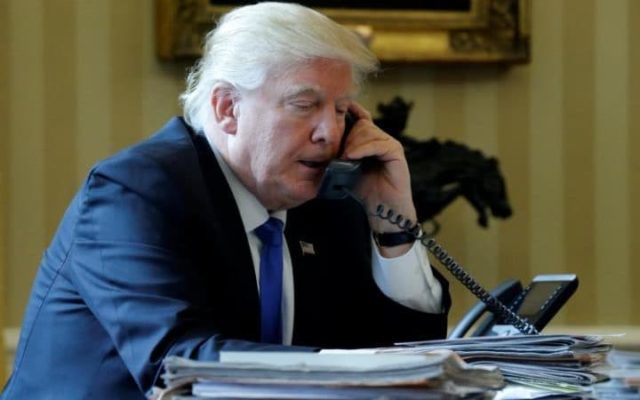 For Moscow, the first ten days of Donald Trump's presidency raised enough uncertainty and speculation about his political course in general and intentions regarding Russia in particular to fill the usual benchmark of 100 days. Russian pundits now promise few if any miracles for their country's relations with the United States. And Russian public opinion regarding expectations of improved bilateral ties has slipped from a high of 54 percent in November, down to 46 percent. Of those, only 7 percent of Russians believe President Trump will bring "significant" improvement to the bilateral relationship (Levada.ru, January 26). Meanwhile, the prospect of a US-Russia summit in mythical Reykjavik evaporated. Instead, anticipation narrowed on Trump's phone call to the Kremlin, which Russia hoped would push the United States' President to lift sanctions (Newsru.com, January 27). The telephone conversation did indeed happen on Saturday evening (January 28, Moscow time). But Russian President Vladimir Putin's spokesman, Dmitri Peskov, previously hinted about a lack of preparations for "substantive contacts"; and this ultimately turned out to be true (RBC, January 27).
It is not even certain that a swift lifting of sanctions by the White House would be in Russia's best interests because the US Congress could then vote them into a law, which would be even more difficult to cancel (Newsru.com, January 23). Trump's readiness to normalize relations with Russia appears to be underpinned much more by the desire to eliminate this issue from his political agenda then by the recognition of Russia's key role on the international arena, as commentators in Moscow tend to believe (Fontanka.ru, January 26). Some keener analysts argue that in this attempt to cancel the "overblown" problem, Trump faces resistance not only from the "interventionists" in Washington, who have designated Russia as the main source of threat, but also from the "isolationists" angered by Moscow's interference in the US elections (Carnegie.ru, January 24). The Kremlin has to offer something of value for Washington's course shift, and the "positive" telephone conversation did not exactly clarify what might be a sufficient offer.
One potential, mutually beneficial way forward could be traditional political bargaining over reductions of their nuclear arsenals. Trump has casually mentioned this issue in one of his recent interviews, and there is, in fact, a solid rationale for restarting negotiations on ceilings for warheads and delivery vehicles. Indeed, the New START treaty (2010) expires in 2021, and it will almost certainly take many months to reach a new compromise (Argumenty i Fakty, January 25). However, Moscow believes that linking such negotiations to the issue of sanctions, would force Russia to sacrifice its proudly advertised nuclear modernization program (Moscow Echo, January 27; see EDM, January 19). Naturally, this proposition is not particularly popular among the "patriotically minded" Russians (RIA Novosti, January 25). The Kremlin has also rushed to declare that symmetric cuts are detrimental to nuclear parity and, therefore, "unacceptable" (RBC, January 21).
Another possible area of rapprochement could be the Middle East, and Trump has repeatedly invited Russia to cooperate in the fight against the Islamic State—this was, in fact, a key topic of his Saturday phone call with Putin. Trump's idea about "safe zones" in Syria is, however, a non-starter for Moscow, since Russia's aerial intervention specifically targets rebels of different persuasions anywhere it sees fit (RBC, January 26). The negotiations in Astana, Kazakhstan, last week on ending the civil war in Syria were not particularly fruitful, because the Bashar al-Assad regime is not inclined to grant any political ground to the opposition (Politcom.ru, January 27; see EDM, January 26). A Russian proposal for a constitution ensuring the secular-civic character of the Syrian state and granting autonomy to the Kurds was not appealing to Turkey or Iran—and was duly turned down (Kommersant, January 26). Tehran watches carefully the changes in Washington's position on the Iranian nuclear agreement and is wary of Trump's influence on Israel's Prime Minister Benjamin Netanyahu (RIA Novosti, January 26). Moscow has no influence over these crucial intrigues and tries instead to make itself relevant by signalling an intention to supply arms to Libyan renegade marshal Khalifa Haftar, who controls Benghazi and oil terminals in the Gulf of Sidra (Nezavisimaya Gazeta, January 19).
The central theme in Trump's round of introductory talks with other world leaders is trade; and this topic was reduced to platitudes about "restoring mutually beneficial ties" in his conversation with Putin (Kremlin.ru, January 28). While European counterparts may be worried about Trump's disregard for climate change, Putin is more concerned about the US decision to go forward with constructing new transcontinental pipelines and their impact on the dynamics of global oil prices (Gazeta.ru, January 25). But as for investment opportunities in Russia, many US businessmen—including for that matter Rex Tillerson, Trump's Secretary of State nominee—the main obstacle is not sanctions but rampant corruption, which earns Russia an inglorious 131st place on the Index compiled by Transparency International (Moskovsky Komsomolets, January 25).
One topic that both leaders took pains to avoid was Russia's cyberattacks on the US elections; but it is unlikely to just go away. It certainly adds strength to British Prime Minister Theresa May's warning about the intensity and versatility of Russia's threat, aptly coined in the new motto "Engage but Beware" (Kommersant, January 28). In Moscow, meanwhile, something strange is happening inside the cyberwarfare structures: several arrests were made in the Federal Security Service (FSB) Cyber Security Center and at Kaspersky Lab, the most renowned and advanced private Russian IT company (Novaya Gazeta, January 27).
Putin's best hope at this crucial early stage of cultivating ties with Trump is centered not on a breakthrough regarding sanctions but on adding to the mounting disagreements between the United States and its European allies. Characteristic in this regard was the fact that Trump's phone call (at which Vice President Michael Pence, National Security Advisor Michael Flynn and Senior Advisor Stephen Bannon were present) happened between conversations with German Chancellor Angela Merkel and French President François Hollande. Both European leaders are upset with the budding "beautiful friendship" between the unpredictable Trump and the all-too predictable Putin. Together with May, they face the task of demonstrating how few bonuses and what heavy risks an ignorant and indifferent reconciliation/capitulation entails. It may be ironic that they need to enlist such allies as Pence, but they can also count on support from Defense Secretary James Mattis and Senator John McCain; so Putin's chances are slim and diminishing.