Muscovite Socialist, National Oligarch: A Moldovan Symbiosis
Publication: Eurasia Daily Monitor Volume: 14 Issue: 9
By: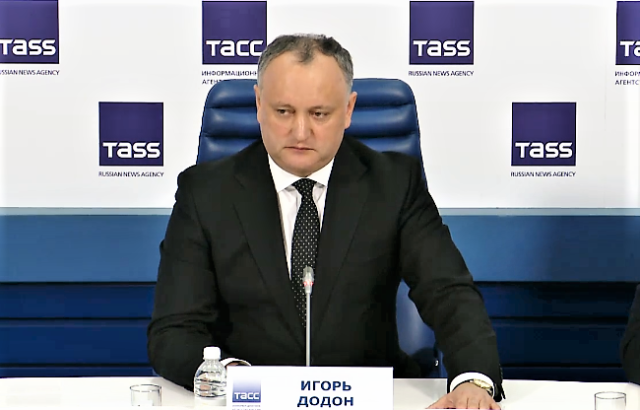 Moldovan President Igor Dodon's visit to the Kremlin (see EDM, January 26) fell short of its main goal—that of strengthening Dodon's and his Socialist Party's position in Moldovan domestic politics. Russian President Vladimir Putin's high popularity in Moldova could have helped Dodon's political fortunes significantly through image transfer. That trick had worked during Moldova's 2014 parliamentary elections, when a Putin-Dodon photo opportunity sufficed to lift Dodon's Socialist Party into first place. This time, however, Dodon's stunningly inept performance in Moscow cast serious doubts on his comprehension of Moldovan state interests, and made it possible for Moldova's de facto ruler Vlad Plahotniuc—Dodon's presumed opponent—to pose as the man who keeps the country out of Russia's orbit.
Plahotniuc, his Democratic Party (mainstay of the ruling coalition) and the government under Prime Minister Pavel Filip exploited Dodon's Moscow visit to the hilt, to their own advantage. In a flurry of statements they promised to preserve Moldova's "one-directional European orientation" and accelerate the implementation of Moldova's association agreement with the European Union, as opposed to renouncing that agreement. Nevertheless, all those statements also assured Moscow that Moldova is determined to improve relations, reactivate bilateral trade and expand cooperation with Russia in a wide range of sectors (Infotag, Deschide.md, January 17–25).
Dodon's empty-handed return from Moscow underscored Chisinau's vital dependence on the resumption of Western funding. That funding is basically for state budget support (survival, rather than development) and is indispensable to the continuation of the incumbent government under Plahotniuc's control. But Plahotniuc also needs Western political acceptance of his illegitimate and unpopular system of personal power. He obtains Western acceptance by casting himself as a guarantor of Moldova's "European course," protector of the internal order against pro-Russia forces such as Dodon's Socialists.
The struggle between Plahotniuc and Dodon over Moldova's external orientation is to a large extent a farcical struggle. Plahotniuc's system of kleptocracy and clientelism has actually derailed Moldova's European course. Nor is the fight with Dodon a real contest, as Plahotniuc holds all the powers in the state while Dodon's presidential functions are merely symbolic. Both protagonists, however, need the appearance of a bipolar conflict between them. Plahotniuc uses it to gain Western acceptance, confuse local critics of his personal rule, and further concentrate power in his hands. Dodon, for his part, needs the spectacle of conflict to energize his party and allies for the presidential election just held and for the parliamentary elections due next. Russia did not help him in the presidential election, but he seeks Moscow's help for the parliamentary elections.
Wrapped in Russia's colors, Dodon is a convenient antagonist to Plahotniuc, evidently preferable to pro-Western opponents of his rule. Plahotniuc's media holding and administrative apparatus therefore helped Dodon in the recent presidential election, ensuring his narrow victory over the pro-Western opposition's candidate, Maia Sandu (see EDM, December 14, 16, 2016). Plahotniuc thereby set the stage for a political charade. He confronts a pro-Russia president after having lifted him deliberately to that powerless office. On similar calculations, Plahotniuc allowed the Socialist Party to grow to a certain extent, limited and controllable, even as he broke up all the other parliamentary parties. He needs a half-credible but non-dangerous "geopolitical opponent"; he then plays savior against this opponent and concentrates power into his own hands on that pretext.
Both Plahotniuc and Dodon's Socialists consider the possibility of holding the next parliamentary elections in 2017, instead of 2018. Precipitated elections would catch the nascent parties of the pro-Western opposition unprepared. This is a shared interest of Plahotniuc and Dodon. The Socialists are set to recycle their strategy from the recent presidential election—namely, maximum mobilization of Russia-oriented segments of Moldova's electorate. This is not enough numerically to win elections outright (unless Plahotniuc helps, as he helped Dodon win the presidency); but those numbers can grow to critical mass by aggregating parts of the general protest vote.
For its part, Plahotniuc's Democratic Party (DP) is widely expected to change the electoral system this year, ahead of the parliamentary elections. Under the existing institutional arrangement (since 1994), all parliamentary deputies are elected from party lists. The DP plans to turn this system into a mixed one, whereby one half of the number of deputies would be elected in single-mandate districts. This would enable Plahotniuc to nominate loyal candidates and support their election—whether under DP colors or as "independents"—to the next parliament, bringing it more firmly under his control.
The DP's current ratings are in the single digits, at risk of falling below the 6 percent threshold in the next elections. Plahotniuc's heavily negative personal ratings do reflect on his party. For now, however, the DP holds 19 parliamentary seats, and controls a total of some 60 seats (out of 101) after breaking up several parliamentary parties and co-opting their remnants. The Socialist Party holds 24 seats, and runs a distant first in opinion surveys.
While the DP's electoral prospects look grim, the party can still change the electoral system in the current parliament, so as to dominate the next one. Moreover, the proposed change would marginalize the new parties of the pro-Western opposition. Commentators affiliated with Plahotniuc and the DP already suggest that Moldova needs a more tightly controlled parliament, so as to ensure "stability" and protect the "European course" from Russian and Socialist challenges.