Putin Blesses Moldova's President in Moscow
Publication: Eurasia Daily Monitor Volume: 14 Issue: 8
By: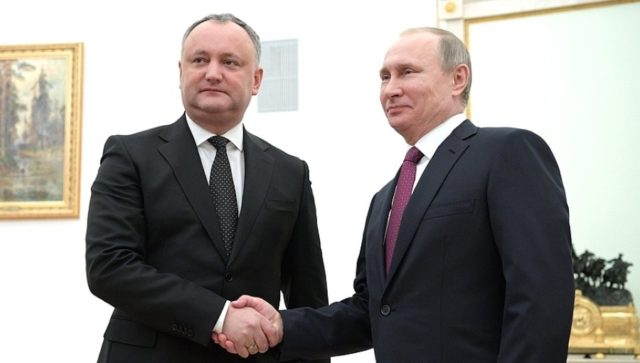 Moldova's recently elected, vocally pro-Russia head of state, Igor Dodon, paid an official visit to President Vladimir Putin, in Moscow, on January 16–19. It was an unusually long and elaborately staged affair for the president of a small pauper state. The Kremlin used the visit to showcase the election of a pro-Russia president in a country that the European Union had previously advertised as the "success story" of the EU's partnership policy. Dodon owes his electoral victory to Moldova's de facto ruler, billionaire Vlad Plahotniuc, although Dodon positions himself as an opponent to the Plahotniuc-controlled government (see EDM, December 14, 16, 2016).
Dodon's Moscow visit included bilateral meetings with President Putin (followed by their joint media event), Foreign Affairs Minister Sergei Lavrov, Deputy Prime Minister Dmitry Rogozin, Federation Council Chair Valentina Matvienko, Gazprom CEO Alexei Miller, Sberbank president German Gref, and Patriarch Kirill of Russia's Orthodox Church. The official TASS news agency and the MGIMO Institute hosted Dodon for a press conference and a lecture, respectively (Interfax, January 16–19).
The visit's high profile notwithstanding, little if any business was transacted. Dodon lacks the necessary constitutional powers for entering into agreements or commitments with foreign states (only the government has those powers). And Russia currently lacks the means to regain influence over "near abroad" countries—such as Moldova—by the old method of channeling economic incentives through loyal political leaders. The Kremlin, however, made a spectacle of this presidential visit in order to boost Dodon's and his Socialist Party's political fortunes in Moldova. The Socialists became the single largest parliamentary party in 2014 and have set the goal of winning the next parliamentary elections, which they hope to precipitate during the current year (2017), one year ahead of schedule.
Putin made clear during the joint press conference that Dodon is Russia's political partner in Moldova at present (albeit without take-home economic handouts) and for the upcoming electoral cycle. The Putin-Dodon joint appearance and other televised images of Dodon in Moscow conveyed that endorsement to Moldova's Socialist electorate and other Russia-sympathizing voters (Kremlin.ru, January 17, 18; Rossiya 24 TV, January 16–19).
Underscoring the visit's partisan-political character, Dodon's delegation was almost exclusively Socialist in its composition. Although he formally resigned as party leader in keeping with the Constitution when taking office as president, Dodon continues to behave as party leader in view of the next parliamentary elections. In that timeframe he also seeks to advance Moscow's and his own professed goal of "federalizing" Moldova (see accompanying article).
Dodon's policy agenda caters to his own electorate and the Kremlin in equal measure. He called for a renegotiation of the Moldova–European Union Association and Free Trade Agreements, with Russia's participation as an interested party; he has made a Moldovan overture toward the Russia-led Eurasian Economic Union (EEU); and he resurrected "Moldovanism" to oppose "Romanianism" and "unionism" (Romanian irredentism) in Moldova's internal politics.
Renegotiation of the Moldova-EU agreements in a tripartite format is a Russian precondition to reopening its market for Moldovan agricultural products. Russia closed its market outright in 2014, as reprisals for the signing of Moldova's agreements with the EU. In Moldova itself, the Socialist Party and many desperate farmers are urging the government to backtrack on the agreements with the EU in order to regain access to Russia's market. Their main argument is that Moldova's minor gains in EU markets are not offsetting the major losses caused by the closure of the "traditional" Russian market. This argument reflects Moldova's overall failure to adapt its agriculture to the standards of Western markets. Dodon himself has equivocated on whether he favors canceling the free trade agreement with the EU or renegotiating it with Russia's involvement. He invokes one option or the other depending on the audience at hand (see accompanying article).
For a possible rapprochement with the EEU, Dodon proposed that Moldova should seek observer status with this organization. The entire Moldovan delegation met with the Eurasian Economic Commission (the EEU's executive body) in Moscow to discuss a memorandum of intent toward that goal (TASS, January 18). This is another gesture for domestic political effect (see above) and without practical consequences.
Dodon presented himself in Moscow (and for playback to voters at home) as the champion fighter against Romanian political and cultural influence in Moldova. He vowed to seek a ban on Moldovan organizations that advocate for unification with Romania (such a ban would be legally impossible, however). The Kremlin is evidently aware of Dodon's penchant to react to Romanian irredentism by invoking a restoration of "Greater Moldova." Putin presented Dodon with a historic map of the Moldovan principality, the western half of which later joined Romania. Proudly displaying the map at his own news conference, Dodon regretted the fact that Russia had taken "only" the eastern half of the principality in 1812 (roughly the present-day Republic of Moldova). Had Russia also taken the western half (now in Romania), he mused aloud, "our Moldova would be a whole country today" (TASS, January 18). Romanian government officials and observers reacted to this spectacle more seriously than it would have deserved. Romania's ambassador in Chisinau, Daniel Ionita, however, refrained from polemics and met quietly with Dodon following the latter's return from Moscow. The fact of the meeting was announced publicly, but not the agenda (Ziarul National, January 21).
As an overarching action plan for his presidency, Dodon made clear in Moscow that he intends to press for "federalization" to resolve the issue of the separatist Moldovan region of Transnistria, satisfy Russia's conditions for reopening Moldova's access to the Russian market (to the detriment of Moldova-EU relations if necessary), and counterbalance Western and Romanian influence in Moldova by encouraging a more active Russian involvement in the country. But Dodon does not want to be written off by European Union officials and will undoubtedly attempt to mend fences with Brussels during his upcoming visit there.