Putin Pauses, but Russia's Propensity for Trouble-Making Persists
Publication: Eurasia Daily Monitor Volume: 18 Issue: 70
By: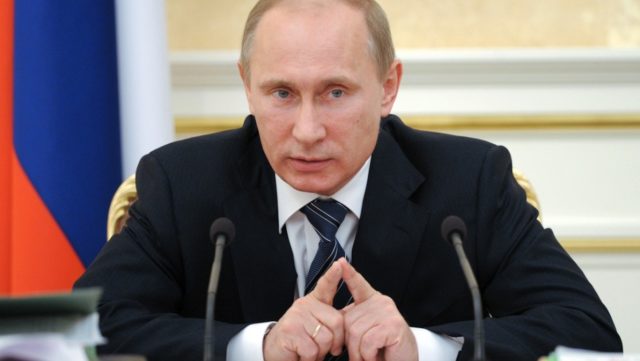 Russian President Vladimir Putin's apparent plan to emerge from his extended self-isolation with new energy did not quite work out as expected, and he clearly needed to pause. Last week (April 28), United States President Joseph Biden touted his achievements at the symbolic 100-day mark of his administration in countering the COVID-19 pandemic and in righting the US economy. But hard as the Russian media tried to downplay that performance (Kommersant, April 30), the Kremlin leader cannot claim similar success: the Russian vaccination campaign is nowhere near the US scope, and he cannot simply order the domestic economy to pick up from its lackluster performance (Nezavisimaya Gazeta, April 29). Putin's loudly trumpeted annual address to the Federal Assembly (Russian parliament), on April 21, skipped over the most demanding problems (see EDM, April 22, 26); but he has managed to gain the desired pause by decreeing a long holiday break in the first week of May.
The "gift" was surely welcomed by many Russians, who flocked to their dachas for spring gardening, but the decreed holiday added to the pain of many businesses, forced to pay their employees for extra days off (Forbes.ru, April 26). Russia's macroeconomic performance is certain to register a slump, and it is already affected by the Central Bank's decision to raise the basic interest rate to 5 percent because of high inflation estimates (RBC, April 28). Consumer prices are indeed climbing fast, and the real decline in disposable incomes is significantly deeper than the modest 3.6 percent recognized in official statistics for the first quarter (Novye Izvestiya, April 30). As personal savings shrink, the demand for credit goes up, pushing accumulated household indebtedness to a record high mark (VTimes, April 30). This dismal economic performance denies the regime the opportunity to prop up its legitimacy by providing tangible rewards, so it has to rely increasingly on repressions, which add heavily to economic under-performance (Newsru.com, April 29).
Certainly, there has been no pause in repressing the opposition: every day brings news about arrests of bloggers for sharing "subversive" posts or university professors accused of partaking in "extremist activities" (Novaya Gazeta, April 30). The network of anti-corruption activists built and led by Alexei Navalny receives the brunt of those repressions, forcing it to close its regional headquarters and go underground (Republic.ru, April 30). This Friday will mark the 110th day since Navalny willingly returned to Russia after his recuperation in Germany from attempted poisoning by the Novichok nerve agent (Meduza, April 29). Putin had hoped that by throwing his nemesis behind bars, he could silence him, but Navalny remains able to shape the political agenda for the opposition and to deliver high-impact hits, using his latest appearance before an appeals court to ridicule the "naked king thief" sitting in the Kremlin (Navalny.com, April 29). In St. Petersburg, which experienced particularly brutal suppressions of street protests this year, Navalny's image has become a key motif for street art, much to the irritation of the municipal authorities (New Times, April 29).
Another matter Putin needed a pause from is the crisis in relations with Ukraine, which he had escalated to the brink of full-blown war, expecting to exploit cracks in Western unity; instead, he encountered stiff resistance and found it opportune to back off after a phone call from Biden (Ezhednevny Zhurnal, April 26; see EDM, April 26). Ukrainian President Volodymyr Zelenskyy performed well under pressure and managed to reenergize support in Europe by demonstrating readiness to meet with Putin and discuss the situation in Donbas, which the Kremlin refuses to recognize as the central issue in bilateral relations (Kommersant, April 27; see EDM, April 28, 29). Zelenskyy aims to break free from the trap of the Minsk agreement. The latter was forced upon Ukraine in the desperate moment of defeat in early 2015 and cannot possibly be implemented, but it remains the only framework for international management of the barely camouflaged Russian aggression (Rosbalt, April 29).
Tensions around Ukraine coincided with another crisis in Russia's relations with Europe, which Putin has badly mismanaged and cannot put on pause. The investigation in the Czech Republic (Czechia) of the deadly explosion at the Vrbetice ammunition depot in October 2014 produced solid evidence of involvement of Russian military intelligence (GRU), so Prague was compelled to take action against the hub of special services personnel (siloviki) established at the local Russian embassy (The Insider, April 30). Moscow responded with the usual arrogant denials and expulsion of Czech diplomats, but Prague refused to accept this "reciprocity" and cut the ties further. Meanwhile, the investigation additionally exposed related Russian terrorist attacks in Bulgaria, which also had to show resolve (Nezavisimaya Gazeta, April 28). Moscow decided to punish those moderate gestures of European solidarity and announced sanctions against eight European Union officials (Izvestia, April 30). This turned out to be one affront too many: all of the EU's top bureaucrats expressed outrage at Russia's unacceptable demarche, and Moscow must now brace for a new tightening of sanctions from the European side (RBC, April 30).
In picking this quarrel, the Kremlin was counting on Washington's indifference, expecting that the White House would mainly be preoccupied with preparing for a successful Biden-Putin summit in the coming weeks (Russia in Global Affairs, April 29). Instead, US Secretary of State Antony Blinken categorically condemned the Russian "black-listing" of EU officials. Blinken's statement could have been dismissed as simply rhetoric, but his planned visit to Kyiv for discussions of US support for reforms in Ukraine is being monitored in Moscow with concern (Nezavisimaya Gazeta, May 1). The threat of war is now the top instrument of choice in Russia's foreign policy, yet the effectiveness of such crude pressure depends upon the strength of the US commitments to European security, which will be tested repeatedly and shrewdly (Carnegie.ru, April 26).
Mobilizing resources to build such a convincing military threat at will is a costly exercise, so Russia needs a pause after its April exertions, allowing Putin to tally his gains and setbacks. For European politicians and proponents of engagement, it is obvious that Russia has lost prestige and influence, so they hope Moscow can be discouraged from new attempts to bully and blackmail its neighbors. Putin's calculus, however, is rather different. A relaxation of tensions inevitably reduces Russia to the periphery of global affairs and erodes the repressive momentum of his regime. He can no more be discouraged from further pressure on Ukraine and "hybrid" attacks on European neighbors than persuaded to curtail the predatory appetites of his enforcers. War is not Putin's natural element, but trouble-making is his only stratagem for Europe.