Putin Postures as a 'Davos Man' While Bolstering His Autocracy
Publication: Eurasia Daily Monitor Volume: 18 Issue: 17
By: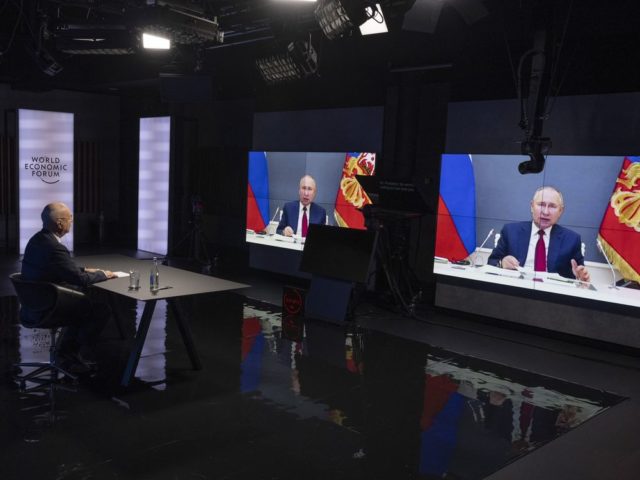 The idea to invite President Vladimir Putin to deliver a special address at the World Economic Forum, which made "The Great Reset" the theme for its annual Davos meeting last week (January 25–29), was dubious at best. Klaus Schwab, the veteran director of the forum, argued for the need to nurture honest dialogue to end the era of polarization and isolation; yet Putin has hardly exhibited unwavering honesty on the world stage (Kommersant, January 28). Schwab also mentioned the rich track record of Russia's participation in the forum. It is true that Davos served as the venue for the plain question "Who is Mr. Putin?" back in 2000. Answers to that seemingly straightforward question have varied widely over the following two decades of his reign. But by now, opinions in most quarters have largely converged around an understanding of the aggressive nature of his mature dictatorship.
In any case, this year, Putin softened his address with the proper politically correct lamentations about increasing inequality and the inefficiency of global institutions; but the core of his message constituted warnings about the growing risk of war (Moskovsky Komsomolets, January 27). He drew a parallel with the crises of the 1930s and underscored how the "bad peace" after World War I led to renewed global conflict within 20 years (Fontanka, January 27). The grievance that Russia was ostensibly treated badly and unfairly after the end of the Cold War resonates with many Russians and prods the guilt complex of some Europeans, so Putin continues to try to exaggerate it as ammunition for his claim that that present-day sanctions against Russia are unjustifiable and illegitimate (RIA Novosti, January 27). Left unsaid but strongly implied, however, is that Putin is supposedly ready to resort to military force in order to fight off the perceived encroachments on Russia's interests (Ezhednevny Zhurnal, January 28).
This barely veiled threat might appear untimely when delivered one day after Russia and the United States agreed to extend the New START treaty on limiting their strategic nuclear arsenals for five years without pre-conditions. Indeed, both chambers of the Russian parliament ratified this extension in such haste that the experts who had argued about the limbo for the treaty caused by the presumed length this procedure would require were left flabbergasted (see EDM, Kommersant, January 28). This arms control agreement, however, does not signify the arrival of any new "reset" in Russia-US relations; and essentially all mainstream Russian commentators predict further escalation in bilateral tensions (TASS, January 26). The new US leadership's decision to preserve the Obama-era treaty amounts to an attempt to bracket nuclear weapons out of the content of these tensions. But Moscow has invested so much in modernizing its strategic capabilities that it is compelled to nonetheless keep advertising and demonstrating its nuclear might (Nezavisimoe Voennoe Obozrenie, January 28).
During the first telephone conversation between President Joseph Biden and Putin last Tuesday (January 26), the former resolved to raise every contentious issue, while the latter, predictably, opted to deny these disagreements (Novaya Gazeta, January 28). Putin responded to Biden's remonstrations by unleashing even tougher repressions against the awakened but disorganized Russian opposition, seeking to deter a new series of street protests over the weekend (Nezavisimaya Gazeta, January 28). Quite probably, he is deliberately provoking his opponent in the White House, whose team and policies are not yet fully in place, to respond with new sanctions; Putin may hope to exploit this pressure to further discredit the domestic supporters of the imprisoned but irrepressible Alexei Navalny as "enemy agents" (Rosbalt, January 27). Putin also likely expects that the European Union is not prepared to expand its own sanctions regime against Russia and may be more attentive to his Davos message (Republic, January 30). The Europeans might certainly struggle to chart a common course in the bloc's relations with Moscow. Yet former eagerness for engagement with Russia among some key EU member states has, in recent years and months, evolved into wary estrangement (Carnegie.ru, January 27). Familiar discourse about reducing global inequality turns into a farce when recycled by the Russian autocrat, who has had to deny owning an opulent Black Sea palace exposed recently by Navalny in a documentary that has already gathered over 100 million views online (Forbes.ru, January 28). Rampant corruption and rigid central control are the main causes of Russia's protracted economic stagnation, and their continuing impact denies the country any chance for a post-pandemic recovery (Newsru.com, January 29). The associated decline in household incomes has pushed 19.2 million Russians below the official poverty line, and the total population contracted by half a million in 2020 (Znak.com, January 29).
Putin can pay only lip service to this problem, and he presumably deeply worries how the popular discontent may fuel mobilization on online social networks; so, in Davos, he additionally found it opportune to denounce the "digital giants" that, he contended, seek to manipulate societies (RIA Novosti, January 27). The Russian special services are able to execute effective cyberattacks against the US, but they cannot control domestic information channels. Thus, the authorities are left with threatening Facebook, Instagram and YouTube with fines for spreading seditious content (RBC, January 27). Putin made some oblique references to the particular role of these platforms in the US political crisis, but he is more irked by the decision of Facebook and Twitter to block the accounts of his notorious oligarch associate Yevgeny Prigozhin (Moscow Echo, January 27). The Kremlin still relies on the heavy guns of official propaganda and cannot grasp the diminishing results of their salvos, especially against the younger generations, which have switched overwhelmingly to consuming uncensored news and opinion sources online—something the famously internet-averse Putin cannot hope to understand (Snob.ru, January 26).
Among the global business elite, there are always groups responsive to the appeals to accept Putin's Russia "as it is," ignoring its authoritarian features and propensity toward aggression. Even for these groups, however, present prospects of doing business in Russia are undercut not only by sanctions but also by the economic predation of the country's security services (siloviki), whose domestic political influence grows every time riot police must be unleashed against peaceful Russian protesters. Every brutally dispersed rally—with the last one this past Sunday—is increasingly likely to chip away at the numerical strength of the former pro-Putin majority. The authorities' habitual rule by fear butts up against growing indignation against police injustice mixed with resentment against economic injustice. Putin can fake concerns about the global misgovernance aggravated by the pandemic, but he cannot hide his real worries about international solidarity with those Russians protesting his autocracy.