PUTIN-SAAKASHVILI MIDNIGHT MEETING: FUTILE BUT NECESSARY
Publication: Eurasia Daily Monitor Volume: 3 Issue: 117
By: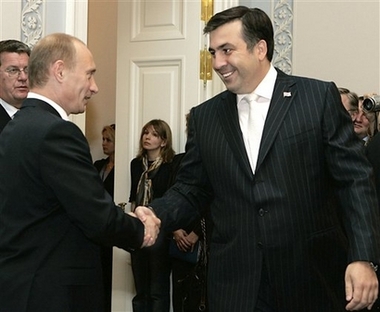 Presidents Vladimir Putin of Russia and Mikheil Saakashvili of Georgia held a three-hour meeting and joint news conference in St. Petersburg during the night of June 13-14. Saakashvili, who had solicited this meeting, succeeded in demonstrating Georgia's mature approach to the contentious issues beyond Western skeptics' doubt. Such doubts had probably contributed to Tbilisi's decision to initiate the meeting with Putin, so as to improve the atmosphere ahead of the G-8 summit and preclude any possible show-spoiling incidents during the run-up. Putin undoubtedly shares that short-term goal as G-8 summit host.
Resumption of the high-level bilateral dialogue was also a worthy goal of the Putin-Saakashvili meeting. Thus, the meeting was a necessary one, even if it could not be expected to produce any specific results. Georgia gained by demonstrating its willingness to resume that dialogue in spite of Moscow's manifold hostile actions and by using the reopened dialogue to defend and advance Georgia's interests.
Putin began the encounter by letting Saakashvili wait almost three hours in Konstantinovsky Palace for the Russian president to appear. (Georgia's ex-president Eduard Shevardnadze had also experienced this sort of treatment from Putin.) Nevertheless, Saakashvili was his unfazed and voluble self in stealing the show from a stilted, defensive Putin in front of television cameras after the closed-door discussions (Interfax, RTR Russia TV and Russian Television Channel One, Rustavi-2 and Imedi televisions, June 14).
On the Abkhaz and South Ossetian conflicts, Saakashvili noted the unfreezing of negotiations through Georgia's proposals for political settlements. Characterizing Russia's policy as territorial annexation, ethnic cleansing, and expropriation, he stood his ground: "We will never agree to someone snatching and taking away parts of our country. Russia is a great country, has so much territory, while Georgia is a small and beautiful country, better leave it in peace." Putin's reply — "Patience is needed and a desire to seek compromises, bridge-building is necessary, not between Georgia and Russia, but between Georgia and, say, South Ossetia" — is a familiar prescription that corresponds to the logic of freezing the negotiations. It implies endless parleys, equivalence of the legitimate governments and secessionist authorities, and denial of Russia's obvious role as party to the conflict while claiming the arbiter's role.
Putin, moreover, instructed Georgia that ethnic problems are "not to be resolved using knives and razors." At this point many would have remembered Putin's highly publicized gesture at the height of the second anti-Chechen war when he personally presented Russian soldiers with combat knives.
Along with lip service to Georgia's territorial integrity, Putin suggested resolving the conflicts through referendums in secessionist territories. He mentioned Russia's own Chechen "referendum" as a possible example for others to follow, "democratically asking the people to express their will." Putin's relatively cautious phrasing shows him to be aware of the need to sound "constructive" ahead of the G-8 summit. Even so, his remarks confirm the Kremlin's recent policy shift, which his immediate subordinates have expressed bluntly in recent weeks: Territorial integrity is conditional or virtual [uslovnaya] since it no longer obtains in practice; it is counterbalanced by territorially based self-determination in principle; and the cases of Montenegro or Kosovo are usable precedents to post-Soviet conflict settlement through referendum. Although Russian officials may tone it down publicly in the run-up to the G-8 summit, Russian policy has become wedded to this new line, more obstructionist of resolution of conflicts than at any time since the initial military interventions.
Putin alluded to a powerful tool of economic pressure in answering a Russian journalist's question about possibly blocking remittances from Georgians employed in Russia to Georgia: "I have not given such instructions" was Putin's elliptic reply, seemingly implying that he might choose to do so. Asked if Russia would rescind its embargo on Georgian wines, Putin responded with an obvious non sequitur: 60% of all alcoholic beverages in Russia are adulterated, he said, and "you know how high the mortality rate is in Russia from consumption of various surrogates." In reply, Saakashvili half-facetiously advised Putin to rescind the embargo quickly, or else other countries will buy Georgia's wines and none will be left for Russia.
While the St. Petersburg meeting proceeded, a European Commission delegation arrived in Tbilisi for talks on a possible agreement on trade in wines between Georgia and the European Union or EFTA member countries (Civil Georgia, June 13). In its account of the Putin-Saakashvili meeting, Gazprom-owned Izvestiya laid bare the political motivation behind the embargo on Georgian wines: "Saakashvili's political orientation does not bring economic dividends, just the opposite: For example, it results in the loss of markets for Georgian wines" (Izvestiya, June 15).
Putin and Saakashvili are scheduled to meet again on July 20 in Moscow on the sidelines of a CIS summit in order to continue a dialogue that looks, from Georgia's perspective, futile but nonetheless necessary.
Even as Putin was hosting the Georgian president, Sukhumi was hosting a meeting of the leaders of Abkhazia, South Ossetia, and Transnistria, cementing their alliance under Russia's protection. The Kremlin apparently calculates that its sponsorship of the secessionists' meeting belongs in the category of "deniable support" and that some G-8 summit participants should silently accept that line.