Putin Threatens 'Below the Threshold' Operation in Syria
Publication: Eurasia Daily Monitor Volume: 12 Issue: 165
By: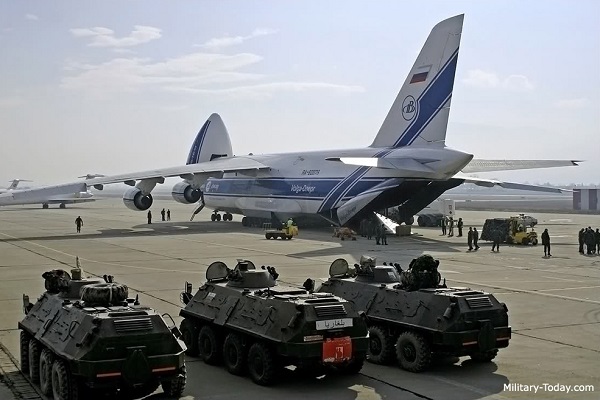 Moscow has attached credibility to reports that it reserves the right to commence military operations in Syria, following growing evidence that it has increased the supplies of military hardware and enhanced the numbers of military advisors working in-country (see EDM, September 4, 10). This was coupled by reports that the Russian Armed Forces were deploying in, albeit, relatively small numbers to reinforce the Tartus depot and an airfield near Latakia. The identification of elements of the 810th Naval Infantry Brigade, based in Sevastopol, appeared to support the assertion that preparations were under way to boost the overall number of Russian forces in Syria. And this immediately resulted in questions as to Moscow's future intentions, which were publicly raised by officials from the United States and North Atlantic Treaty Organization (NATO) (Novaya Gazeta, September 5).
Russian media picked up on such Western reporting as well as off-the-record comments by diplomats and examined the case in favor of unilateral military operations in Syria. Broadly, the argument that developed set out the circumstantial evidence that Russia's Armed Forces are preparing a forward operating base in Syria in readiness to commence combat operations. The "evidence" centers on photos, videos, and other information alleging an increase in military supplies to President Bashar al-Assad's regime as well as suggestions that Russian troops are engaging in combat. Most analysis confirms the equipment transfers, dispatch of military advisors and the presence of Special Forces, with an overall "so what?" (Ekho Moskvy, September 7).
The Barack Obama administration reacted to these reports, in part, by Secretary of State John Kerry telephoning his Russian counterpart, Sergei Lavrov, to express concern over the prospect of Russia escalating the conflict in Syria. However, President Vladimir Putin refused to rule out possible action at some future point. Clearly, the US and NATO response to Russia's increased military activities in Syria is more precisely a "reaction" to what else Putin may have in mind. One commentary noted the important symbolic step of selecting Sevastopol's 810th Naval Infantry Brigade, which was involved in seizing Crimea without engaging in combat: the underlying message was that Moscow hopes to avoid entering the Syrian civil war, but is willing to use the threat to leverage its diplomatic credence (Warfiles.ru, September 7).
Russian analysts also considered reports of a "military build-up" in Syria, questioning how it might fit Moscow's strategic interests. Here, the intrigues surrounding such military activity were tied to "Putin's plan" to recreate the international anti–Islamic State coalition to include al-Assad, along with Russia and Iran. Moscow-based experts were skeptical that this would gain traction in Washington, or that Putin would risk unilateral action. For example, Sergei Karaganov, the founder of the Council on Foreign and Defense Policy, said that Moscow was considering joining the coalition against the Islamic State (IS), but its Western partners have been "unwelcoming." Karaganov emphatically stated, "They are reluctant to accept proposals from Putin, whom they want to contain." He added that he does not expect Russia to choose the path of unilateral military action in Syria, which would entail "enormous risks." Colonel (retired) Igor Korotchenko, the editor of Natsional'nyy Zhurnal Oborony, said that while Russia has supplied al-Assad's government with weapons it would not opt for military operations in Syria. "Russia will not send its troops to the Middle East, it is absolutely excluded." Korotchenko added "It is the US's problem. Russia will not pay for that with its soldiers' lives." Other interpretations were more conspiratorial. Alexander Golts, an independent military analyst, suggested that Putin sees joining the anti-IS coalition as a mechanism through which to achieve a rapprochement with the West, arguing that he wants to end Russia's "isolation" (Novaya Gazeta, September 5).
Alexander Khramchikhin, the Deputy Director of the Institute of Political and Military Analysis, highlighted the potential complexity of any future Russian military operation in Syria saying that even partial involvement in the form of air strikes against the Islamic State would demand Russian access to airfields in Iran and Iraq. Khramchikhin posited the idea that Moscow could send Su-24 and Su-25 platforms to conduct strikes against IS targets, but that this would involve accessing airfields in Syria as well as neighboring countries, along with coalition support, information exchange, and force protection augmented by deploying Russian Airborne Forces. Yet, Khramchikhin concluded that even such limited action would eventually lead to the deployment of Russian Ground Forces in Syria, and he predicted heavy losses should that occur (Voyenno Promyshlennyy Kuryer, September 9).
It is clear, therefore, in these various Russian assessments that the country's defense specialists remain highly skeptical about the threat of Moscow using force in Syria. The risks are seen as high and no one wants to be reminded of the experience in Afghanistan. Within Russia, the response to the numerous reports concerning the possible emergence of a Russian "expeditionary force" in Syria has prompted more guessing than analysis (Dozhd TV, September 5).
A number of important elements are missing in the recent narrative, however. These relate to the precise nature of the timing of Moscow upping the ante in Syria, the exact role of the naval facility in Tartus, de-escalation in Donbas, and the deeper theme of how the Putin regime uses the threat of below-the-threshold military operations to leverage other players' over-reactive responses. Since 1971, Moscow has had access to a naval depot (not a base) in Tartus. Intermittently, since 2010, Russian defense planners have toyed with the idea of activating a full-blown base, but the Syrian civil war effectively suspended such plans. In spring 2015, al-Assad's forces suffered a series of defeats near Latakia, the country's largest port with an airfield nearby used by Russia for humanitarian and military hardware transfers. This deterioration of the security situation close to Latakia led to a recalculation by Moscow concerning the status and importance of the naval depot in Tartus; consequently, throughout August, the number of Russian military personnel was increased from "four" to "several hundred." Naval infantry appear to have been deployed to Tartus to protect the depot. This is a response to the tactical situation around Latakia and not a signal of impending military operations on behalf of the al-Assad regime, though Russian personnel are involved in supporting the Syrian army (Livejournal, accessed September 14).
Putin uses the threat of force in a gray area between war and peace, which is difficult to deal with at any level. He learned in eastern Ukraine how effective this can prove, and now turns the same instrument to Syria, showing that this tool in his policy making is here to stay.