Putin, Tymoshenko Agree on Gas and Deride Yushchenko, Saakashvili
Publication: Eurasia Daily Monitor Volume: 6 Issue: 220
By: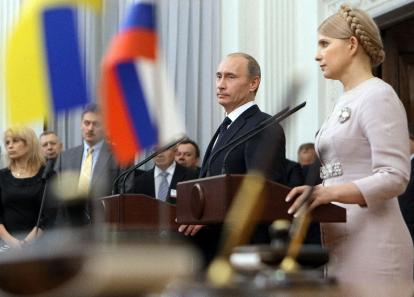 Russian Prime Minister Vladimir Putin and his Ukrainian counterpart Yulia Tymoshenko met in Yalta on November 19 and reached a number of agreements, confirming once again that their relationship is of a special character. Putin reiterated that Naftohaz Ukrainy, the debt-ridden state-controlled oil and gas behemoth, will not be fined for its failure to buy as much gas as stipulated by the January 2009 contracts between Naftohaz and Gazprom. The two rejected Ukrainian President Viktor Yushchenko's calls for an urgent revision of the contracts and derided Yushchenko and Georgian President Mikheil Saakashvili who were meeting in Kyiv simultaneously.
Naftohaz will import 24-26 billion rather than 33 billion cubic meters of gas in 2009 as stipulated by contracts, and according to the take-or-pay clause in the contracts it could face multi-billion dollar fines. After his meeting with Tymoshenko, Putin said that Moscow would not penalize Naftohaz "taking into account the special character of relations between Russia and Ukraine" (Ukrainska Pravda, November 19). Putin probably had no choice, as the fines would have bankrupted Naftohaz, further complicating the problem of payments. Also, apparently not only will Naftohaz be "forgiven," Tymoshenko believes Moscow will not fine any country for buying less gas in 2009 than stipulated by contracts with Gazprom because of the global recession (ICTV, November 22). Russia probably has not had enough gas to adhere to all of its contractual obligations in 2009, since it did not buy sufficient gas from Turkmenistan.
Putin and Tymoshenko confirmed their earlier agreement that Ukraine will not be granted a 20 percent discount from the price of gas in 2010, while it will charge 60 percent more for Russian gas transit to Europe. Throughout 2009 Putin kept warning the European Union as the main consumer that Ukraine would be unable to pay for gas. However, during his meeting with Tymoshenko he praised her cabinet for meeting contractual obligations. "For the first time in many years Ukraine has been fully meeting all of its obligations, which is an important factor for increasing energy stability in Europe," he said (Ukrainska Pravda, November 19).
Putin and Tymoshenko rejected Yushchenko's proposal to revise the Naftohaz-Gazprom contracts which he made in a letter to Russian President Dmitry Medvedev ahead of the Putin-Tymoshenko meeting. Yushchenko reiterated that the contracts were harmful to Ukraine as the price of gas grew while transit fees were unchanged in 2009, and Naftohaz faced fines for buying less gas than agreed, since Gazprom has no obligations on the volume of transit. Yushchenko suggested that the base price of gas and Ukraine's obligations regarding the volume of gas to buy should be revised and that a "transit or pay" clause must be added to the contracts for Gazprom in 2010, so that it would face penalties for pumping less than a stipulated volume to Europe through Ukraine (www.president.gov.ua, November 19).
Medvedev's adviser Sergey Prikhodko dismissed Yushchenko's proposals as a "blackmail" of Russia and Europe (Interfax, November 19). Tymoshenko defended the contracts, saying that they were market-based and transparent while the pre-2009 relations with Gazrpom, according to Tymoshenko, were built on "a mega-corruption model" (Ukrainska Pravda, November 19).
Putin derided Saakashvili and Yushchenko who were meeting in Kyiv, suggesting that the two were discussing their "common defeats." Earlier, Yushchenko defended his decision to supply arms to Georgia prior to the Russia-Georgia war in 2008, and meeting Saakashvili he reiterated his support for Georgia's territorial integrity (Interfax-Ukraine, November 17; Channel 5, November 19). This must have angered Putin. He joked in his usual degrading style, warning Yushchenko apparently in a reference to a well-known BBC video showing Saakashvili chewing his tie in August 2008, that Saakashvili might chew Yushchenko's tie. Tymoshenko played up to him, giggling (Channel 5, November 19).
Saakashvili was outraged, commenting on Putin's behavior (Ukraina TV, November 19), and Yushchenko's chief aide Vira Ulyanchenko called Tymoshenko's reaction inadmissible (Ukrainska Pravda, November 23). Tymoshenko reacted in a similar manner in the fall of 2008 when Putin called Yushchenko a trickster for trying to prevent her visit to Moscow. Earlier this year, Tymoshenko complained in a telephone conversation with Putin that Yushchenko tried to hinder payments for gas. Putin confirmed that his relationship with Tymoshenko is special, summing up their meeting in Yalta. "It has been comfortable for us to work with the Tymoshenko government. I believe that relations between Russia and Ukraine have become more stable and stronger," he said (Ukrainska Pravda, November 19).
Tymoshenko's smooth relationship with Putin at a time when relations between Russia and Ukraine are strained and ahead of the crucial January 17 presidential election makes jealous other Ukrainian presidential candidates who also seek Moscow's backing. Former parliamentary speaker Arseniy Yatsenyuk, the third most popular hopeful according to opinion polls, predicted that Moscow would increase its political pressure on Kyiv in exchange to economic concessions to Tymoshenko (Ukrainska Pravda, November 15). Tymoshenko's arch-rival Viktor Yanukovych, who leads the presidential race as the main opposition candidate, suggested that it is comfortable for Putin to work with Tymoshenko because she agreed to expensive gas thereby making Ukrainian industry uncompetitive vis-a-vis Russian companies (ICTV, November 23).