Putin Wants Ukraine to Renegotiate Terms Directly With Donetsk-Luhansk
Publication: Eurasia Daily Monitor Volume: 12 Issue: 196
By: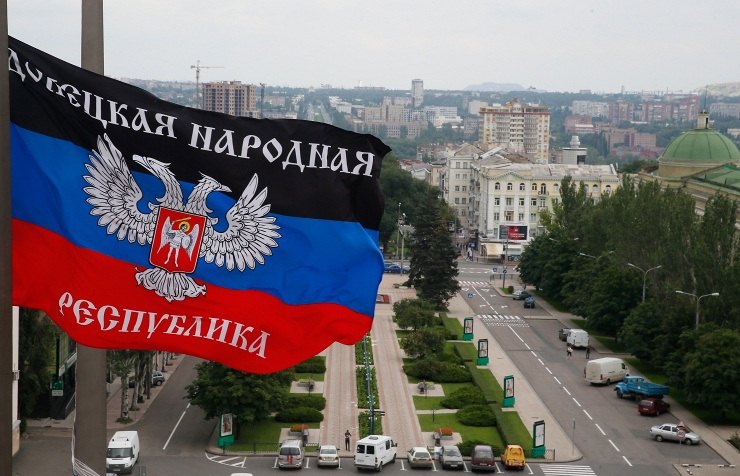 Ukraine held local elections, on October 25, throughout the country, including most of the government-controlled territory in the Donetsk and Luhansk provinces, but not in the Russian-controlled territory of those provinces. There, the Donetsk and Luhansk "people's republics" (DPR, LPR) prevented the holding of local elections under Ukrainian law, scheduling instead their own local elections for a later date. Such a disjunction is a breach of the Minsk armistice, which envisaged local elections in those "certain districts of the Donetsk and Luhansk provinces (oblasts)" to be held as part of Ukraine's country-wide local elections, not separately from them.
The DPR and LPR had "threatened" to hold their own local elections under their own rules—outside of Ukraine's constitutional and legal frameworks—on October 18 and November 1, respectively. This was pure bluff, however. Unilateral local elections would defeat Moscow's and DPR-LPR's goals to legitimize the "people's republics" and qualify them for some sort of special status. Conversely, they can achieve those goals in the framework of the Minsk armistice implementation and the "Normandy" negotiation process. They envisage local elections in the DPR-LPR to be held with Ukraine's formal consent, on the basis of a special (ad hoc) election legislation to be agreed upon between Kyiv and Donetsk-Luhansk. This would preserve Ukraine's territorial integrity on paper, but not in practice. Such elections would help turn Russia's aggression into an intra-Ukraine, long-term problem along the lines of a "frozen" (conserved) conflict.
Russian President Vladimir Putin has gratuitously claimed credit for "managing to convince" the DPR-LPR to postpone their unilateral local elections. Berlin and Paris have equally gratuitously credited Putin for that move. In fact, Moscow and the "people's republics" postponed holding unilateral elections that would have been downright counterproductive to their own interests. Instead, they have set new dates for local elections that could legitimize the "DPR-LPR" under the terms of the Minsk and Normandy processes (see above).
Their new election dates are February 21 and April 20, 2016. The rescheduling is designed to allow time for extracting Kyiv's consent to legitimizing the two "people's republics." This would take the form of enacting a special election law applicable to those "certain districts," enshrining their status in Ukraine's constitution, bringing that status into effect, and enacting a blanket amnesty for "DPR-LPR" war crimes suspects.
Under the terms of the Minsk armistice, Russia insists that it is not enough for Ukraine to grant those concessions to an extent acceptable to Ukraine. Instead, Russia wants Kyiv to negotiate all of those measures with Donetsk and Luhansk, to their satisfaction.
Addressing the annual Valdai Discussion Club, just held in Sochi (Kremlin.ru, October 24), President Putin listed five demands for Ukraine to comply with the political clauses of the Minsk armistice:
1) amend Ukraine's constitution by incorporating the law on a "special status for these territories […] upon agreement with these territories" (i.e., a more far-reaching law than the existing legislation, which Ukraine granted of its own accord in 2014);
2) incorporate that law into the body of Ukraine's constitution (i.e, not in the transitional provisions), and modify that existing law by making it "permanent" (i.e., impervious to future changes by Ukraine);
3) bring the "special status" law into effect, without conditioning this move on the criteria for free and fair elections contained in an additional article to the existing law (such an article would almost certainly be rejected by the "DPR-LPR," if the law is renegotiated with them);
4) draft the law on "local elections in these territories" by agreement with them (drafting work has started in the Minsk Contact Group on the basis of proposals attributed to French diplomat Pierre Morel—see EDM, October 9, 13); and
5) enact a special blanket amnesty law that would enable "all DPR and LPR leaders who face criminal charges" to freely participate in political processes (Kyiv opposes either a blanket amnesty or a "list-based" amnesty, but would consider such a measure on a case-by-case basis, after valid elections would have been held there).
Putin's conditions overlap closely with those he had announced on September 4, in response to the constitutional amendment enacted by Ukraine's parliament on August 31 (see EDM, September 4). Both sets of conditions threaten to invalidate all that Ukraine has conceded thus far by demanding far more from Kyiv. By this logic, all of Ukraine's enactments (see above) would have to be renegotiated, this time with the direct participation of Russia's "DPR-LPR" proxies.
Moreover, Putin seems to have dropped the pretense of a tradeoff whereby Ukraine's concessions on the political clauses would lead to Russia's fulfillment of the military clauses of the Minsk armistice. For her part, German Chancellor Angela Merkel believes that this tradeoff is available to Ukraine, in that sequence, resulting at a minimum in the restoration of Ukraine's control over its own side of the border with Russia. Chancellor Merkel most recently reaffirmed this belief to the visiting Ukrainian Prime Minister Arseniy Yatsenyuk, in Berlin (Bundeskanzlerin.de, October 23). Putin's stonewalling on the military clauses, whether deliberately or not, is clearly undermining Merkel's efforts to persuade Kyiv to concede on the political clauses.