Putin's Eurasian Project Aggravates Russia's Problems
Publication: Eurasia Daily Monitor Volume: 11 Issue: 102
By: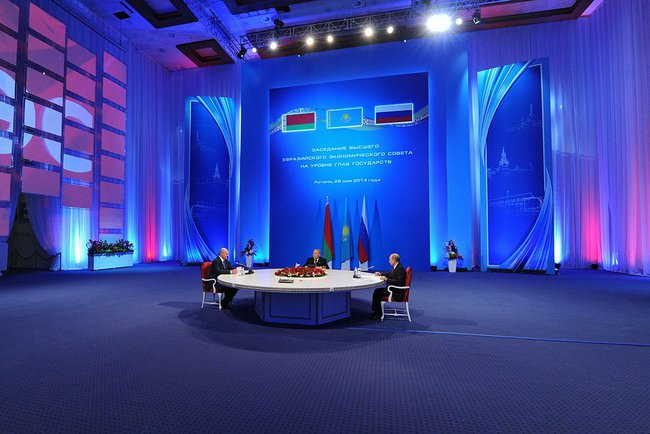 The ceremony in Astana last Thursday (May 29) on signing the Eurasian Economic Union between Russia, Belarus and Kazakhstan was a surprisingly business-like affair. The lack of fanfare reflected the mood of Kazakhstani President Nursultan Nazarbaev, who was not altogether pleased with how his old Eurasian idea has ultimately been implemented. Russia's annexation of Crimea and harsh pressure on Ukraine increased his worries about sovereignty, so he made sure that the key political issues about common citizenship, coordinated foreign policy and joint border protection were excluded from the final text (https://newsru.com/world/29may2014/astana.html). Belarusian President Alyaksandr Lukashenka added his reservation to the idea of a common currency, but he secured a hefty package of Russian subsidies while lashing out against the liberal critics of the "alliance of dictators" (https://www.gazeta.ru/business/2014/05/29/6052173.shtml; https://grani.ru/opinion/portnikov/m.229822.html). Economists express doubt as to the value the integration project actually brings, pointing out that the volume of trade between the three states decreased by 14.5 percent in the first quarter of this year and that a financial union among them has been postponed beyond 2020 (https://echo.msk.ru/blog/nikolaev_i/1330730-echo/).
These omissions from the initially ambitious draft apparently did not upset President Vladimir Putin, however, who praised the "historic importance" of the newly-agreed Union and promised everybody a spectacular rise in prosperity (https://president.kremlin.ru/transcripts/45790). For him, the significance of the long-promised deal was that his Eurasian project remained on track despite the heavy fall-out from the Ukrainian debacle. Moreover, coming just a week after Putin's visit to Shanghai, the trilateral pact also proved that Russia did not accept the role of being a "raw material appendage" to China, but would continue to consolidate its own zone of economic dominance (Kommersant, May 30). Putin keeps trying to pull other states into this zone, though Armenia's President Serzh Sargsyan was dismayed to hear in Astana that Azerbaijan's breakaway territory of Karabakh would have to remain out of the common economic space (https://echo.msk.ru/blog/dubnov/1330830-echo/).
This Eurasian alliance building is supposed to simultaneously convince China that Russia is a valuable partner and to disprove US President Barack Obama's assertion that Russia is internationally isolated (https://ria.ru/politics/20140529/1009847511.html). Each political declaration, however, involves significant financial costs for Moscow, and the execution of the much-trumpeted gas deal with China will now require massive investments, while at the same time Russia will need to allocate large sums of money to integrate Crimea into the rest of the Russian Federation (RBC Daily, May 30). Moscow spends fortunes on foreign policy as if the Russian economy were booming, while in reality the country is experiencing negative growth coupled with high inflation. The Ukrainian crisis is affecting not just Russia's trade but also its financial sphere; major Russian banks are reporting near total collapse in profits (https://polit.ru/article/2014/05/27/vtb/). The share of the state sector is expanding, while its debt is snowballing, and small private businesses are disappearing into the void of the "shadow economy" (Kommersant, May 28).
Economic sanctions imposed by the United States and the European Union may have a limited direct impact, but indirectly, they greatly increase the uncertainty of immediate business prospects and push up the risk premium that potential investors have to pay. The threat of new sanctions has not only influenced the Russian government's behavior into curtailing its ambition for dismembering Ukraine, but also instilled a reluctance in Moscow to employ the "gas weapon." Russia has issued many threats about cutting off natural gas supplies, and Ukraine has, indeed, accumulated a pile of non-payments, but Moscow still hesitates to turn off the valve in order to bring the negotiations to a force majeure climax (https://www.gazeta.ru/business/2014/05/30/6054021.shtml). This well-tested tactic could backfire and convince the EU to adopt the largest possible package of measures aimed at reducing gas imports from Russia (Kommersant, May 27).
The impact of sanctions is, in fact, gradually increasing in the murky area of interplay between Russian state policy and private interests. The EU has recognized Russia's export of corruption as a major security threat and is now expanding its investigations into the cash flows from off-shore companies and anonymous accounts belonging to individuals identified as cashiers in Putin's narrow circle of "patriotic" courtiers (https://newsru.com/finance/28may2014/sstream.html). This castigation adds to tensions inside the thin layer of super-rich Russian elites, for whom the idea of shifting business activity to China is from popular and the enthusiasm for annexing Crimea is superficial (https://www.newtimes.ru/articles/detail/82807).
In the propaganda-induced fervor of embracing the "mass uprising" in eastern Ukraine, Russia's oligarchs are a quiet voice of self-interest, reminding about the value of mutual trade—even if Russian public opinion turns disturbingly hostile toward Ukraine (https://www.levada.ru/30-05-2014/situatsiya-v-ukraine-otsenki-ozhidaniya-perspektivy). Putin has backed off from the interventionist course and now has to acknowledge that Ukraine has a strong president and a legitimate government, so the discourse about rampaging "fascism" in Russia's western neighbor must be discarded (Vedomosti, May 29). The change in rhetoric has had little impact on the violent unrest in the Donetsk and Luhansk regions, however, where gangs of armed separatists keep staging provocations aimed at forcing Moscow to intervene. And despite some withdrawals, up to 15,000 Russian troops still remain in combat-ready deployment in the border area (RBC Daily, May 30).
Putin is looking forward to his visit to France this week (June 5–6), expecting that his Eurasian achievement will impress European leaders, even if there is no chance he will be able to stand next to Obama during the solemn ceremony in Normandy (https://newsru.com/world/31may2014/obamameet.html). Newly-elected Ukrainian President Petro Poroshenko, on the other hand, will have an opportunity to meet with the US President in Warsaw, and he is looking to secure not only words of support but also money that will help prevent a "gas war" with Russia as well as military aid that can lift the morale of the Ukrainian troops engaged in nasty skirmishes on their home soil.
Eurasian allies and the Chinese leaders have tried to impress upon Putin the absolute imperative of staying clear of these hostilities, even as the ranks of rebels are becoming increasingly filled with Russian "volunteers" of dubious backgrounds. He has had time to figure out the stakes in the gamble of pushing Ukraine toward state failure, and he is unlikely to attempt another bluff, knowing how alert his opponents are to his old tricks. The problem is that he cannot find a winning option, because buying loyalty and influence in the midst of a faltering economy can last only so long. His irritation at losing is slowly building, and ageing dictators are prone to making history via monumental blunders.