Mongolia Makes Moves to Reach out to Russia in Reaction to Ukraine Crisis
Publication: Eurasia Daily Monitor Volume: 11 Issue: 101
By: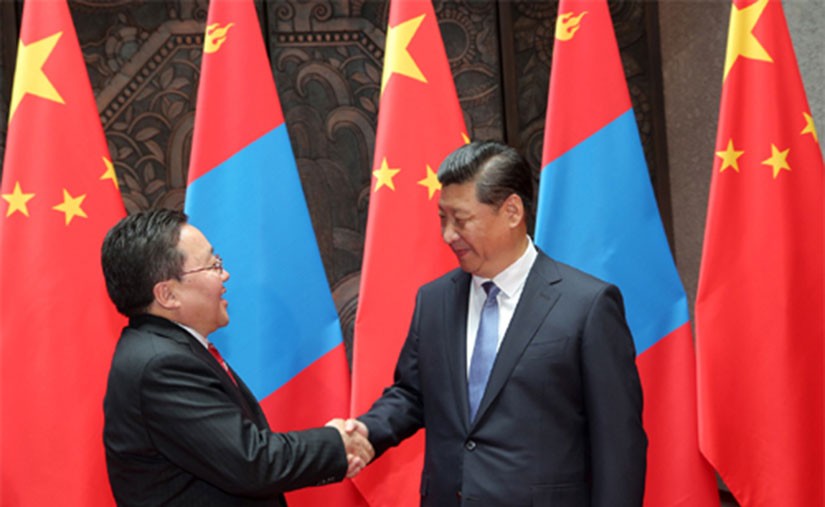 After having abstained from the March 27 United Nations General Assembly resolution vote condemning Russia's annexation of Crimea, Mongolia has continued its public silence regarding Russian actions in Ukraine. This is despite the fact that Mongolia has been a close partner of the North Atlantic Treaty Organization (NATO) in Kosovo and Afghanistan, and is a member of the NATO Individual Partnership and Cooperation Program since 2012 (https://www.nato.int/cps/en/natolive/news_85430.htm?selectedLocale=en). Furthermore, international trade considerations have propelled an intensification of Ulaanbaatar's bilateral relationship with Moscow. Specifically, Mongolia wishes to develop a new transportation corridor northward through Russian territory for its mineral exports to reach new Asia-Pacific trade partners. Such thinking was evident in President Tsakhiagiin Elbegdorj's discussions with his Russian counterpart, Vladimir Putin, during the fourth summit of the Conference on Interaction and Confidence Building Measures in Asia (CICA), held in in Shanghai on May 20–21. And further echoes of this policy could be observed in the activities of Mongolian Prime Minister Norov Altankhuyag's delegation to the 2014 St. Petersburg International Economic Forum (SPIEF), on May 22–24.
The CICA, headquartered in Almaty, Kazakhstan, has 24 Member States representing nearly 90 percent of the territory and population of Asia. At this year's Shanghai meeting, there were officials from 46 countries and 10 international organizations, including 13 heads of states and governments (presidents of China, Kazakhstan, Azerbaijan, Russia, Kyrgyzstan, Iran, Uzbekistan, Tajikistan, Afghanistan, Mongolia and Sri Lanka, and the prime ministers of Cambodia and Iraq) (english.peopledaily.com, May 19). The event concluded with a declaration affirming several Mongolian-centric policies, including its nuclear weapons–free status, the International Think Tank for Landlocked Developing Countries, and the Ulaanbaatar Dialogue initiative regarding security in Northeast Asia (mfa.gov.mn, May 19; english.news.mn, May 22).
Mongolian President Elbegdorj, on May 20, took the opportunity to discuss with President Putin how to increase Russo-Mongolian joint ventures and expand rail connections between the Trans-Siberian network and Trans-Mongolia (a.k.a. Ulaanbaatar Railways) to serve as a primary trade route between China and Russia. Mongolia is promoting new forms of transport dialogue because "railway network and transit transportation issues are strategically important to Mongolia" (The Mongol Messenger, May 22). Elbergdorj told Putin that both trilateral Russo-Sino-Mongolian and bilateral Russian-Mongolian agreements on transit traffic cooperation were being prepared, and that the two countries were working on amendments to their original 1949 agreement on the establishment of Ulaanbaatar Railways. He invited Putin to visit Mongolia this August as part of the 75th anniversary celebrations of the Soviet-Mongolian victory over Japan at Khalkhin-Gol. The two sides also discussed establishing mutual visa-free travel for their citizens. Reportedly, President Putin accepted Elbegdorj's proposals and invited the Mongolian leader to visit Russia (ITAR-TASS, May 20).
Elbegdorj had met Chinese President Xi Jinping one day before the opening of the CICA summit. They discussed bilateral cooperation in infrastructure, coal gasification, transit transportation and seaport utilization issues, regional partnership, and events to celebrate this year's 65th anniversary of Sino-Mongolian diplomatic relations. Mongolia's leader extended an invitation to Xi to visit his country, saying, "I believe that your visit to Mongolia will bring bilateral relations to a new stage of development" (englishnews.mn, May 22). Xi had supported Mongolia's entry into the Asia-Pacific Economic Cooperation (APEC) organization, which China will host in 2014, and stated: "I care very much about China-Mongolia ties and assign great importance to them" The Chinese official press claimed that Elbegdorj "praised China's support for Mongolia, vowing to firmly back China on issues regarding Taiwan and Tibet" (Xinhua, May 19), but such statements were not found in the Mongolian media.
As Elbegdorj was returning to Ulaanbaatar, Prime Minister Altankhuyag led a delegation to the SPIEF in Russia's former capital along the Baltic coast. According to the Russian press, but not mentioned in the Mongolian official media, Altankhuyag claimed that "Developing our traditionally friendly ties with the Russian Federation is one of Mongolia's foreign policy priorities. We think we should put together a medium-term program for developing the strategic partnership between Mongolia and Russia and in this way lay the foundation and draft the roadmap for taking our relations further" (kremlin.ru, May 23). His delegation had meetings with Vladimir Yakunin, the president of Russian Railways, about boosting Ulaanbaatar Railway revenue; Sergei Kiriyenko, the head of Rosatom State Atomic Energy Corporation, on uranium issues; and Rosneft oil corporation CEO Igor Sechin. (englishnews.mn, mfa.gov.mn, May 23). Rosneft later signed two five-year-term contracts for more than 1 million tons of oil products with two Mongolian companies worth $1 billion (representing 28 percent of the Mongolian market). Further contracts are expected to be signed soon, which would allow Rosneft to provide 80 percent of Mongolia's oil products (rosneft.com, May 23). Finally, Mongolian Minister of Economic Development Nyamjav Batbayar also met with Russian Economic Development Minister Alexei Ulyukayev to discuss energy and free trade zone plans for bilateral cooperation (The Moscow Times, May 23).
Although Mongolia just hosted the April 10 visit of US Secretary of State Chuck Hagel to Ulaanbaatar and continues to strengthen US-Mongolian military ties via annual peacekeeping training—such as the upcoming June 20–July 1 Khaan Quest exercises—it also values its annual military training with Russia, held since 2008 in either Buryatia or Mongolia. This year's sixth edition—"Selenge 2014"—military exercises, will be conducted in late August near the northern city of Choibalsan in conjunction with activities organized around the Khalkhin Gol celebrations. According to Mongolian sources, 500 Russian soldiers from a motor-rifle regiment with 65 pieces of hardware, including "Akatsiya" (152-millimeter self-propelled artillery), "Grad" multiple rocket launchers, "Shilka" (self-propelled air defense installations), Mi-24 helicopters, T-72 tanks, and "Vasilyok" 120-mm mortar launchers, will be transferred to Mongolian soil from the Russian Eastern Military District of Buryatia in the Baikal region (infomongolia.com, May 20). Russia announced in May that it was offering the Mongolians its YAK-130 aircraft (a subsonic two-seater light fighter/trainer) through the Rosoboroneksport company. The Mongolian government appears interested, but no purchase contracts have yet been finalized (infomongolia.com, May 15).
Mongolian ties to its large northern neighbor span an ever increasing number of areas, including security, energy, transportation and mining. And its relations with Russia are important enough to Mongolia's internal development strategy that, for the time being, Ulaanbaatar is willing to stay silent on the Ukrainian crisis to avoid publicly antagonizing Moscow.