Putin's Month-Long Diplomatic Tour Highlights Russia's Growing Irrelevance
Publication: Eurasia Daily Monitor Volume: 15 Issue: 165
By: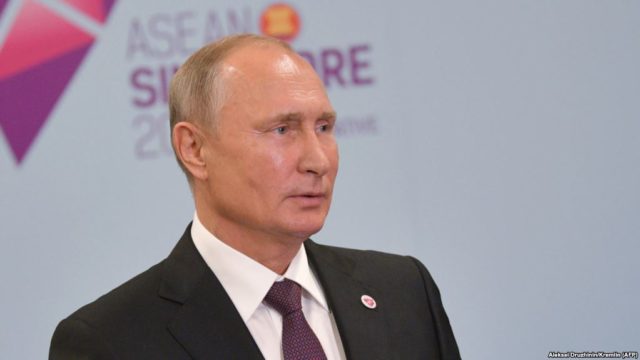 Dmitri Peskov, the Kremlin's press secretary, had to recently (November 13) explain that there was nothing extraordinary about the fact that President Vladimir Putin and Prime Minister Dmitry Medvedev were out of the country at the same time (RIA Novosti, November 13). Medvedev's whereabouts are usually of scant interest even to his own government, but Putin's travel schedule for most of November has been so full that he repeatedly had to dispatch his head of government to international fora of sub-prime importance. As the series of spy scandals and cyber-related controversies with the West continues, the Kremlin, indeed, sees an urgent need to demonstrate that Russia defies hostile attitudes and is able to overcome sanctions and isolation. One manifestation of this defiance has been the threat not to send any official delegation to the World Economic Forum in Davos, Switzerland, next January, unless three sanctioned and duly un-invited oligarchs—Oleg Deripaska, Andrei Kostin, and Viktor Vekselberg—are added back to the guest list (Vedomosti, November 13). The Swiss hosts have not budged, however; and the steadily expanding international sanctions are in fact causing pessimistic expectations among the Russian business elite (RBC, November 20).
Putin's November travels started in Astana, Kazakhstan, with the summit of the Collective Security Treaty Organization (CSTO), the Russia-led alliance that also includes members Armenia, Belarus, Kazakhstan, Kyrgyzstan and Tajikistan. The real substance of the CSTO's security commitments are so vague that none of the allies acknowledges Russian annexation of Crimea (Nezavisimaya Gazeta, November 9). What made this year's summit truly special was the failure to reach even a semblance of consensus on the far-from-crucial issue of electing a new secretary general (Kommersant, November 9). The real cause of tensions is Moscow's irritation with the "Velvet Revolution" in Armenia, which has set this dynamic country on the track of democratic reforms (Nezavisimaya Gazeta, November 21). The current CSTO secretary general has been Armenian citizen Yuri Khatchaturov.
The next stop for Putin was supposed to be of great symbolic importance: He joined a select group of world leaders in Paris to commemorate the 100th anniversary of the end of World War I (Novaya Gazeta, November 12). Yet, the Kremlin's propaganda spin was not sufficient to hide the fact that the Russian president was a shunned outsider in that group; and the reduction of the much-anticipated meeting with United States President Donald Trump to just a few words was certainly a disappointment (Rosbalt, November 12). What is now of pivotal importance for the Kremlin is to build an agenda for a longer meeting between Putin and Trump at the G20 summit in Buenos-Aires, in the coming days (Kommersant, November 13; see EDM, November 15).
Putin sought to test this agenda by meeting with US Vice President Michael Pence in Singapore, where he attended the East Asia Summit, but that meeting also turned out to be curtailed (Kommersant, November 16). It was the first time that Putin opted to attend this forum, as well as the follow-up meeting with the leaders of the Association of Southeast Asian Nations (ASEAN). He tried to deliver two different messages: that Moscow's partnership with Beijing is going strong, and that Russia's interests in the Asia-Pacific are not limited to the asymmetric ties with China (Russiancouncil.ru, November 20). Neither message rings true, particularly as Chinese banks prefer to comply with the US and Western sanctions against Russia (Nezavisimaya Gazeta, November 21). Putin managed to grab some attention with the hint that a compromise with Japan on the deadlocked dispute about the South Kurile Islands might be reached. But his readiness to honor old and new promises is dubious at best (Ezhednevny Zhurnal, November 19).
The last stop on Putin's tour was Istanbul, where Turkey's President Recep Tayyip Erdoğan staged a ceremony marking the completion of the construction of the TurkStream natural gas pipeline across the length of the Black Sea (Kommersant, November 20). Putin has invested much personal effort in advancing this hugely expensive project. However, demand for Russian gas in Southeastern Europe is not guaranteed, while Turkey has managed to negotiate price cuts without any risk-sharing (Nezavisimaya Gazeta, November 19). What further undercuts the economic rationale of this enterprise is energy market volatility: the on-going decline in oil prices has caught Russia unprepared yet again (RBC, November 21). Meanwhile, Turkey is content with the stalemate in the Syrian war, but Erdoğan is suspicious about Russian intrigues in Libya, which effectively derailed the peace initiative discussed at the conference in Palermo, Italy, attended by Medvedev in mid-November (Svoboda.org, November 20).
One instrument that was missing from the flurry of Russian high-level diplomatic activity was power projection. Instead, Putin held a series of meetings with his top brass in Moscow, immediately after parting company with the Turkish leader (Kommersant, November 23). One assertive declaration in these lengthy sessions was about responding to the US withdrawal from the Intermediate-Range Nuclear Forces (INF) Treaty. Russia is now considering deploying new weapon systems, much the same way as it started developing hypersonic warheads in response to the US withdrawal from the Anti-Ballistic Missile (ABM) Treaty back in 2001 (Nezavisimaya Gazeta, November 20). This threat is rather deflated by the fact that a key proposition in Putin's instructions to the military industry is to increase the production of civilian goods in order to compensate for cuts in procurement (RIA Novosti, November 21). Ambitions for sustaining Russia's status of a military superpower are in conflict with the reality of economic stagnation. And no amount of political posturing can mitigate the risks of a new recession caused by the combination of disinvestment, mismanagement and corruption (RBC, November 24).
The culmination of Putin's international marathon is supposed to come this coming weekend, at the meeting with Trump on the sidelines of the G20 summit proceedings. But except for arms control (in which Trump is demonstratively not interested), there is little to negotiate deals over. Hours of bilateral government-to-government talks have so far yielded nothing of value, and Putin's domestic audience is also unimpressed with this fruitless performance. Seeking to prove that Russia matters in global affairs only reveals that it, in fact, has nothing to contribute to addressing crucial international problems—from nuclear non-proliferation to trade disputes to climate change. Russia certainly has great capacity for trouble-making, but the fines for various mischief are growing larger, and the energy for new misadventures is in short supply. Putin's long-lasting presence on the international arena comes with diminishing influence; instead of punching above its weight, Russia is now merely dragging its feet.