Putin's Passage to India: Where Did It Lead?
Publication: Eurasia Daily Monitor Volume: 11 Issue: 223
By: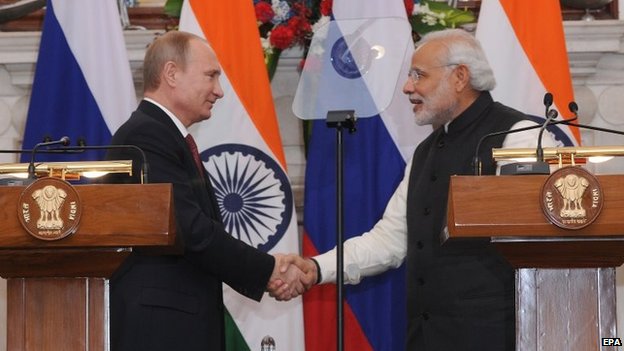 Russian President Vladimir Putin termed his recent trip to India "productive" and "positive." Indeed, twenty agreements were signed with India, pertaining mainly to economic issues, energy supplies and arms sales (Kremlin.ru, December 11). Thus, Russian petroleum giant Rosenft will sell ten million tons (200,000 barrels per day) of oil to India's oil company Essar Group starting next year (Deccan Chronicle, December 12). Russia will also remain India's largest single supplier of military exports and will cooperate in the Indian government's new "Make in India" defense program through the joint annual production of 400 models of the KA-226T—one of Russia's most advanced multi-role helicopters (Kremlin.ru, December 11; Ndtv.com, December 11). Russia will also install up to 25 new nuclear reactors in India, building on both existing projects and forging new ones (Kremlin.ru, December 11).
Nevertheless, this summit did not appear to break new ground and seemed to only extend the long and friendly Russo-Indian relationship along familiar trajectories—even though something more is arguably needed. Despite a lengthy history of friendly ties between Moscow and New Delhi, the fact remains that Russia's increasingly visible technological backwardness and poor maintenance culture is causing a steady erosion of its market share in Indian defense imports (see EDM, November 6, 2013). Similarly no energy deals were struck concerning Indian projects in Siberia or the Arctic to help relieve India's huge energy problem and diversify its imports away from the Middle East—from where it receives 62 percent of its energy. And although the two sides once again made the usual statements about a need to expand bilateral trade from the puny $10 billion per annum to $30 billion within a few years, there was no sign that any of these pledged changes will be of a strategic nature.
Moscow undoubtedly continues to appreciate New Delhi's neutral stance regarding Russia's actions in Ukraine—even to the extent of India willingly hosting Crimean leader Sergei Aksyonov as part of Putin's delegation and allowing him to negotiate business deals in India and arrange for future business trips to India by local business leaders. Nonetheless, Russia's attraction is visibly diminishing for New Delhi. To be sure, it is of utmost importance to both sides that they band together to prevent China's domination of Asia. And in the current global political climate, Russia needs to hold on to any major player, which will still welcome Putin's regime and not isolate it. Indeed, as regards China, Russia announced its willingness to lease nuclear submarines to India for deployment in the Indian Ocean, clearly to check China's growing naval presence there (Bloomberg.com, December 12). Likewise the two states still share a convergent approach to security challenges emanating from Afghanistan and Central Asia. Namely, it is in the interest of both to uphold the Afghan state—a major Indian priority—and maintain resolute support for anti-terrorist measures there and in Central-South Asia as a whole.
Nevertheless Putin's mid-December trip to India has apparently underlined that, although both sides made gains, Moscow needs Indian markets and political support more than India needs Russia. And this marks a fundamental turnaround in Asian and world politics. Prime Minister Narendra Modi's government has visibly imparted a new dynamism on India. Moreover, Modi pursues both economic development and an increased international standing for India with clear vigor. Such active policy by this developing South Asian power contrasts sharply with Russia's increasingly tired habitual mendacity, punctuated by Moscow's over promising and under delivering on economic reforms and competitiveness (see EDM, February 20, 2012; December 8, 2014).
By the same token, the failure to reach an agreement of any real magnitude in the oil or gas sector represents a signal failure for Putin. It was clear that the Russian leader wants to thwart the possibility of a major deal by the United States to export gas (either shale or liquefied natural gas—LNG) to India—something New Delhi has long asked the US for. Instead, Rosneft proposed that India invest in the huge and newly opened northern Siberian Vankor oilfield, but it precluded the South Asian partner from sharing in the field's output. Such a proposal makes no sense to India, which needs the oil (The Hindu Business Line, December 14). It is worth noting that Rosneft has already made Vankor-sourced oil available to China in return for its investment there, so the restricted investment proposal to India is doubly demeaning. Indeed, given Rosneft's diminished valuation of $50 billion as well as its total debts of $60 billion (including short- and long-term liabilities), it is easy to suspect that the Russian oil company's purpose here is to, essentially, secure cash now without ruffling China' feathers. This is hardly the way to proceed with India. And should President Barack Obama successfully negotiate a deal for gas exports with India during his upcoming visit to the country, Washington's standing in India, which has steadily grown over the last decade, may further expand by a full order of magnitude, at Moscow's expense.
While nobody should expect an end to the decades of bilateral friendship and convergent Russo-Indian interests in Central and South Asia, clearly an opportunity for even closer strategic ties has been missed during Putin's last visit—and perhaps the high point of this friendship has long since passed. A rising India is not amused by the growing appearance of Russo-Pakistani defense deals (see EDM, July 2) or by Russia's continuing inability to help facilitate the economic dynamism that Modi wants to impart to India. Both sides will still likely cooperate to restrain China and block regional Islamist terrorism, but India is clearly able to find other partners and, increasingly, negotiate with them on its own terms. Meanwhile the isolated Moscow is still unable to compete with Beijing in Asia. Moreover, Russia is losing ground to China in Central Asia and, economically, Russia is no longer as consequential to India as it once was. Ultimately, the high rhetoric of Putin's December visit to India cannot compensate for these ever more visible realities.