Putin's War-Mongering Spectacle Reveals War Fatigue
Publication: Eurasia Daily Monitor Volume: 20 Issue: 34
By: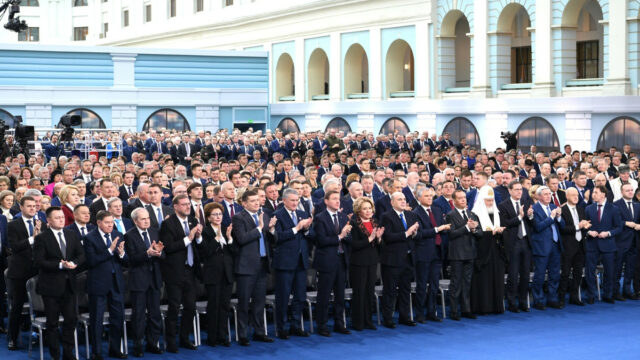 As the one-year mark of President Vladimir Putin's disastrous war against Ukraine neared, the Russian army failed to score anything resembling even a minor victory to provide the Russian leader with a talking point for his public performances. In his address to the Federal Assembly on February 21, Putin said nothing about the prospects of bringing the "special military operation" to a successful end, asserting instead the need to prepare for more sacrifices (The Moscow Times, February 21). His appearance at the carefully choreographed "Glory to the Defenders of the Fatherland" rally the next day was abbreviated to four minutes and featured a rather uninspired appeal to unity (Kommersant, February 22). The following day, the Russian president made a cameo appearance at the ceremony for the laying of a wreath at the Kremlin Wall on the occasion of the Defender of the Fatherland Day (Izvestiya, February 23). On February 24, when every European city witnessed a public gathering in support of Ukraine, Putin did nothing.
At the very least, Putin's attempts to gain a renewed boost for public mobilization were underwhelming (Svoboda.org, February 23). His overtures contrast with the powerful demonstrations of Western resolve in defeating Russian aggression, starting with the 2023 Munich Security Conference and continuing with US President Joe Biden's surprise visit to Kyiv on February 20 followed by his confident speech in Warsaw the next day (Meduza, February 21). Unlike Putin's rambling discourse, which tries in vain to shift the blame for unleashing his war to Western hostility, the West's political discourse aims at ensuring Ukraine's clearly defined victory and embraces Ukrainian President Volodymyr Zelenskyy's proposition that triumph on the battlefield could be achieved this year (Novayagazeta.eu, February 21). Even Russian "patriotic" commentators express concerns that the consolidation of Western unity around the cause of Ukraine's victory without any clear goal-setting in Moscow is paving the way to Russia's catastrophic defeat (Topwar.ru, February 25).
Sustained Western solidarity is a matter of concern for China as well, prompting President Xi Jinping to produce a proposal for ending the war, albeit without attaching his name to the initiative (Forbes.ru, February 24). Zelenskyy responded immediately, pointing out that the broad confirmation of the principle of territorial integrity could not qualify as a peace plan (RBC, February 24). The Chinese initiative was also rejected by the United States; but it is clear that former Chinese Foreign Minister Wang Yi, who now supervises foreign affairs in the Chinese Communist Party Politburo, sought primarily to generate interest for his efforts in Germany and France (The Moscow Times, February 24). He also presented his plan to Putin, who was not in a position to utter a word of criticism, even if the plan's outlines fall short of supporting his ambitions (Rossiiskaya gazeta, February 22). The more Beijing praises the uniquely close partnership with Moscow, the clearer the limits are in this "friendship," which is long on jointly condemning US "hegemony" and short on granting Russia material support, particularly regarding badly needed weapons and ammunition (Kommersant, February 22).
Beijing is clearly pursuing its own interests with the initiative advanced by its Foreign Ministry, and besides probing transatlantic unity, a key intention is to boost influence in the Global South (Carnegie Politika, February 24). Moscow is also keen to connect with this diverse mega-region, encouraging indifference to the war in Europe and exploiting various pools of anti-Western sentiments to compensate for the weakness of its capacity to address needs in development aid (Russiancouncil.ru, February 23). The false premises of this policy were exposed once again in the vote on the Ukraine-drafted resolution at the United Nations General Assembly, which, by a majority of 141 to 7 votes, demanded the withdrawal of Russian troops from Ukrainian territory (RIA Novosti, February 25). China could not fail to see the incompatibility of this resolution with its "peace plan" and abstained, as did India, Iran, South Africa and 28 other states. But other influential actors in the Global South, such as Brazil and Nigeria, Indonesia and Turkey, voted in favor (Kommersant, February 24).
One point in China's initiative—reducing strategic risks and opposing threats of nuclear weapons—directly contradicts Putin's propensity to issue such threats (Meduza, February 24). The only attention-grabbing twist in his address to the Federal Assembly was the decision to suspend Russia's participation in the New START treaty on reducing strategic arsenals signed in 2010 and prolonged for five years following a phone conversation between Putin and newly inaugurated President Biden in January 2021 (Russiancouncil.ru, February 22). This demarche goes directly against Russian interests in maintaining the strategic stability of a situation in which it cannot keep the number of deployed missiles up to the treaty-prescribed ceiling (Svoboda.org, February 22; see EDM, February 24).
It is plausible that the main purpose for Moscow to disallow US inspection teams in visiting the agreed sites is to hide the fast degradation of its strategic arsenal, particularly the long-range bombers, which keep flying combat missions and launching missiles at Ukrainian civilian infrastructure—but have been hit by retaliation strikes (Novayagazeta.eu, February 22). Putin persists with claims about a fully funded modernization of strategic forces, singling out the RS-28 Sarmat intercontinental ballistic missile, which was advertised in his address to the Federal Assembly in May 2018 but has yet to be deployed—reportedly failing a test on the day of Biden's visit to Kyiv (see EDM, January 11; Grani.ru, February 23). The actual test of a nuclear warhead would have added credibility to Putin's blackmail, and, in fact, reports about preparations for such a detonation are being published in the mainstream media (Izvestiya, February 25). This step, however, requires a formal withdrawal from the Comprehensive Nuclear-Test-Ban Treaty, ratified by the Russian legislature in 2020, and Putin dare not go this far, perhaps wary of Chinese disapproval.
Thus, the efforts undertaken by the Kremlin for drumming up public support for the "patriotic" cause may appear feeble, but they fit the perception of war as the new normal (see EDM, February 6). Putin may be disappointed in the failure to crush Ukraine swiftly and beyond recall, but he appears to be content with the prospect of a long war of attrition, counting on indefinite reserves of forbearance in Russia and the shallow reservoir of solidarity in the West. It is up to the US-led coalition to keep proving him wrong on the second count, but only the war-fatigued Russians can put an end to Moscow's militaristic delusions. They need to awaken from their propaganda-induced resignation to helplessness, but war can be a cruel teacher.