Quadripartite Summit On Afghanistan Falls Short of Russian Expectations
Publication: Eurasia Daily Monitor Volume: 8 Issue: 162
By: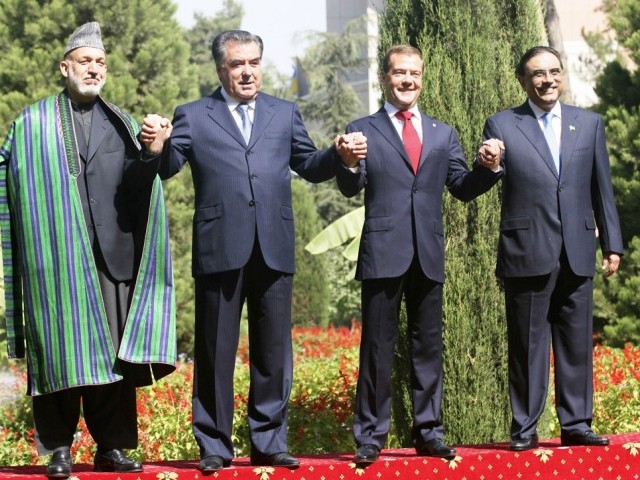 Presidents Dmitry Medvedev of Russia, Hamid Karzai of Afghanistan, Asif Ali Zardari of Pakistan, and Emomali Rakhmon of Tajikistan held a quadripartite meeting on September 2 in Dushanbe. The presidents gave preliminary consideration to possible security and cooperation arrangements for the region, in anticipation of US and NATO drawdown and withdrawal of troops and resources from Afghanistan.
Moscow initiated this selective, quadripartite format. It seems intended to create a Russia-led caucus, ahead of negotiations among all of Afghanistan's neighbors (plus international organizations), and potentially within that international process. The Dushanbe summit participants may play along, but will not willingly go along with a Russia-led subgroup. The summit in Dushanbe papered over discrepancies between Moscow and the other participants' positions.
The concluding joint communiqué mentions combating "terrorism and extremism" almost ritualistically at the outset, without elaborating any further in the collective document or in bilateral statements. The quadripartite communiqué supports the Afghan government's efforts toward national reconciliation, but does not specify reconciliation with whom. The four presidents welcome the planned reduction of foreign forces in Afghanistan, but caution that this should be correlated with training and equipping Afghan national forces (Tajik president's website; www.kremlin.ru, September 2, 3).
The four countries' Ministries of Economy and related agencies are tasked to draft a road map for cooperation among these four countries. The communiqué emphasizes air, highway, and railroad interconnections; and it registers Russia's interest in joining two hypothetical regional projects: the proposed gas pipeline Turkmenistan-Afghanistan-Pakistan-India (TAPI) and the hydro-electricity project CASA-1000 (Central Asia-South Asia Electricity Trade and Transmission Project) which would supply electricity from Kyrgyzstan and Tajikistan to Afghanistan and Pakistan (see EDM, December 15, 2010, February 16, 2011).
Medvedev's speech called for a joint approach by these four states to security arrangements: "I emphasize again that responsibility for the situation in our region must ultimately rest on our countries: Russia, Tajikistan, Pakistan, and Afghanistan [in that order]." Outside partners "are of course very important, much depends on them, but those powers are not part of our region," Medvedev declared, alluding to the United States and NATO. He proposed that the quadripartite group of states should hold dialogues with the Shanghai Cooperation Organization (SCO), the Collective Security Treaty Organization (CSTO), and possibly other formats, "as we deem appropriate" (Interfax, September 2).
By contrast, Rakhmon came out for a broad international framework linked with the West: "It is very important that the international community, specifically the leading states, do not diminish their attention," he declared (Tajik TV Channel One, September 2).
Medvedev in his speech wanted Russia to be "invited" into CASA-1000, and offered investments both in this project and in TAPI. The concluding joint communiqué, however, merely takes polite note of Russia's interest in this regard, without endorsing it. Evidently it makes little sense for Central Asians or the Afghan government to involve Russia in major energy or transportation projects, as long as alternative options without Russia are available. Zardari proposed joint construction of a highway from Dushanbe via Afghanistan to Chitral in Pakistan, which could be the shortest link from Tajikistan to the Indian Ocean ports of Karachi and Gwadar. This proposal would not involve Russia, the Dushanbe summit's real convener.
President Karzai openly admitted to his government's growing vulnerability in his speech. "The security situation had been expected to improve after the killing of Osama bin Laden, but terrorist attacks have increased and the security situation has seriously deteriorated after he was killed," Karzai conceded. His corollary: "Afghanistan is satisfied with expanding ties with Russia and this is the natural path we must follow." He expressed gratitude to Russia for the agreement to deliver 50,000 tons of fuel annually to Afghanistan (Interfax, Afghan Islamic Press, September 2).
The same four countries are creating a framework or their own for anti-narcotics operations. Toward that end, Russia's Anti-Narcotics Service chief, Viktor Ivanov, met with his Afghan, Pakistani, and Tajik counterparts on September 5 in Kabul. The Russian delegation scored propaganda points criticizing the local and international anti-narcotics enforcement in Afghanistan (Interfax, September 5; Kommersant, September 6).
The quadripartite summit in Dushanbe was the third in this format, after those held in July 2009 also in Dushanbe, and in August 2010 in Sochi. Although Afghanistan is front and center on the agenda, Moscow is not about to propose holding this event in Kabul. This would cast Russia in the position of a competitor for influence in the region, before US and NATO troops are out of Afghanistan. The next quadripartite summit is scheduled to be held in Islamabad in 2012.
This format is not designed to advance effective solutions. As configured by Russia, it excludes most of Afghanistan's neighbors (China, Iran, Uzbekistan, Turkmenistan) not to mention the United States and the NATO-led coalition. Moscow proposes to link the quadripartite format only with the SCO and CSTO, in both of which Russia is a member. This looks like a spoiler's format. The Dushanbe summit, however, fell short of Moscow's expectations.