Radical Islam Takes a Front Seat In Central Asia
Publication: Eurasia Daily Monitor Volume: 8 Issue: 200
By: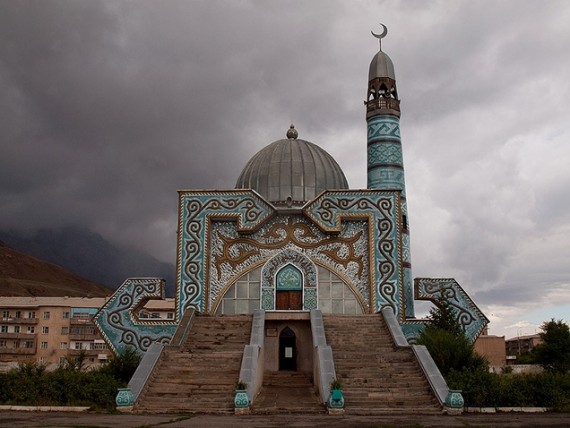 Kazakhstan's President, Nursultan Nazarbayev, signed a tough religious law on October 13, which, among other aspects, bans prayer rooms in state buildings and requires re-registration of all religious organizations and missionary activities. The law, which also makes the building of new places of worship subject to state approval, is regarded by the president as a "necessary step" to protect the country from "Islamic extremism" (RFE/RL, September 1).
At a time when, alongside other Central Asian nations, Kazakhstan is marking the twentieth anniversary of its independence, these dramatic steps are a clear sign of how much things have changed in this country since it broke away from the atheist Soviet Union. Although Kazakhstan is still regarded as one of the least religious countries in post-Soviet Central Asia, in terms of these "necessary" measures, the country is very much on a par with the other post-Soviet republics in the region, who are wrestling with the rise of radical Islam. After decades of enforced secularism and over the past twenty years of independence, on the one hand people have been flocking to their traditional religion, and on the other hand, concerned about their own future, the authoritarian regimes tried to curb these rising Islamic sentiments. That struggle is clearly visible in Tajikistan, which experienced several years of civil war between Islamic groups and secular government forces in the 1990s.
Since an agreement to accommodate the Islamic party within the government structure in 1997, the large-scale military confrontation seems to be over, but the government's heavy handed approach over Islamic factions and practices continues to be as intense and controversial as ever. Banning unregistered mosques and private religious schools, barring female students with religious headscarves from higher studies, and calling back Tajik students studying Islam abroad feature among the many examples of harsh government policy directed against radical Islamists (Daily Nejot, Dushanbe, November 15, 2010).
While the situation in Tajikistan, Uzbekistan and, most recently, Kazakhstan remains a subject for debate, recently the Kyrgyz authorities have also announced a ban on hundreds of unregistered mosques. According to Kyrgyz authorities in the southern Osh province, nearly one-third of all mosques in the region might be shut down due to a lack of official registration requirements (www.azattyk.org, September 30, 2011).
Turkmenistan, despite its lack of transparency, still seems to be successful in juggling numerous differences, including religious sentiments, at least on the surface. But there are increasing indications that under the surface the situation is not quite in line with what the government wishes to see. It appears that fear of a government crackdown is driving some religious movements and Islamic leaders underground, consequently choosing to use different ways to reach the people. Video clips with radical Islamic messages and websites such as www.hakykat.wordpress.com are increasingly available on the Internet, which among other features provides Turkmen translations of messages from radical Islamic scholars, such as Syed Abu Ala Maududi.
Though the influence of such a campaign is debatable, the fact that the fear of a government crackdown is forcing Islamic radicals underground is a scenario that recalls sensitive memories in neighboring Uzbekistan. According to analysts, it was the heavy handed policy pursued by the Uzbek government which ultimately led to groups like the Islamic Movement of Uzbekistan (IMU) and Hizb-ut-Tahrir to form and emerge as dangerous threats not only for Uzbekistan, but also for the entire region. Today both of those groups are banned but active beyond Uzbekistan, with the ultimate aim of replacing the secular authoritarian regimes in the region with Islamic Taliban-style governments.
As Kyrgyzstan and Kazakhstan are raising the alarm on the rise of militant Islam and endorsing methods to crackdown against or curb their activities, recent efforts in Tajikistan show that none of these initiatives are proving to be successful and are leaving governments only with more bad options. After several years of large-scale military confrontation between Islamists and government forces, banning unregistered mosques and private religious schools the Tajik authorities are desperate for options. However, the Tajik government has recently passed another law prohibiting children younger than 18 from entering even those mosques registered by the state (Asia Plus, August 2).
Considering that these mosques are officially registered, their imams' state appointed, and their speeches censored, while demand for Islam is rising, it raises serious questions. If the authorities are uneasy even with that form of Islam, then what is next? It is difficult to determine how the Central Asian governments will develop and formulate policy in these areas, but a further rise of Islamist activity seems imminent as NATO forces withdraw from Afghanistan.
Meanwhile, militant groups like the IMU and Islamic Jihad Union are already active in Tajikistan, parts of Uzbekistan, southern Kyrgyzstan and northern Afghanistan; this only poses more security risks, as the Central Asian states pursue their crackdown policies against what they call "radical Islam" without offering any coherent alternative.