Radicalization of Tsarnaev Brothers Likely Did Not Occur in Chechnya
Publication: Eurasia Daily Monitor Volume: 10 Issue: 88
By: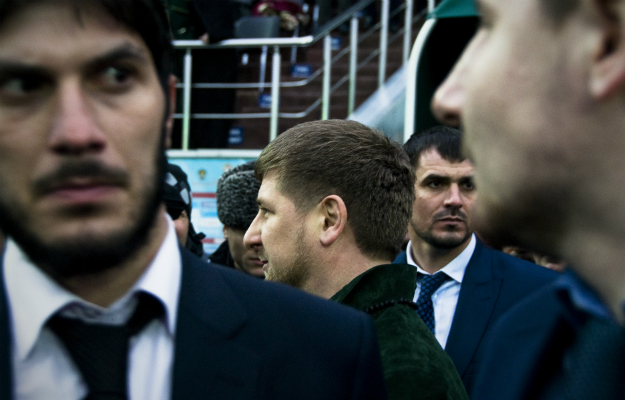 The role of the brothers Tamerlan and Dzhokhar Tsarnaev in the Boston bombings is assessed differently on either side of the Atlantic. In the United States, few doubt they are terrorists and that the youngest son, Dzhokhar, who remains alive, deserves the severest form of punishment. However, in Russia and the post-Soviet space, the two brothers have become almost heroes and are viewed as martyrs in an outbreak of growing anti-Americanism that the Kremlin does not seem to be opposing.
Support groups for Dzhokhar have been set up around the country. His support group on one of the Russian online social networks, VKontakte (In Contact), for example, has gathered 8,332 fans (https://vk.com/johar_tamerlan). A Facebook group called "Dzhokar Tsarnaev is Innocent" received support from 21,104 people (www.facebook.com/groups/axjhelpdzhokhar/). A second support group on Facebook called "Dzhokar Tsarnaev Is Innocent (Official Group)" has 7,478 members (https://www.facebook.com/groups/tsarnaev.free/). On Twitter, 22,320 follow Dzhokhar at one address, 8,000 at another and over 10,000 at a third (https://twitter.com/crunkbiebs), and so on across multiple social networks.
It is worth noting that there are also a few US groups in support of Dzhokhar Tsarnaev. As of April 27, 15,000 people had signed a petition on behalf of Tsarnaev addressed to US President Barak Obama (www.change.org/petitions/-1235909). In another case a group called ACTIONS FOR JUSTICE (AXJ) is collecting signatures on a similar petition in support of Dzhokhar Tsarnaev, this one was posted on the official White House website's petitions page. AXJ believes the Tsarnaev brothers were framed (https://petitions.whitehouse.gov/petition/dzhokhar-tsarnaev-must-be-granted-habeas-corpus-and-all-charges-dropped-based-lack-evidence-and/bMJpDrNq#thank-you=p).
In various countries in the post-Soviet space, leaflets have appeared proclaiming Dzhokhar Tsarnaev's innocence. He is presented as a victim of US reprisals against young people who, by chance, happened to be at the site of the explosions. For example, leaflets in Kyrgyzstan's capital Bishkek have called on people to pray for Dzhokhar, saying he was baselessly accused of horrific crimes (www.spbdnevnik.ru/news/2013-05-03/-pomolites-za-dzhokhara—na-ulitsakh-bishkeka-raskleivayut-listovki-o-nevinovnosti-tsarnaeyva-mladshego/). In the Chechen capital Grozny, leaflets all across the city have called on people to sign a petition to the US president, arguing the Tsarnaevs were framed (www.echomsk.spb.ru/news/obschestvo/listovki-tsarnaeva-grozny.html). The same leaflets also appeared in the city of Karaganda in the Central Asian republic of Kazakhstan. After this development, police reportedly launched an investigation to find out who spread the leaflets (https://publicpost.ru/news/id/2863158/).
Meanwhile, in the capital city of Makhachkala, Dagestan, Kheda Saratova, a human rights activist, has also agreed to defend the Tsarnaev brothers (https://kavpolit.com/agenty-fbr-poobshhalis-s-roditelyami-bratev-carnaevyx-vzorvavshix-boston/). Saratova became the Tsarnaev family's defender in Makhachkala. According to Saratova, Moscow lawyer Zaurbek Tsadarkhanov also has offered his services to the Tsarnaevs pro bono (www.svoboda.org/content/article/24968674.html).
In the US, the most prevalent belief is that Dzhokhar Tsarnaev is an ethnic Chechen and that the crime he committed had an Islamist coloring related to what has been happening in Chechnya during the past ten years. Is there a real basis for this view? The answer is yes and no. There is growing evidence that the family may actually have closer ties to the Putin-anointed leader of Chechnya, Ramzan Kadyrov, than possibly Dagestani militants. The leading source for this claim is none other than the father of the Tsarnaev brothers—Ansor Tsarnaev. In an interview with the Chechen service of the Prague-based Radio Liberty, Ansor Tsarnaev rejected even the remote possibility that the Russian security services were involved in the bombings and openly announced he was a supporter of Ramzan Kadyrov, who is widely accused of human rights abuses in the Chechen republic (www.radiomarsho.com/content/tsarnayev-chechnya-dagestan-boston/24962911.html). In another example, a rebel website echoed this claim suggesting that the Tsarnaev family may be linked to the Chechen authorities. This allegation is grounded solely in the fact that the husband of Tamerlan Tsarnaev's sister is a member of Kadyrov's forces (www.kcblog.info/2013/04/blog-post_6185.html). The sister herself lives in Urus-Martan, Chechnya, and Tamerlan probably visited her during his trip to Chechnya in 2012.
Said-Hussein Tsarnaev, a relative who currently resides in Chechnya but lived with the family in the city of Tokmok in Kyrgyzstan until 1969, said in an interview that the Tsarnaevs did not meet with relatives during their last two visits to Chechnya (https://www.radiomarsho.com/content/who-is-behind-the-bostons-explosion/24967417.html). Said-Hussein, who is a well-known Chechen photo-journalist, said he had not seen Anzor Tsarnaev for almost 40 years. For his part, Anzor Tsarnaev said the family only met with close relatives when in Chechnya.
On the other hand, during his seven months in Dagestan, Tamerlan Tsarnaev might have met with Salafis working openly and officially under the umbrella of the Association Ahlu al Sunna. The Association Ahlu al Sunna is an official and legal Salafi organization in Dagestan. In Chechnya, it is not feasible even to talk about endorsing Salafis: indeed, people in Chechnya are persecuted for any deviation from Sufism, and anyone expressing support for the militants in any form is immediately arrested (https://lifenews.ru/news/24733). No allowances are made for the age or sex of the suspects (www.ekhokavkaza.org/archive/news/20121210/3235/2759.html?id=24793921).
Given the fact that Tamerlan's brother-in-law appears to be serving in Kadyrov's forces, it is unlikely the older Tsarnaev brother would have expected him to be a sympathetic interlocutor when talking about government persecution of Islam. The differences between the two men probably explain why Tamerlan visited his sister in Chechnya only twice while he was in Dagestan, even though Grozny is only 170 kilometers—a two-hour drive—from Makhachkala (www.avtodispetcher.ru/distance/?from=%D0%9C%D0%B0%D1%85%D0%B0%D1%87%D0%BA%D0%B0%D0%BB%D0%B0&to=%D0%93%D1%80%D0%BE%D0%B7%D0%BD%D1%8B%D0%B9).
At the same time, the belief that the United States is responsible for all the misfortunes and sufferings of the Islamic world is fairly widespread in Russia and a common view backed by the Kremlin-controlled Islamic media. So Tamerlan and his Chechen contacts could perhaps have found some common ground, based on a shared view of the US's alleged misdeeds in Muslim countries.
Whatever the case, there is no doubt the Federal Security Service (FSB) could answer all these questions, given that the Russian security services likely followed the guest from America. According to all of their rules, the FSB should have known about all of Tamerlan's contacts and conversations he had while he was in Dagestan. Still, the notion that there was a "Chechen trail" in Tamerlan's radicalization appears to be the weakest theory among those currently under discussion; the roots of his radicalization more likely occurred in Dagestan or in Boston than in Chechnya.