Intrigue and Gossip Overwhelm Moscow after Surkov's Downfall
Publication: Eurasia Daily Monitor Volume: 10 Issue: 88
By: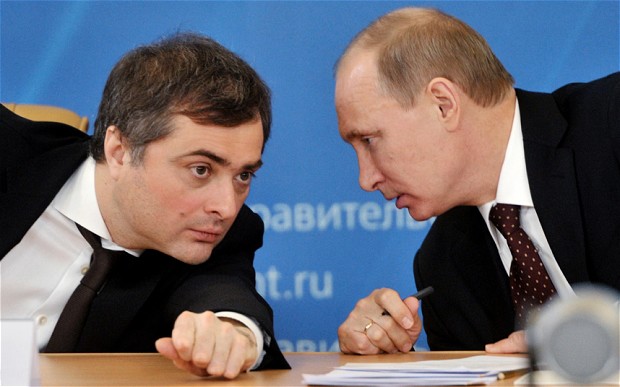 Moscow is in the midst of the traditional long May holiday season: The city streets are largely deserted and traffic is light. Still those of the political class who stayed in town were shocked and agitated by the sudden downfall of Vladislav Surkov—deputy prime minister and former first deputy chief of the presidential administration in charge of internal politics and ideology. Surkov's exact place or year of birth are unclear: his Russian mother apparently tried to cover up Surkov's Chechen heritage by registering his birth in Lipetsk Oblast in 1964, though it probably happened in 1962 in Duba-Yurt by a Chechen father (both of Vladislav Surkov's parents were school teachers). Surkov's original name was Aslambek Dudaev, his parents divorced when he was five; his mother fled Chechnya and rechristened him. Surkov never received a full or proper university education, turned to business as Communism was disintegrating in Russia, and in the 1990s became a high-paid PR and advertising executive working with Russia's richest oligarch Mikhail Khodorkovsky (imprisoned since 2003). In 1999, in the last year of Boris Yeltsin's presidency, Surkov joined the Kremlin administration as deputy chief to supervise the transition of power to Vladimir Putin and stayed in the Kremlin until December 2011. For more than a decade, Surkov seemed to have been fully in charge of Russian internal politics, controlling the media and the parties in the Duma from behind the scenes. As one of the most influential figures in the Kremlin, Surkov reestablished links with Chechnya and became close to the pro-Moscow Chechen leader and warlord Ramzan Kadyrov (https://lenta.ru/lib/14159273/full.htm).
In December 2011 Surkov was moved from the Kremlin to government, where he was given a wide range of responsibilities as deputy prime minister, including the highly important position of cabinet chancellery chief (glava apparata pravitelstva). This week, at a special cabinet meeting, Putin severely criticized the government for failing to fully implement his wide-reaching post-inauguration agenda, published a year ago on May 7, 2012, in a series of decrees (ukazi). Surkov's ouster was announced after the meeting and the Kremlin press service implied his letter of resignation reached Putin and was endorsed after the meeting. Sources in the government insist Surkov sent his letter of resignation beforehand, last week (Vedomosti, May 8).
Moscow is abuzz about the "true" reasons of Surkov's fall from grace, with different anonymous "sources" in government providing journalists with differing accounts: That Surkov, being rich and independently minded, became bored running the bureaucratic apparatus of government and trying to carry out Putin's unfeasible social promises. Or, his ouster was a signal that Putin is displeased with the government, but does not want to oust it entirely together with Prime Minister and former President Dmitry Medvedev and is using Surkov to send a strong signal. Surkov, who is known to have literary ambitions, reportedly told a journalist he plans to pen a narrative "of a comedy about modern political life" (www.ruspioner.ru/honest/m/single/3599).
Surkov has been one of the main organizers of the Skolkovo Innovation Center near Moscow. The decision to start Skolkovo as a Russian equivalent of Silicon Valley in California was made by Medvedev in November 2009. Recently, Skolkovo has been under attack from by the Russian Investigative Committee (Sledstvenny Kommitet Rossiy or SKR), which has accused the high-tech complex's management of misappropriating budget funds and, much more damaging, of funneling money to the pro-democracy, anti-Putin opposition. Surkov had publicly defended Skolkovo's reputation and accused the SKR of being too rash in its unproven public accusations. The SKR, in turn, accused the "managers of Skolkovo [of] possibly smoking themselves high," when they decided to payroll the anti-Putin opposition "by signing a contract with opposition Duma deputy Ilya Ponomarev to read a number of lectures for $750,000" (Izvestia, May 7). The SKR is at present running a criminal investigation of Skolkovo activities, and there are reports that Surkov personally sanctioned the signing of a lavish lecture contract with Ponomarev and that this information induced the Russian president into action. Putin, an increasingly paranoid authoritarian ruler, sees enemies all-round, external and internal, and in his own surroundings. Putin believes opposition protests are financed by his enemies and anyone providing any support to the opposition in any form must also be an enemy—so Surkov had to be punished. Reportedly, Sergei Ivanov, the chief of the Kremlin administration, and his first deputy, Vyacheslav Volodin, who now occupies Surkov's former position of being in charge of ideology and internal politics, used the opportunity to tarnish Surkov in Putin's eyes as a traitor (www.forbes.ru/sobytiya/vlast/238807-vladislav-surkov-ushel-v-otstavku).
Surkov still has friends. The Head of Chechnya Ramzan Kadyrov told journalists, "He is still my brother," and expressed hope that "Surkov will still be a member of Putin's team after his ouster." Kadyrov offered Surkov refuge in Chechnya: "I phoned him and offered for him to come to the Chechen republic to rest" (Interfax, May 8). In Chechnya, Kadyrov rules, while federal law enforcement has little independent sway. The "siloviky," supported by Ivanov and Volodin, seem to have been instrumental in ousting Surkov. They may also dislike Kadyrov, but ousting or seriously undermining a warlord with a large, battle-ready private army is an operation of a different magnitude than removing a deputy prime minister. In any case, the Surkov ouster may seriously increase tensions between different fractions of the ruling elite.
Speaking at a lavish Soviet-style military parade in Moscow on Red Square on May 9, Putin equaled the present-day Russian Federation with the Union of Soviet Socialist Republics and promised to "do anything to stop anyone from beginning a new war and threatening us." In a speech that would have sounded more appropriate some 30 to 50 years ago, Putin praised Red Army soldiers, who "defeated the enemy and freed Europe" (www.kremlin.ru, May 9). As 68 military aircraft flew overhead, 11,312 servicemen marched past Putin on Red Square together with 101 tanks and other armor. Military parades were also held in 24 other Russian cities. The Tamanskaya motorized and Kantemirovskaya tank divisions, which traditionally march through Red Square, had recently been restored from brigades to full divisions and were again named in honor of dead notorious Communist Party leaders—Mikhail Kalinin and Yuri Andropov (RIA Novosti, May 9). Putin seems to have succeeded in restoring a semblance of the Soviet Union with dark Kremlin intrigue, lavish military parades and receptions. But the weapons on display, though newly painted, are basically old Soviet relics. The world moves on, while Putin's Russia seems frozen in a Soviet daydream.