Rakhmon's Son Mooted to Succeed Father in the 2020's
Publication: Eurasia Daily Monitor Volume: 6 Issue: 161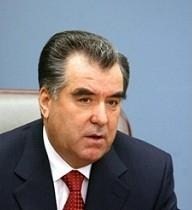 Tajikistan's political future is difficult to predict: whether the country will be able to use its economic potential or become yet another failed state owing to its corruption and criminality largely depends on President Emomali Rakhmon's policies. Nonetheless, one thing has become clearer over the past few months – Rakhmon is apparently preparing his eldest son Rustami Rakhmon for politics. Since April, when Rustami was elected as the deputy head of the Youth Union in Tajikistan, his public appearances have intensified. Rustami also often appears at high-level meetings alongside his father (www.ferghana.ru, August 11).
Tajik officials seem to have accepted the possibility of Rustami playing an increasingly prominent role in the nation's politics. Many expect his political career to begin more seriously during next year's parliamentary elections. "If the successor of his father's craft is a talented person, there is nothing bad [in the formation of a political dynasty]," suggested one Tajik government official (Abdukhakim Sharipov) (www.fergana.ru, August 11).
Following changes made to the constitution through national referendums, Rakhmon can rule until 2020. He will be able to secure re-election for another seven-year term in 2013. By then, Rustami will be in his thirties and prepared to run for the highest post. In effect, today, Rakhmon is the likeliest Central Asian leader to pass his presidential post to a member of his family. Although the Kyrgyz leader Kurmanbek Bakiyev also has two sons, he has a five-year presidential term ahead of him and might wish to extend his rule beyond 2014.
Their Kazakhstani counterpart Nursultan Nazarbayev will be able to run an unlimited number of times for president. The next presidential election is scheduled in 2012. It is unclear who will succeed Nazarbayev in the event that he decides to step down. Uzbek president Islam Karimov and Turkmen Gurbanguly Berdimuhamedov are similarly able to run repeatedly.
In all five Central Asian countries the children of the president often find themselves at odds with either their extended family members or influential political cliques. In Kazakhstan, Nazarbayev stripped his daughter Dariga of the chairmanship of her own political party Asar in 2006. Despite that, Asar was mostly a pro-regime force, Dariga's own and her ex-husband Rakhat Aliyev's political influence was rapidly expanding across the country. Shortly after closing Asar, Nazarbayev had his former son-in-law Aliyev arrested, and forced him out of the country.
In Kyrgyzstan, since 2007 relations between Bakiyev's relatives deteriorated as the various members of the family competed over economic resources and political influence. It remains unclear who the president sees as his likely successor. Kyrgyz experts moot his brother Marat Bakiyev, currently the Kyrgyz ambassador to Germany, or his son Maksim Bakiyev as potential contestants. As one Kyrgyz political analyst told Jamestown in regards to Maksim's political future, "No-one believed that Ilham Aliev would become president in Azerbaijan."
The family dynamics of the former Kyrgyz president Askar Akayev was one of the main reasons for the collapse of his regime. His relatives developed political ambitions at the expense of suppressing the opposition forces.
In Uzbekistan, the president's daughter Gulnora Karimova recently "earned" the first place in the "World's Worst Daughters" list compiled by "Foreign Policy" for her political and business pursuits in Uzbekistan (August 4). Gulnora had uneasy and competing relations with a number of local security officials and criminal leaders over political power and business interests.
Finally, Rustami himself appeared to compete with his uncle Khasan Sadullayev, a local influential businessman. In May 2008 rumors spread across Tajikistan about Rustami shooting and killing the uncle. Sadullayev is still alive, but his political and economic weight has decreased substantially. Prior to Rustami's appearance on the political scene, many had regarded Sadullayev as the most likely successor. Apart from Rustami, Rakhmon has eight other children, seven daughters and one son.
Meanwhile, Rakhmon will face continuous challenges to his regime. The president must develop the hydropower sector in the country and deal with ever increasing economic dependence on Moscow due to labor migrants living in Russia. The Tajik regime has been confronting armed insurgence instigated by Rakhmon's opponents in eastern Tajikistan (EDM August 13). "Pockets of armed opposition are waiting for the right time to rebel against Rakhmon" one Tajik journalist told Jamestown on July 3. However, Rustami's soccer team is currently the national champion, while Rakhmon is habitually addressed by his subordinates as "your majesty;" the regime shows no lack of devoted courtiers.