Rearmament Declared the Main Issue in Russian Military Reform
Publication: Eurasia Daily Monitor Volume: 7 Issue: 122
By: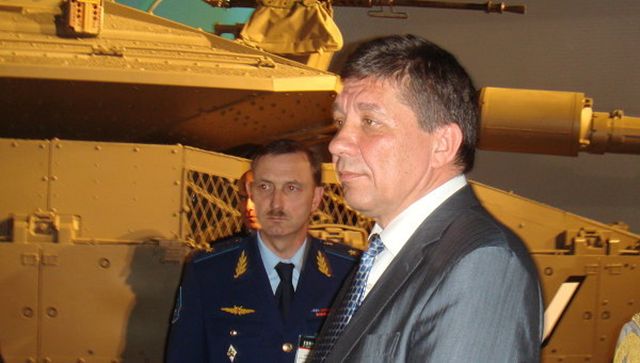 A reshuffle of top military personnel was announced this week in Moscow. Deputy Defense Minister and Chief of Armaments, Colonel-General (retired) Vladimir Popovkin (52), was promoted to First Deputy Defense Minister. Russian Defense Minister, Anatoliy Serdyukov, has eight deputies –two of them first deputies. President, Dmitry Medvedev, receiving Popovkin in his official residence in Gorky near Moscow, announced: "You must coordinate rearmament and procurement, and put into practice the new state armament program that is being finalized at present." Medvedev specifically told Popovkin to beware of defense contractors that "sometimes make mischief" by inflating procurement prices (RIA Novosti, June 22). Popovkin's promotion "will much enhance his authority" (Kommersant, June 23).
Popovkin replaced Colonel-General, Alexander Kolmakov (54), who was not only ousted, but also sent into early retirement from active service. Together with Kolmakov, commander of the Strategic Rocket Forces, Lieutenant-General Andrei Shvaychenko (55), was replaced by the Chief of Staff of the Strategic Rocket Forces, Lieutenant-General Sergei Karakayev (49). The latter change of command seems to be much less controversial than the replacement of Kolmakov: Shvaychenko is reported to have written a letter of resignation this month after reaching 55 and also proposed his deputy Karakayev as a preferred replacement (Kommersant, June 23).
Kolmakov, the former commander of the airborne forces (Vozdushno Desantnye Voyska –VDV), was appointed First Deputy Defense Minister in 2008. By the fall of 2008, Serdyukov had assembled a team of top generals ready to implement a radical military reform: the Chief of the General Staff and First Deputy Defense Minister, Army-General Nikolai Makarov, Popovkin –a rocket general from the Space Troops– and two VDV generals –Kolmakov and former Chechen campaign veteran (accused by human rights organizations of war crimes) Lieutenant-General Vladimir Shamanov. Kolmakov told journalists in June 2008 that the Russian military "had stopped developing," adding, "the training and equipment of our armed forces is at the level of the 1960's and 1970's" (www.mil.ru, June 27, 2008). Kolmakov supervised military training and combat readiness together with Shamanov. In 2008 and 2009 Kolmakov and Shamanov managed the most radical military reorganization in Russia for "200 years," according to Makarov. Shamanov was directly in charge of disbanding old-time divisions and forming new-style brigades. 200,000 officers and 120,000 praporshiki (warrant officers) were scheduled for discharge from active service. The number of army units was cut from 1,890 to 172. Combat ready brigades were created by dismantling the so-called "cadre" divisions and regiments, partially manned in peacetime. Soviet-era plans of mobilizing millions of reservists were put to rest (EDM, June 11, 2009).
These drastic organizational changes were completed by 2010. Massive resentment in the ranks of the military accompanied the reform, but there were no serious public manifestations of discontent. As a precaution, the elite VDV was protected from any cuts and declared as an example of the new army (EDM, June 11, 2009). As the organizational change was accomplished, Kolmakov and Shamanov were removed. Shamanov was appointed commander of the VDV in 2009 –an important position that removed him from centralized military reform-making. Later in 2009, Shamanov was publicly disgraced and officially reprimanded for attempting to use VDV specialist troops to defend his family business interests against the prosecutor's office (EDM, September 24, 2009).
Now Kolmakov has been ousted without any official public expression of gratitude. Kolmakov's downfall was allegedly caused by conflict with Makarov (Vedomosti, June 21). The Main Combat Training Directorate that was subordinate to Kolmakov, is planned to be dismantled and its functions handed over to the General Staff and the staff of the armed services that in turn will be subordinate to the General Staff (Kommersant, June 23).
The promotion of Popovkin underlines a significant change in the priorities of military reform: from reorganization to rearmament. Popovkin has been publicly promoting the notion that Russia needs Western help and technologies to modernize its military that is totally against the old Soviet Cold War doctrine of defense industrial self-sufficiency. In January 2008, Popovkin became the first Russian general to publicly disclose that Russia was widely using foreign electronic components to make military satellites (Nezavisimoye Voyennoye Obozreniye, February 1, 2008). In July 2008, Popovkin announced during an arms show in Nizniy Tagil in the Ural region, that a contract had been signed with the French company, Thales, to provide new T-90S tanks with modern night vision infrared TV cameras. Popovkin announced, "Modern military equipment is so complex, we will need foreign know-how, while continuing our own military research" (RIA Novosti, July 9, 2008). This month, Russia began assembly, under license from Thales, of French night-vision TV cameras for tanks and other armor in Vologda, north of Moscow (www.gzt.ru, May 20).
Popovkin has been in charge of negotiating the acquisition of a substantial batch of different types of Israeli-made spy drones or unmanned aerial vehicles (UAV), which was the first ever purchase of military hardware from Israel and official procurement of a major weapons system from a Western nation since 1945. This month, at an arms exhibition in Paris, Popovkin confirmed that Moscow is negotiating the joint production of UAV's with Israel on Russian territory (RIA Novosti, June 14). Reports in Israel indicate that the deal to build a UAV factory in Russia and additional sales of Israeli-made UAV's could reach $300 to $400 million, but the Israeli authorities are still hesitant to transfer sensitive technologies and Washington has requested clarification (www.haaretz.com, June 13). Popovkin also announced that Russia is negotiating to buy German armor for combat vehicles and technical support for its licensed production (RIA Novosti, June 22). Negotiations are progressing successfully to procure French Mistral-class advanced amphibious assault ships and technology for licensed production (RIA Novosti, June 16). The Mistral may currently be Russia's largest foreign arms-purchasing deal, but others may follow.
Popovkin's efforts to dramatically increase the procurement of Western weapons and to buy technology for local production have been opposed by the defense industry and greeted with dismay by the public, accustomed to believing that Russian weapons are always the best in the world. Popovkin's promotion is a clear sign that he is fully supported by Medvedev and Vladimir Putin, and the policy of modernizing the Russian armed forces with active Western assistance will not waver.