Rearrangement of Players: No Major Government Shakeup in Kazakhstan
Publication: Eurasia Daily Monitor Volume: 8 Issue: 77
By: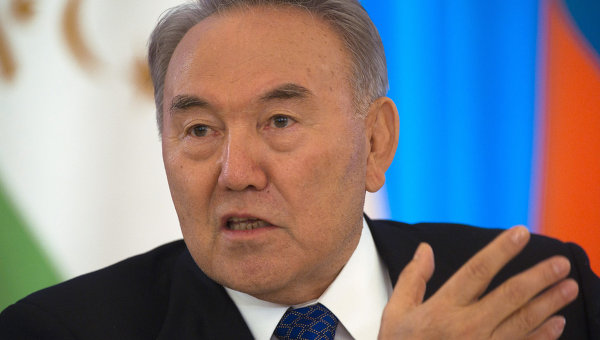 The expected cabinet reshuffle in Kazakhstan following President Nursultan Nazarbayev's landslide re-election victory on April 3 and inauguration five days later was relatively sparing. Although one-third of the ministers – or 6 out of 18 – were replaced, most of the government heavyweights, including the prime minister and his three deputies, remained in their posts. The biggest post-election surprise was the appointment of Timur Kulibayev, the president's billionaire son-in-law, as the head of the $80 billion sovereign wealth fund Samruk-Kazyna. His predecessor, Kairat Kelimbetov, was named minister of economic development and trade.
Samruk-Kazyna, the state-owned investment and holding company, controls more than two-thirds of the Kazakh economy and is often referred to as Kazakhstan's second government. Its assets include 100 percent of the shares of the state oil company KazMunaiGas, the national railways operator Temir Zholy, the Kazakhstan Electricity Grid Operating Company (KEGOC), and uranium producer Kazatomprom, among many others.
Kulibayev, 44, is Kazakhstan's third wealthiest person, according to Forbes magazine, with a net worth of $1.3 billion. He is one of the country's most influential businessmen and a dominant figure in the oil and gas industry, which has earned him the nickname the "oil prince." He heads the KazEnergy Association, Kazakhstan's powerful oil and gas lobbying group and is the largest shareholder in Halyk Bank together with his wife Dinara Kulibayeva, the president's second-eldest daughter.
Kulibayev has often been mentioned as a possible successor of Nazarbayev, 70, but has so far largely preferred to stay out of the public eye. This is bound to change in his new role and may be the underlying reason for his appointment.
Nazarbayev has wanted to show his public support for his son-in-law, says political scientist Dosym Satpayev. More importantly, Kulibayev and Prime Minister Karim Massimov, who form an interest group, have been significantly strengthened by this move. Kelimbetov, the outgoing Samruk-Kazyna chairman, had been perceived as a political counterweight to Massimov and has now been sidelined (Golos Respubliki, April 15).
However, Kulibayev's ascent to the top is by no means assured. Another presidential son-in-law, Rakhat Aliyev, once married to the eldest daughter Dariga Nazarbayeva, claims he fell from grace after telling Nazarbayev he wanted to be president. He was ambassador to Austria and has been living in hiding in Europe for the past few years. A Kazakh court found him guilty of kidnapping and extortion in absentia in 2008 and sentenced him to 40 years in jail.
Massimov, who has headed the government since 2007, was reappointed by Nazarbayev on the day of his inauguration and received the unanimous vote of parliament. This led Nazarbayev to quip that he himself had only received 95.5 percent of the votes compared to Massimov's 100 percent.
Foreign Minister Kanat Saudabayev and Interior Minister Serik Baimangabetov were substituted by Yerzhan Kazykhanov and Kalmukhanbet Kasymov, respectively. However Saudabayev retained his post as state secretary.
Kazykhanov, an Arabic speaker, stepped up from deputy foreign minister and is a former ambassador to Austria. He will "raise Kazakhstan's authority in the Islamic World," said Nazarbayev. Kazakhstan looked towards Europe in 2010 when it held the chairmanship of the Organization for Security and Co-operation in Europe (OSCE), he added. In 2011, when Kazakhstan will chair the Council of Foreign Ministers of the Organization of the Islamic Conference (OIC) starting in June, the country's focus will shift towards the Arab and Islamic world.
Talgat Yermegiyayev was appointed minister of tourism and sport. Assylzhan Mamytbekov became minister of agriculture. Berik Kamaliyev was named minister of transport and communications.
Further changes were announced on April 14 when Nazarbayev appointed Prosecutor-General Kairat Mami as speaker of the Senate, the upper house of parliament, a position that would require him to assume the presidency should the president die in office or become incapacitated. He replaces Kassym-Zhomart Tokayev, who was named director-general of the United Nations office in Geneva a few weeks ago.
On the same day, Nazarbayev also sacked six Supreme Court judges for corruption. The Prosecutor-General's Office has opened criminal cases against the judges, which led the Supreme Court Chairman Musabek Alimbekov to hand in his resignation after the charges were filed. Bektas Beknazarov, chairman of the Aktobe Oblast court, was appointed as his replacement.
The veteran leader Nazarbayev, in office since 1989, was given a new five-year term earlier this month in an election that was marred by irregularities. He has far-reaching powers and brooks little dissent. He has promised further democratization of Kazakhstan's society as well as steps to increase the powers of parliament and the responsibilities of the government. One of the largest threats to Kazakhstan's stability, as seen by international organizations, foreign investors, and many people in Kazakhstan, is the question of who will ultimately succeed Nazarbayev when he goes.
More sweeping government changes may be in store after the next parliamentary elections scheduled for 2012.