Libyan Opposition Reflects On Turkish Mediation Offer
Publication: Eurasia Daily Monitor Volume: 8 Issue: 76
By: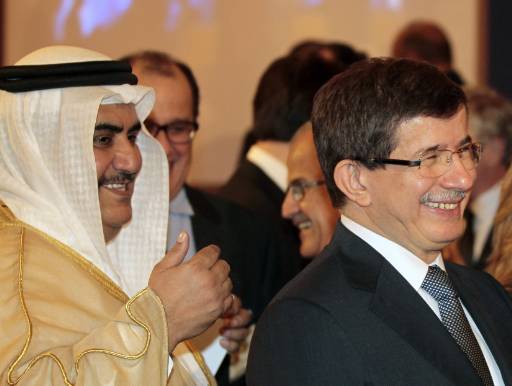 As the debate on the NATO-led military operations in Libya intensifies, Turkey continues to hold a key position in alternative scenarios for the future of Libya. In the aftermath of the contact group meeting in Doha, which failed to strengthen the military option, Turkey's approach based on a negotiated solution between the Gaddafi regime and the rebels might gain greater appeal.
Since the beginning of the Libyan crisis, Turkish leaders stated unequivocally that they opposed an international operation against Libya, emphasizing their concern that any miscalculated foreign military action may do more harm than good. Nonetheless, after realizing that it would not be able to stop an intervention altogether, Turkey approved the transfer of the military operations, which were launched by a coalition of the willing led by the United States, to NATO control. Still, Turkey stressed that it would not take part in any direct military action against the Libyan people. Instead, Turkey's efforts have been concentrated on the provision of humanitarian assistance, as well as offering to mediate. Moreover, though not participating in combat missions, Ankara did support the NATO military action by helping enforce the arms embargo (EDM, March 30).
One unique area in which Turkey has earned international recognition was in the rescue operations to evacuate foreign nationals trapped in the midst of the conflict as well as providing humanitarian assistance to civilians in conflict zones. Although Turkey has come under criticism for failing to sever its ties with the Gaddafi regime, it has argued that as one of the few countries that have been able to maintain diplomatic ties with Tripoli, while at the same time keeping its consulate in Benghazi open, Turkey was uniquely positioned in this crisis. Though it was unable to turn this into political leverage, it has capitalized on this advantage for humanitarian purposes.
During the first weeks of the crisis, Turkey conducted a large-scale operation supported by aircraft and ferries to evacuate thousands of Turkish workers from Libya. Later, many other nations approached Turkey to help with the evacuation of their citizens. In early April, the Turkish ferry Ankara delivered food and medicine to Misrata port, which has witnessed one of the fiercest battles between the forces loyal to Gaddafi and the rebels. On its return, Ankara transported over three hundred wounded to Turkey for treatment in Turkish hospitals (www.kanaldhaber.com, April 4). Ankara continued its expeditions to Libya. On April 14, it transported around 1,000 Egyptian citizens as well as others from the rebel-held Misrata to the Egyptian port of Alexandria. Turkish officials emphasized that if Egyptian authorities request further assistance, they would be willing to consider carrying out new expeditions (www.haberx.com, April 14).
Another peculiar aspect of Ankara's policy on Libya has been its insistence on a diplomatic and peaceful solution to the crisis. Since the UN Security Council resolution authorizing force to protect civilians and enforce a no-fly zone, Turkey has repeatedly called for a ceasefire and announced its readiness to mediate. However, Ankara's approach has been received negatively by the Libyan rebels who have come to view it as hindering their objectives. Some representatives of the Libyan opposition went as far as claiming that Ankara was providing food supplies to pro-Gaddafi forces. Moreover, Turkish Prime Minister Recep Tayyip Erdogan's argument that the West should avoid arming the Libyan opposition because it would deepen the civil war in the country further angered the leaders of the rebellion. As a reflection of this mounting discomfort, Libyan opposition forces attacked the Turkish Consulate and a Turkish ship in Benghazi, the stronghold of the rebels (www.haber.ekolay.net, April 5).
In response to mounting criticism from the Libyan rebels that Turkey was not doing enough to contribute to the success of NATO's military operations, Erdogan announced a roadmap on April 7. According to the three-point plan, first, the parties would agree to a ceasefire and Gaddafi's forces would withdraw from cities under siege. Second, to ensure unrestricted flow of humanitarian aid, secure zones would be created. Third, a comprehensive package should be prepared to oversee the transition to democracy (Anadolu Ajansi, April 7).
Moreover, Erdogan dismissed the Libyan opposition's claims that Turkey was limiting the scope of NATO's military operations. Foreign Minister Ahmet Davutoglu also sought to dispel such accusations during his meetings with foreign diplomats. Overall, Turkish sources maintained that such claims about Turkey were spread as part of a propaganda campaign against the country launched by outsiders. Moreover, they noted that individual members would be unable to interfere with the planning and execution of NATO operations; hence, accusations that Turkey was slowing down NATO operations were baseless (Today's Zaman, April 9; www.cnnturk.com, April 10).
Although Turkey maintained that the roadmap was prepared in consultation with both sides, rebel leaders rejected the Turkish plan, on the grounds that it would allow Gaddafi to stay in power. Nor did Gaddafi accept the Turkish plan. Later, an alternative proposal by the African Union also failed to receive support from both sides, raising international concern that the situation in Libya might lead to a stalemate (Vatan, April 11).
Against this background, the future of the international operation in Libya and the deepening of the civil war were discussed during the first meeting of the "contact group" formed at the London summit last month. While Paris and London urged the international community to take stronger military measures to end Gaddafi's rule, divisions inside NATO were apparent. Although the final declaration emphasized that Gaddafi has lost his legitimacy and should leave power, no consensus was reached on the issues of accelerating NATO operations, wider participation by NATO members or arming rebel forces.
Attending the Doha meeting, Davutoglu reiterated Turkey's position that any political change in Libya should come about through peaceful means. In an interesting development, however, rebels signaled a possible change in their views on Turkey's proposals. According to rebel spokesman Mahmud Awad Shammam, The National Council had a favorable view on Turkey's initiative for a peaceful transition in Libya. Speaking in Doha, Shammam, nonetheless, emphasized that Turkey should also acknowledge that Gaddafi must go (Hurriyet, April 14). It appears there will be some room for Turkish diplomacy in Libya, but how and whether Ankara can bridge the seemingly incompatible demands by the parties to the Libyan conflict remains to be seen.