Rebels Continue to Target Police In Several North Caucasus Hotspots
Publication: Eurasia Daily Monitor Volume: 8 Issue: 170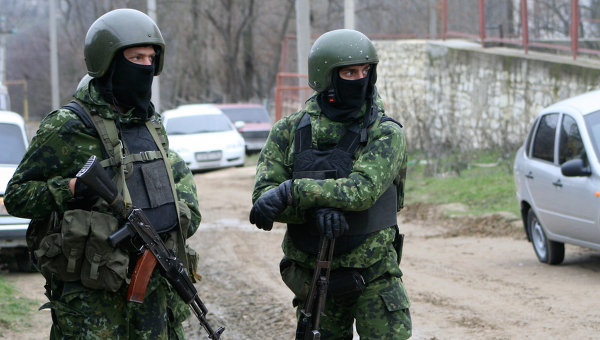 In Dagestan, the imam of the village of Kadar in the republic's Buinaksk district was shot to death yesterday (September 15). The attack on Zainudin Daiziev took place around 10:20 p.m., local time, when two unidentified attackers shot him in his home of in the village of Chankurbe. Police found twenty-seven 5.45 mm and thirty 7.62 mm shell casings at the scene of the shooting (www.kavkaz-uzel.ru, September 16).
On September 14, an improvised explosive device (IED) went off as a police car was passing by on the Gigatli-Urukh highway in Dagestan's Tsumadinsky district on September 14. The two district policemen traveling in the vehicle were not hurt in the blast (www.kavkaz-uzel.ru, September 14). Police said the following day that the roadside bomb had detonated with force of eight kilograms of TNT, leaving a crater one meter deep and two meters in diameter. Aluminum splinters, an electric cable 8.5 meters long and an antenna with wires were found at the scene (www.kavkaz-uzel.ru, September 15).
On September 10, two policemen and one soldier were wounded in a shootout with rebels on the outskirts of the village of Kadirkent in Dagestan's Sergokalinsky district. The incident occurred when the security forces were searching for gunmen who had shot up the homes of policemen in the village of Sergokala and encountered a group of approximately five rebel fighters. In addition, two improvised explosive devices were discovered on a road leading into Kadirkent (RIA Novosti, September 11).
In another incident on September 10, one policeman was wounded when gunmen driving in a VAZ-2114 car without license plates fired on a unit of four road patrol officers on the Kavkaz federal highway in Dagestan's Kizilyurt district. Police found thirteen 5.45 mm, eight 7.62 mm, fourteen 9 mm shell casings at the scene of the attack. In a third incident on September 10, police exchanged fire with a group of suspected rebels in Dagestan's Kizlyar district. None of the policemen was injured in the shootout (www.kavkaz-uzel.ru, September 11).
In Kabardino-Balkaria, an improvised explosive device detonated as a police car was driving through the village of Nizhnyaya Zhemtala in the republic's Cherkesk district on September 14. One of the police officers who were in the car at the time of the blast was slightly injured. According to the republic's Investigative Committee, the IED exploded with the force of four kilograms of TNT (www.kavkaz-uzel.ru, September 15).
On September 12, officers with the Kabardino-Balkaria branch of the Interior Ministry's anti-terrorism center and the Federal Security Service (FSB) found a grenade, an IED and small arms in a Mercedes they stopped for inspection in the city of Nartkala. Two men in the car, both of them local residents, were taken into custody. They were identified by their surnames – 24-year-old Dumanishev, who had a previous criminal record, and 19-year-old Tkhazeplov. The IED was defused (www.kavkaz-uzel.ru, Interfax, September 13).
On September 9, a serviceman who was wounded during a special operation in the city of Baksan on September 3 died in the hospital. Amir Dalov, an Interior Ministry commando, was buried in his native village of Kuba in Kabardino-Balkaria's Baksan district. During the September 3 special operation, three law-enforcement personnel and two civilians were wounded, while four alleged rebels (identified as Yuri Argashokov, Rustam Zhemukhov, Amir Lampezhev and Albek Kochkarov) were killed, and one, identified by the surname Dyshukov, was wounded (www.kavkaz-uzel.ru, September 10). The four slain suspects were wanted for the murder of seven hunters from Stavropol in Kabardino-Balkaria in December 2010 and the murder of the deputy head of the Baksan police, Colonel Muaed Sizhazhev, on August 31 of this year (www.lenta.ru, September 3).
Meanwhile, some residents of Karachaevo-Cherkessia's Khabezsky district have alleged they are being harassed by the authorities, claiming that police regularly conduct searches of their homes, take their fingerprints and photograph them, and demand that they sign documents stating they are not "Wahhabis." The Kavkazsky Uzel website on September 14 quoted Timur Zhuzhuev, the head of the youth organization Adyge Khase, as saying that "a person who simply prays becomes a pariah" (www.kavkaz-uzel.ru, September 14).
In response, a spokeswoman for Karachaevo-Cherkessia's Interior Ministry denied that devout Muslims were being harassed, insisting that the measures are being taken in connection with an investigation into an attack on police in neighboring Stavropol Krai on September 1 (www.kavkaz-uzel.ru, September 15). In that incident, unidentified gunmen in a VAZ-2199 automobile shot and killed Senior Lieutenant Andrei Bogdanov, a road patrol officer, near the village of Mirnyi in Stavropol Krai's Predgorny district (www.kavkaz-uzel.ru, September 2).
Kavkazsky Uzel reported September 14 that at least 1,007 people have been the victims of the armed conflict in the North Caucasus so far this year, with 593 people killed and 414 wounded since the start of 2011. The greatest number of casualties has been in Dagestan, where 315 people have been killed and 224 wounded since the start of the year (a total of 539 casualties), while Chechnya came in second, with 81 killed and 103 wounded (a total of 184 casualties). Kabardino-Balkaria came in third, with 98 killed and 39 wounded (a total of 137 casualties), followed by Ingushetia, where 65 have been killed and 32 wounded this year (a total of 97 casualties) (www.kavkaz-uzel.ru, September 14).