Recent Personnel Shifts Hint at Major Changes on the Horizon for PLA Navy Leadership
Publication: China Brief Volume: 14 Issue: 3
By: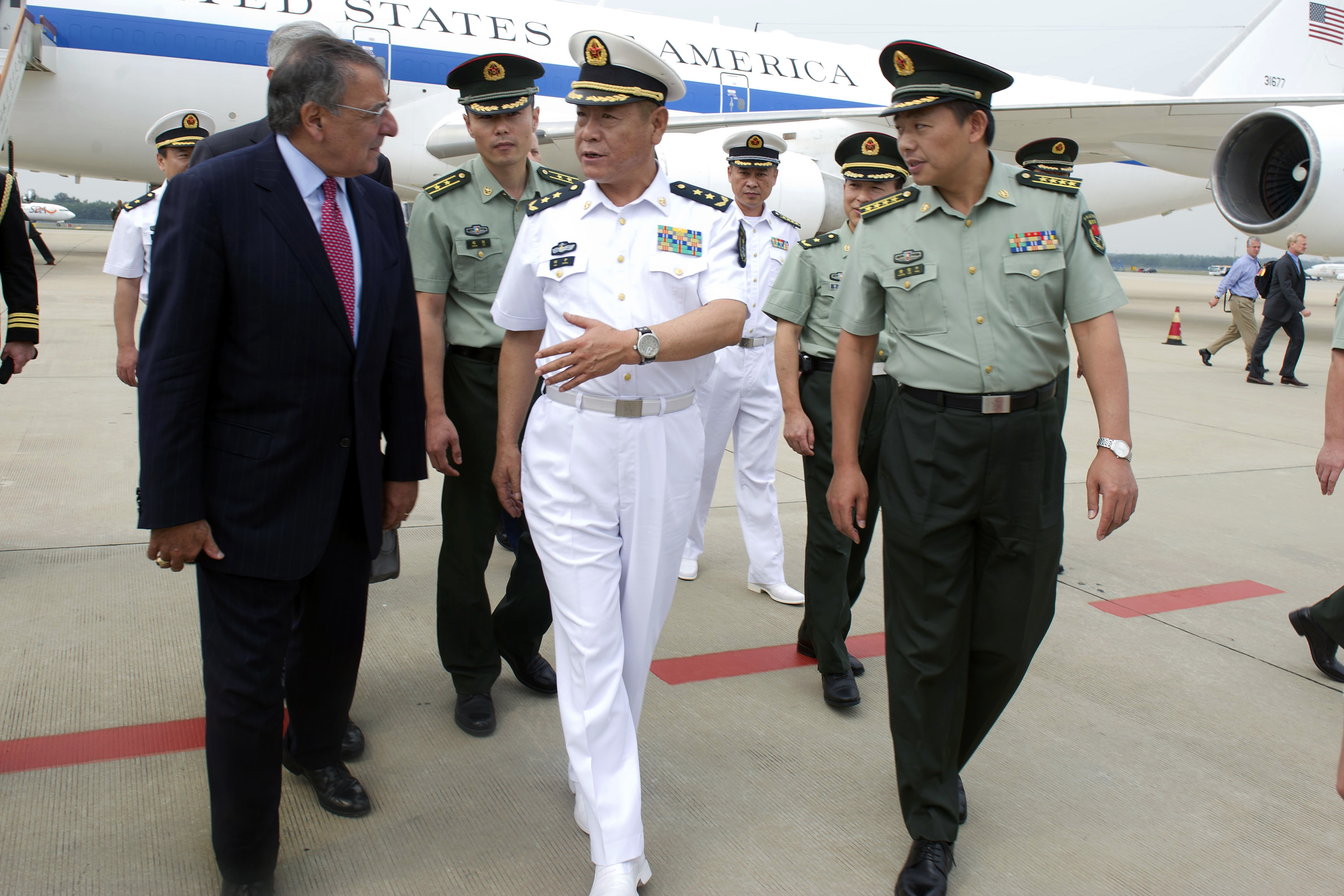 On January 3, the PLA Daily reported that Vice Admiral (VADM) Tian Zhong had become the People's Liberation Army Navy's (PLA Navy's) newest deputy commander, having moved from his previous post as commander of the Navy's North Sea Fleet. VADM Tian's career has progressed rapidly: even though PRC laws stipulate that an officer must spend at least four years in any rank before being promoted, VADM Tian was appointed commander of the North Sea Fleet in 2007 after serving less than a year as the fleet's chief of staff. [1] In addition, VADM Tian is the youngest of only four naval officers appointed to China's Communist Party Central Committee, another sign of his rising status (Xinhua, November 14, 2012). Including all branches of the PLA, the Central Committee now includes 41 military officers.
Meanwhile, a former deputy commander of the East Sea Fleet, Rear Admiral (RADM) Qiu Yanpeng, was reportedly promoted to VADM Tian's old position as the new North Sea Fleet commander (Nanfang Dushi Bao, January 6). RADM Qiu also has an impressive resume, having already served on several important international delegations and exercises.
Such personnel changes are likely to be the first of many in 2014. According to current Chinese military personnel regulations, over half of the Navy Party Standing Committee, the navy's top decision making body, will reach their retirement ages by 2015. This suggests that China's navy is on the cusp of a sudden leadership transition at the highest levels. Chinese Navy Deputy Commander VADM Su Shiliang has reportedly retired, with incoming deputy commander VADM Tian likely to take his place on the Committee, suggesting that this process is already underway (Nanfang Dushi Bao, January 6).
What does this ongoing personnel shakeup mean for the Chinese Navy? PLA Navy leadership appears to be on the verge of a significant generational change. Both VADM Tian and RADM Qiu were born in 1956, and joined the navy in the mid-1970s, half a decade later than the navy's elder statesmen, such as PLA Navy Commander ADM Wu Shengli, and fellow navy deputy commanders VADM Zhang Yongyi and Ding Yiping, all of whom joined the service in the 1960s (Center for China Studies, "Profile of Tian Zhong"). Although Tian and Qiu began their careers in a coastal navy, they have since gone on to gain experience commanding some of the PLA Navy's highest-profile blue-water operations. This stands in stark contrast to the older generation of navy leaders who entered the service when China's Navy consisted of small missile craft and a few combat vessels and submarines, and was focused on defending against attacks from the United States and Nationalist forces on Taiwan. [2]
These promotions include significant shifts in responsibilities for VADM Tian and RADM Qiu. As a new PLA Navy deputy commander, VADM Tian will likely be assigned a specific portfolio of responsibilities. This portfolio may include issues related to training, given his experience as former director of a training base in the South Sea Fleet, or joint training, given his previous writing on its growing importance for the navy (Center for China Studies, "Profile of Tian Zhong"). As NSF commander, his successor, RADM Qiu, will be in charge of critical navy assets, including the specialized R&D, training and missile test base at Huludao, and the Jinggezhuang Naval Base in Shandong Province, an important base for China's nuclear powered submarines. RADM Qiu will also serve simultaneously as deputy commander of the Jinan Military Region.
As China's maritime interests expand, its navy is being assigned new and more complex missions, including blue-water operations, operations involving cooperation with foreign navies and joint operations with the PLA ground and air forces. To respond to these new challenges, PLA Navy leaders are being called upon to develop expertise in the following areas, which will likely be shared by much of the incoming leadership in coming years:
Blue-water operations
Military diplomacy
Joint operations
The recent personnel shifts involving VADM Tian and RADM Qiu, who have expertise in all three of these areas, highlight the evolving metrics of success for the new navy leadership. As the PLA Navy experiences a wave of leadership change in the next coming years, these traits will likely become more common among high-ranking officers.
China's New Navy Leadership: The Importance of Experience at Sea
Expanding national interests have had a direct impact on the evolution of the PLA Navy's roles and missions. For instance, China's focus on international trade as a key component of economic development has caused the navy to focus more on safeguarding vital trade routes, providing incentive for the Chinese decision to begin conducting anti-piracy operations in the Gulf of Aden. [3] As more Chinese companies and workers operate internationally, the PLA Navy has been called upon to protect Chinese citizens living abroad. This became clear in 2011, when the navy supported non-combatant evacuation operations for the first time during the evacuation of 35,000 Chinese nationals from Libya (CCTV, March 3, 2011).
As the Chinese navy has gone through this maturation process, growing from a technically backward coastal defense force into an emerging expeditionary navy capable of conducting blue-water operations, it is being provided more opportunities than ever before to carry out operations farther from China's shores. In a 2012 interview, the new North Sea Fleet commander, RADM Qiu, stated, "When I served as a ship captain, it was impossible to go out on the open ocean due to the small tonnage of the vessels and the outdated equipment. We could only hover around the 'home gate' during the drilling of our soldiers" (Xinhua, December 11, 2012). In contrast, China had deployed nearly 20 training formations to the Western Pacific, involving over 90 ships, from 2007 to April 2013 (Xinhua, April 16, 2013).
However, these new blue-water missions bring with them a new set of problems that the next generation of leaders must address. Blue-water operations, for example, will require the PLA Navy to continue to upgrade its logistics capabilities to support those missions, while developing officers with blue-water operational experience.
Both VADMs Tian and Qiu have such experience. In early 2013, VADM Tian commanded what official Chinese media referred to as "distant seas training" in the Western Pacific, taking his fleet's ships through the Miyako Strait south of Okinawa, and the Bashi Channel between the Philippines and Taiwan, before conducting training operations farther out at sea (People's Navy, February 5, 2012, Xinhua, January 30, 2013). Like VADM Tian, RADM Qiu has extensive experience leading blue-water operations having led the 4th Gulf of Aden task force in 2010.
Engaging with Foreign Militaries
These expanding missions also make the PLA Navy much more active abroad, as evident by the navy's increasing foreign engagement over the last few years. For example, in 2007, China launched the Peace Ark, a hospital ship designed to advance the navy's capabilities to provide HA/DR worldwide. In 2008, the navy began sending formations to the Gulf of Aden to participate in international anti-piracy efforts. By early 2014, the PLA Navy had sent 16 formations. In 2009, the navy hosted an international fleet review in Qingdao to mark its 60th anniversary, inviting naval leaders from 14 countries. More recently, the PLA Navy is planning to participate for the first time in the Rim of the Pacific (RIMPAC) exercise in the summer of 2014, the largest maritime exercise in the world.
As China's navy increasingly engages with foreign military personnel, there is a growing need for a more diplomatically skilled and internationally savvy officer corps. Both VADM Tian and RADM Qiu have had ample experience to develop these skills.
For example, VADM Tian has experience dealing with foreign dignitaries and military leaders in China's peripheral states. In 2008, he led a five-day delegation to South Korea (Chinese Navy Network, October 12, 2008). In the summer of 2011, he led a delegation to Russia and North Korea. According to Japanese media, this delegation marked China's first port call to North Korea in over 15 years (Kyodo World Service, August 4, 2011).
RADM Qiu also led important delegations, having commanded a destroyer formation on a visit to Indonesia in 2007, the first time a Chinese naval ship had visited the country in over a decade (Xinhua, March 20, 2007). During his time as commander of the 4th Gulf of Aden Task Force, PLA Navy ships traveled to the Persian Gulf for the first time, conducting a port visit in Abu Dhabi. Before returning to China, ships in this task force also visited the Philippines, conducting a port visit in Manila (Xinhua, April 17, 2010). In 2011, RADM Qiu was again sent abroad, this time to command the Peace Ark hospital ship in "Harmonious-Mission 2011." The mission lasted 105 days, covered 24,600 nautical miles, and provided medical care to patients in Cuba, Jamaica, Trinidad and Tobago and Costa Rica (PRC Ministry of Defense website, December 30, 2011).
Experience with Joint and Combined Operations
Since the late 1990s, the PLA has been working to increase its ability to conduct joint operations between its different services. In addition, the PLA Navy has also sought to improve coordination and cooperation between the different forces within the navy specifically. New PLA Navy leaders are therefore gaining hands-on experience with "combined" operations involving surface, air and shore units, as well as true joint operations involving multiple services.
Both VADM Tian and RADM Qiu have experience in these types of operations. While true joint operations between different services within the PLA remain limited, VADM Tian was the first naval officer to lead joint training operations in the Jinan Military Region involving the PLA Navy, Air Force and Army (PLA Daily, April 28, 2012). This marks a break from previous joint exercises, which were led by ground forces officers (PLA Daily, November 17, 2011). RADM Qiu has led multiple combined training operations with PLA Navy aviation units, first as the commander of a destroyer flotilla, and later as commander of a training exercise in the western pacific (PLA Daily, August 1, 2008). In addition, the 4th Gulf of Aden taskforce, which RADM Qiu commanded, was praised in Chinese media for conducting successful combined-arms operations with marines, helicopters and surface ships (People's Navy, March 19, 2010).
Conclusion
The promotions of VADM Tian and Qiu provide a glimpse of what the next generation of PLA Navy leaders will likely look like: officers with technical expertise in China's new blue-water operations, who are confident serving as representatives of their country in the international maritime arena and proficient in commanding joint operations.
None of these qualities individually guarantees a naval officer's success. Just as in any organization there are a myriad of factors, including party and personal connections, which surely influence an officer's career progression. However, as the PLA Navy undergoes a generational change, these new skills are likely to characterize many of the officers who receive promotions, and thus play an increasingly important role in the institution.
PLA watchers often focus on the Chinese military's technological advancements and modernization efforts. While these are indeed critical areas, it is also important to understand the rapid professionalization and advancements of the personnel leading those efforts. The recent appointments of VADM Tian and RADM Qiu suggest that China's current navy leadership will shortly be replaced by officers experienced in blue-water operations, adept at engaging with foreign militaries and skilled in commanding joint operations. As top-level leadership changes continue to take place over the next few years, the new skillsets and confidence of incoming leaders will likely have important implications for the PLA Navy's future missions, both in China's nears seas and beyond.
Notes
The Law of the People's Republic of China on Officers in Active Service stipulates a minimum time in rank of four years before promotion, and a minimum time in each grade of three years before advancement. However, some officers, such as VADM Tian, have been promoted without serving these minimum time requirements. See Center for China Studies, "Profile of Tian Zhong," National Taiwan Chengchi University, < https://ics.nccu.edu.tw/chinaleaders/profile.php?id=6084 >.
Thomas J. Bickford, Heidi Holz, and Fred Vellucci, Jr., Uncertain Waters: Thinking About China's Emergence as a Maritime Power, 2011.
Andrew Erikson and Austin M. Strange, No Substitute for Experience: Chinese Anti-Piracy Operations in the Gulf of Aden, 2013).